500 Days Of Film Reviews First Reformed Starring Ethan Hawke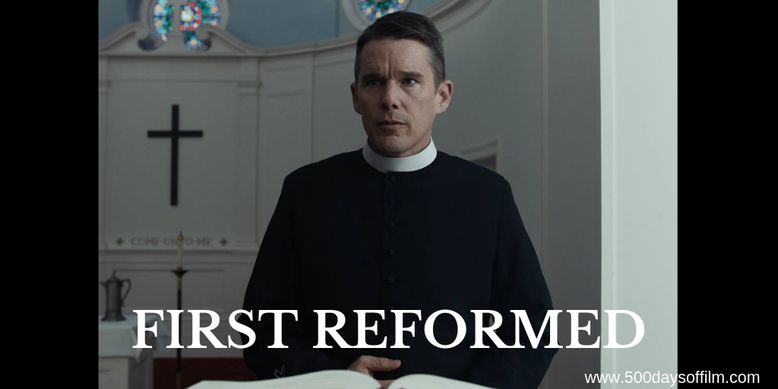 A priest undergoes a crisis of faith after he fails to prevent a tragedy in his parish. 
Is It Any Good?
Ethan Hawke gives an utterly breathtaking, potentially career best performance in Paul Schrader's First Reformed. As hard as it is to watch, it is also impossible to look away from his portrayal of Father Toller's descent into spiritual meltdown.
There is just so much going on (fear, guilt, anger, resentment, doubt, suspicion, hope, despair) beneath Hawke's outward restraint, it is fascinating to behold. Little wonder, then, that the actor has been scooping up critics awards.  
Wrapped in a thoroughly modern environmental tale, First Reformed is a disturbing story for all time. Father Toller allows Schrader to explore themes (and anti heroes) that have punctuated his filmmaking career. With its chilly visual style and superb script, this film showcases why he is such an interesting and enduring voice in cinema.
While there are moments of wry humour, First Reformed is far from an easy watch. As the tension mounts (and mounts), the mood is almost unremittingly bleak. There follows an intense and ambiguous ending (one that could, at a push, seem hopeful) that is in no way designed to offer relief.
As a result, First Reformed is a thought provoking movie to consider, admire and respect rather than enjoy. However, be warned... Paul Schrader's film - and Ethan Hawke's superb performance - will likely haunt you long after the credits have rolled.
Random Observations
Do lamps get any more unsettling than the one in Mary's house?
Have you seen First Reformed?
If you have, what did you think of this movie? Let me know in the comments section below or via Twitter. You can find me @500DaysOfFilm.