500 Days Of Film Reviews First Match Starring Elvire Emanuelle And Jharrel Jerome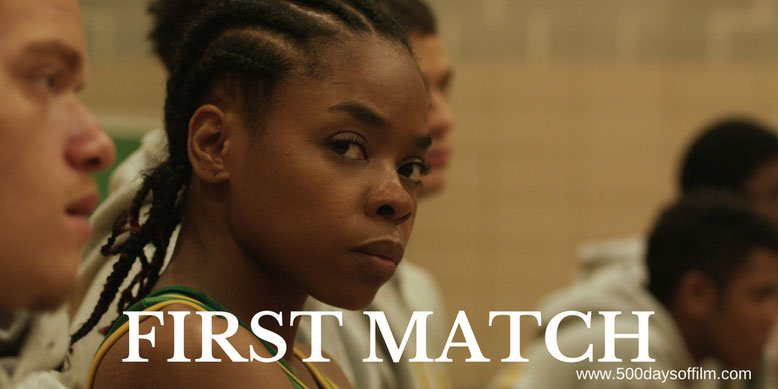 Hardened by years in foster care, Mo (Elvire Emanuelle), a teenage girl from Brooklyn's Brownsville neighborhood, decides that joining the all-boy's wrestling team is the only way back to her estranged father.
Is It Any Good?
Netflix Original film, First Match, is a compelling, moving and inspiring story of a teenage girl's desperate desire to reconnect with her estranged father and establish her own sense of identity. 
Director Olivia Newman's debut feature is based on her short film (of the same name) which was inspired by the growing number of girls taking up wrestling in high school. Newman's short premiered at the 2011 New York Film Festival and won Best Student short at Aspen Shortsfest. 
The feature length version of First Match includes an absolutely stunning central performance from Elvire Emanuelle. Mo is (at first) a tough character to like. Her life experience has made her brash, mean and selfish. However, Newman soon shows us the heartbreaking vulnerability within.
"For the role of Mo, I needed someone who was not only an exceptional actress capable of going to deep, emotional places, but also someone extremely athletic whom I could train to wrestle in a very limited amount of time," Newman recalls.
"Elvire Emanuelle self-submitted an audition tape through Actors Access. On first watch, I knew I'd found our Mo. And then after her one-hour 'wrestling tryout', our trainer, Mike, took me aside and told me she was a natural wrestler. He'd never seen anything like it."
Emanuelle brings so much emotion to her nuanced portrayal of Mo - strength and vulnerability, passion and humour. It hardly seems possible that this is her first lead role. She lights up the screen with charisma to spare. 
The casting of Mo's father, Darrel, was equally important. "Darrel is troubled but extremely charming," explains Newman. "He's a guy who has made some really bad choices, but he genuinely loves his daughter, and I wanted to make sure I cast an actor who could get across these two conflicting sides to him."
However, a few months before First Match went into production, Newman still hadn't found the perfect actor to play this role - and she had no financing. After being sent some audition tapes featuring an actor called Yahya Abdul-Mateen II, the director had the same reaction as when she first saw Emanuelle - this was her Darrel.
The leads now secured - alongside an impressive supporting cast of actors (including Moonlight's Jharrel Jerome) and NYC high school wrestlers - filming could begin. First Match was shot in an incredible 22 days. This tight schedule required a cinematographer who could shoot using a handheld camera at breakneck speed.
"Ashley Connor was our amazing Director of Photography," says Newman. "I knew I wanted the film to have an intimate, naturalistic feel, to be shot with a subjective lens allowing the audience inside Mo's emotional and physical journey." 
Indeed, Mo's compelling emotional and physical journey is key to our engagement and enjoyment of First Match. It is hard not to feel moved by her desperate need for her father's approval. It is hard not to feel inspired by her determination, against all odds, to succeed.
Random Observations
Women made up 60% of the First Match crew (23% is average). All key creative roles in production were women and 75% of department heads were women
The names of the schools appearing on the wrestling uniforms are a tribute to African-American trailblazers Anna Arnold Hedgeman, Angela Davis, James Baldwin, Lewis Latimer, Mae Jemison and to men of colour wrongfully killed by police officers, including Alton Sterling and Eric Garner. Coach Castile is named for Philando Castile who was shot by a police officer during a routine traffic stop only a few days prior to the film beginning production.
Have you seen First Match?
If so, what did you think of Olivia Newman's debut feature? Let me know in the comments section below or let's discuss the film over on Twitter. You can find me @500DaysOfFilm.