500 Days Of Film Reviews The Films To Watch In December 2017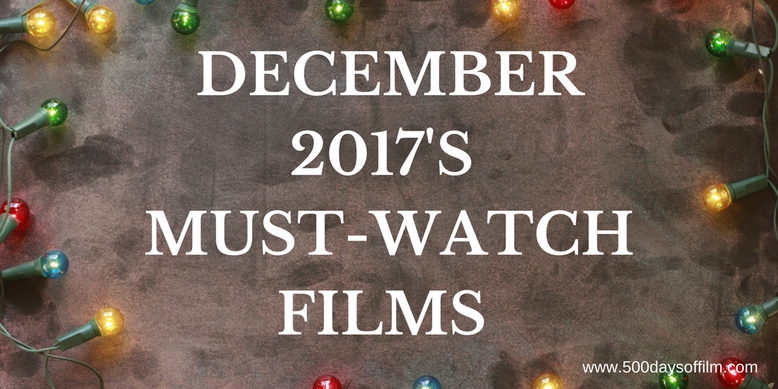 There's something magical about visiting the cinema in December. Wouldn't you agree? The weather where I live is certainly more than enough reason to stay warm and dry indoors. In addition, as we move steadily towards awards season so the quality of movies (with a few exceptions) improves. 
So, let's take a look at December 2017's must watch movies! (UK releases)
The Films To Watch This December
1st December
Happy End
Director: Michael Hanake
Starring:  Isabelle Huppert, Jean-Louis Trintignant and Mathieu Kassovitz
Why The Excitement: A new Michael Hanake film is always a noteworthy event… particularly one starring Isabelle Huppert.
The Man Who Invented Christmas
Director: Bharat Nalluri
Starring: Dan Stevens and Christopher Plummer
Why The Excitement: It's time to get into the festive spirit! Bharat Nalluri's film shows how Charles Dickens (Dan Stevens) mixed real life inspirations with his vivid imagination to conjure up the unforgettable characters in A Christmas Carol. 
Wonder
Director: Stephen Chbosky
Starring: Julia Roberts, Owen Wilson and Jacob Tremblay
Why The Excitement: Having read R.J Palacio's book, I was a little wary of watching this film. I needn't have worried. It is a wonderful story with a very important message. Warning: you will need tissues.
Click here for my full review. 
6th December
The Disaster Artist
Director: James Franco
Starring: Dave Franco, James Franco, Seth Rogen, Alison Brie, Ari Graynor, Josh Hutcherson and Jacki Weaver
Why The Excitement: From the trailer at least, The Disaster Artist looks to be an entertaining and intriguing behind-the-scenes look Tommy Wiseau and The Room - the best worst film ever made.
8th December
Better Watch Out
Director: Chris Peckover
Starring: Olivia DeJonge, Levi Miller and Ed Oxenbould 
Why The Excitement: As well as all the traditional, heartwarming classics, I also like dark and twisty Christmas movies (my favourite is probably Rare Exports). This one looks like it could be fun... 
Brigsby Bear
Director: Dave McCary
Starring: Kyle Mooney and Mark Hamill
Why The Excitement: I watched this film thanks to Odeon Screen Unseen and would recommend it highly. It is one of a kind… and it stole my heart.
Click here for my full review. 
Stronger
Director: David Gordon Green
Starring: Jake Gyllenhaal, Tatiana Maslany and Clancy Brown 
Why The Excitement: David Gordon Green directing Jake Gyllenhaal in a tremendously powerful true story. Need I say more? I think not.
14th December
Star Wars: The Last Jedi
Director: Rian Johnson
Starring:  Daisy Ridley, John Boyega, Mark Hamill, Laura Dern, Oscar Isaac, Domhnall Gleeson and Adam Driver
Why The Excitement: Of course a new Star Wars film is cause for excitement. However, Rian Johnson could well bring something fresh to this franchise. My prediction… it will do jolly well at the box office.  
15th December
Mountain 
Director: Jennifer Peedom 
Starring: Willem Dafoe
Why The Excitement: Described by The Guardian as "a sublime rush of adrenaline and orchestral beauty", I may have to brave my fear of heights and see this must-watch documentary about the world's highest peaks.
16th December
Ferdinand 
Director: Carlos Saldanha 
Starring: John Cena, Kate McKinnon, Gina Rodriguez, Bobby Cannavale, David Tennant and Sally Phillips
Why The Excitement: This animation about Ferdinand, a bull with a big heart, looks rather cute. And cute is good at Christmastime. 
20th December
Jumanji: Welcome To The Jungle
Director: Jake Kasdan
Starring:  Dwayne Johnson, Karen Gillan, Kevin Hart and Jack Black
Why The Excitement: I toyed with adding this film to the list… I'm not exactly desperate to watch Jumanji: Welcome To The Jungle but, in the spirit of keeping an open mind, a family film at Christmas is always worth noting.
Pitch Perfect 3
Director: Trish Sie 
Starring: Anna Kendrick, Rebel Wilson, Hailee Steinfeld, Brittany Snow, Anna Camp, John Lithgow, DJ Khaled, Hana Mae Lee, Ruby Rose, Alexis Knapp, Chrissie Fit, Ester Dean, Shelley Regner, Kelley Jakle with John Michael Higgins and Elizabeth Banks
Why The Excitement: Well, admittedly, my excitement for this film stems mostly from my feelings of good will for the original, but I can't deny that it is always great to see Bellas. 
26th December
The Greatest Showman
Director: Michael Gracey
Starring: Hugh Jackman, Michelle Williams, Zac Efron and Zendaya
Why The Excitement: The cast basically (and Hugh Jackman in particular). Hoping for an post-Christmas audience pleaser.
What Will You Watch?
Not too shabby December 2017. Not too shabby at all. What films on this list are a must-watch for you?
Let me know in the comments section below or via Facebook or Twitter (@500DaysOfFilm).