500 Days Of Film Reviews Film Stars Don't Die In Liverpool Starring Annette Bening And Jamie Bell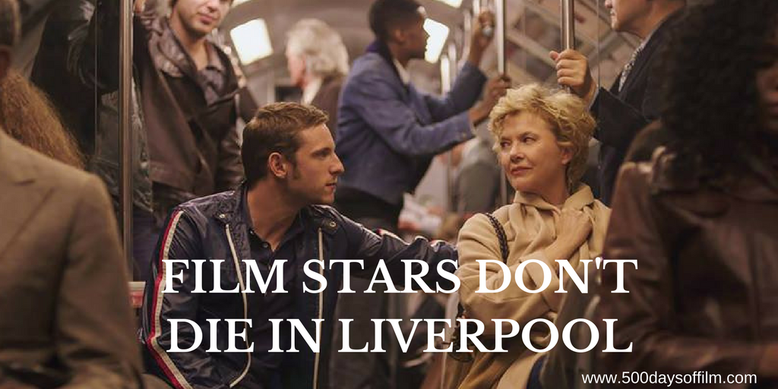 Film Stars Don't Die In Liverpool follows the passionate relationship between aspiring actor, Peter Turner (Jamie Bell), and Academy Award-winning actress, Gloria Grahame (Annette Bening). 
What begins as a vibrant affair between a legendary femme fatale and her young lover, quickly grows into a deeper relationship, with Turner being the person Gloria turns to in her hour of greatest need.
Is It Any Good?
Film Stars Don't Die In Liverpool is not your typical biopic. It is, instead, a powerful and moving love story. Told largely from Peter Turner's perspective (and adapted from his memoir), the film tells a tale of enduring love - the like of which is often only found in the movies.
While steering clear of traditional biopic tropes, director Paul McGuigan conveys Turner's fascination with Grahame and honours her remarkable life and career. This is an actress who won an Oscar for her performance in Vincente Minnelli's The Bad And The Beautiful and starred with James Stewart in It's A Wonderful Life and opposite Humphrey Bogart in In A Lonely Place. 
This is also an actress who, after these incredible career highs, struggled to find meaningful work after the 1950s - taking mainly forgettable parts in B movies and television shows and roles in small, UK theatre productions.
It was while living in the same building in London's Primrose Hill that Peter and Gloria met - an aspiring actor and a fading star drawn together by a shared love for disco dancing, movies and theatre. A deep and passionate relationship ensued - one that did not last but was too powerful to end.
Film Stars Don't Die In Liverpool begins as Gloria, performing in the UK, is overcome by her illness. She calls Peter convinced that she can recover at his home in Liverpool under the watchful eye of his mother, Bella (a wonderful performance from Julie Walters), and his family.  
Having Gloria back in his life once again prompts Peter to recall their relationship in a series of brilliantly interwoven and almost dreamlike flashbacks. We see their relationship unfold - a fairytale romance that is also grounded in heartbreaking reality.
Annette Bening is (of course) superb as Gloria. This feels like the role she was born to play. Having been linked to the part for over 20 years, she is utterly captivating. Bening portrays Gloria - her voice, her mannerisms and her inner strength (and sadness) - beautifully. We are as enamoured by her as Peter - this is a woman with a story to tell. 
While McGuigan keeps his focus on the love story, he pays homage to her career via the film's visual style and theatrical tone and only alludes to Gloria's scandal-inflected private life during an uncomfortable dinner with Peter, her mother (a lovely cameo from Vanessa Redgrave) and her resentful sister, Joy (Frances Barber).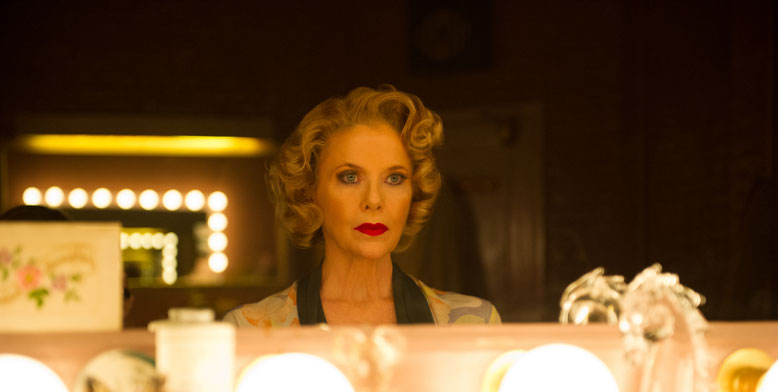 Meanwhile, Jamie Bell is superb in this film - conveying Peter's vulnerability, passion and devotion. He manages to express so much in a single look or gesture. Thanks to this honest and authentic performance, we believe in (and fall in love with) Gloria and Peter's relationship and understand why it had such a lasting impact.
The film's own title gives us a clue as to how this story might end. The powerful performances from Bening, Bell and the film's supporting cast, ensure that the final scenes in Film Stars Don't Die In Liverpool are deeply moving - cementing this as one of the best love stories of the year. 
Random Observations
If you (like me) were not really aware of Grahame before Film Stars Don't Die In Liverpool, you will certainly want to catch up with her impressive back catalogue after watching this film.  
The driving forces behind the screen adaptation of Film Stars Don't Die In Liverpool are producers Colin Vaines and Barbara Broccoli. Broccoli has long harboured ambitions to bring the Turner-Grahame story to the big screen. "I have wanted to make this film for over 20 years," she explains. "It is very meaningful to me. I knew Gloria and Peter when they were together." 
"Gloria didn't give into the Hollywood system," Broccoli adds. "She always maintained her own sense of self and she was way ahead of her time. She was very pro the woman's movement and gay rights. She really fought for all those things. She was a remarkable woman and this is a special story."
Julie Walters has talked about her pleasure at working with Jamie Bell once again - the pair also starred together in Billy Elliot.
I couldn't finish this review without mentioning Film Stars Don't Die In Liverpool's soundtrack (by J. Ralph with crucial input from Peter Turner himself) - it is really wonderful.
Have you seen Film Stars Don't Die In Liverpool? If you have, what did you think of Paul McGuigan's film? Let me know in the comments section below or via Facebook or Twitter (@500DaysOfFilm).