500 Days Of Film Reviews Fighting With My Family Starring Florence Pugh, Jack Lowden And Dwayne Johnson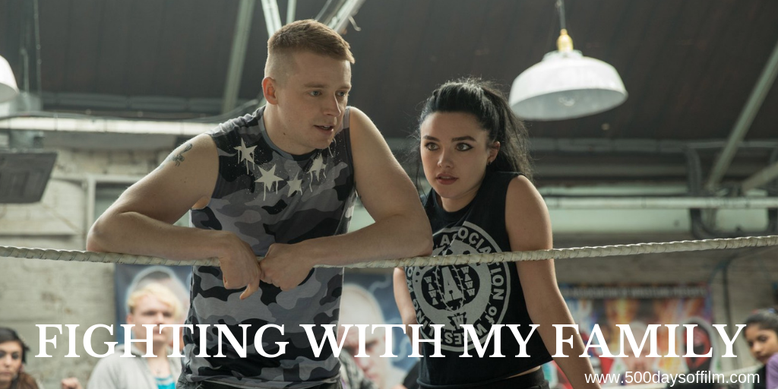 Reformed gangster and former wrestler, Ricky (Nick Frost), his wife Julia (Lena Headey), daughter Saraya (Florence Pugh) and son Zak (Jack Lowden) make a living performing in tiny venues across the country.
Ricky and Julia want a better life for their children and when Saraya and Zak get the chance to audition for WWE, it seems the family dream is coming true and all their troubles will be solved.
However, Saraya and Zak are about to learn that becoming a WWE Superstar demands more than they ever imagined possible as athletes and siblings. Wrestling has always kept this family together - but now it could tear them apart.
Is It Any Good?
Cinema is full of stories about underdogs - particularly in the sporting arena.
In many of these films, you can guess what will happen in the end - often even before you take your seat. On top of that, you can pretty much predict the entire journey the story will take - from beginning to end, via a handy little montage.
That is not to suggest that these films are somehow diminished by virtue of their familiarity. Quite the opposite. There is much enjoyment to be had in recognising and relishing these tropes. 
However, the films that own their predictability (the ones that may offer few surprises but are still gripping and entertaining) offer us something more - a sense of emotional depth within the characters themselves. The path may be well trodden but the story is nonetheless compelling.
This is the case with Fighting With My Family. On paper and despite being based on a true story, Stephen Merchant's film is a textbook tale of the sporty underdog. However, beneath the laughs (and there are many - Nick Frost is scene stealingly hilarious) this is a movie of surprising hidden depths. 
Florence Pugh, so good in The Falling and Lady Macbeth,  is superb as Saraya. You get the sense that she is relishing the emotional complexity in this story - particularly when exploring Saraya's flaws and her need for self acceptance.
Meanwhile, Jack Lowden gives a brilliant, nuanced performance. Zak has to cope with some devastating realities. His challenges and struggles are deeply moving and, for me, as compelling as those of Saraya. 
As a result, Fighting With My Family is a fun and thoroughly entertaining movie that also satisfies as a moving and thought provoking drama. 
Random Observations
Fighting With My Family was inspired by the documentary he Wrestlers: Fighting With My Family.
Have you seen Fighting With My Family? If you have, what did you think of this film? Let me know in the comments section below or over on Twitter. You can find me @500DaysOfFilm.