500 Days Of Film Reviews YA Romantic Drama, Everything, Everything, Starring Amandla Stenberg, Nick Robinson And Anika Noni Rose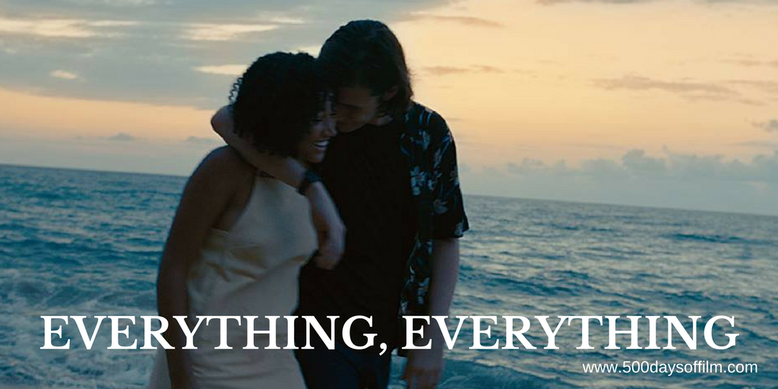 Maddy (Amandla Stenberg) is a smart and imaginative 18-year-old. She longs to experience all the world has to offer and explore the promise of her first romance with Olly (Nick Robinson), the boy next door.
However, Maddy suffers from severe combined immunodeficiency - a disorder that means she cannot leave the protection of her hermetically sealed house. 
Gazing through windows and talking via texts, she and Olly develop a deep bond that leads them to risk everything to be together…even if it means losing everything.
Is It Any Good?
Full disclosure, I probably don't belong to the target audience of Everything, Everything. However, I have enjoyed many a YA movie and went into Stella Meghie's adaptation of Nicola Yoon's novel with an open mind and two tweens.
One hour and 36 minutes later, we emerged from the screening having spent a reasonably pleasant time admiring the film's set design and Maddy's pastel perfect wardrobe. The story? Well, not so much.
Everything, Everything opens with an intriguing premise (calling such films as The Fault In Our Stars to mind). Maddy is a prisoner in her own perfect home and, as a result, her relationship with Olly has no future. Or does it? Can the couple find a way to conquer these seemingly insurmountable odds?
The story follows a sweet and predictable path - with effective visual representations of text-based conversations. Sadly, despite charismatic performances from its two young leads, Everything, Everything lacks narrative depth. In addition, the film's third act plot reveal feels like a disappointingly cheap trick.
Everything, Everything is not a terrible movie - it's cute and it passed the time. However, if you find yourself planning a holiday (Hawaii looks nice), admiring a chair or backpack you know that something has gone askew.
Random Observations
Have you seen Everything, Everything? 
If you have, what did you think of this film? Let me know in the comments section below or let's chat over on Twitter or Facebook (@500DaysOfFilm).