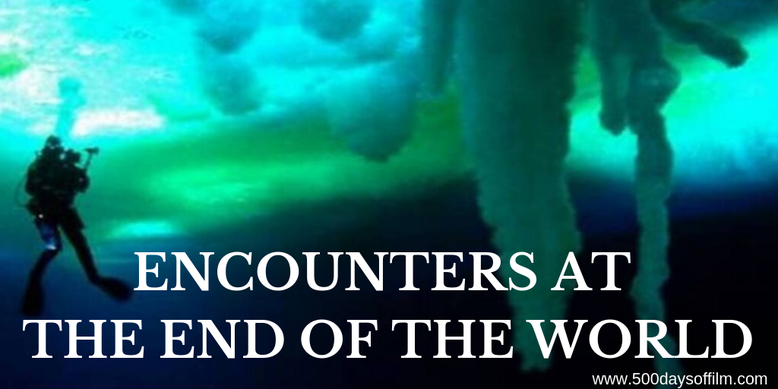 For a less romantic and more philosophical approach to issues concerning our impact on the planet (among many, many other thought provoking topics) watch any documentary by Werner Herzog. 
From his iconic film, Grizzly Man (about Timothy Treadwell who, in the brilliant words of Roger Ebert, "thought he could live with bears and not be eaten, and was mistaken") to 2016's Into The Inferno (a fascinating look at active volcanoes and those people who live near to or study them), Herzog has explored our relationship with the environment.  
Encounters at the End of the World does not feel like an "environmental" documentary at first. The film's approach - examining the work of scientists at Antarctica's McMurdo Research Station - is far more subtle and interested in a wide range of different issues.
For example, in addition to environmental decline, Herzog highlights the disappearance of cultures and languages. In addition to concerns about the future, he follows the scientists who search for clues about the past - about the origins of our universe.
After spending five months at the research station, Herzog has a wealth of stunning footage to share with us - from on land and in the sea. Meanwhile, the stories that he tells (and the wonderful questions that he asks!) are gripping and moving.
Herzog's unmissable documentary takes us on an eccentric, gripping and poetic journey. By the end of our time exploring his Encounters at the End of the World, we understand the danger of taking our home for granted.
Honourable Mentions...
Encounters at the End of the World is part of the environmental documentary collection of Documentary 7.
If you enjoyed this movie, I would also recommend:
March Of The Penguins
An Inconvenient Truth and An Inconvenient Sequel: Truth To Power
Before The Flood
Chasing Ice
Chasing Coral
Gasland
You can check out my reviews of these films here.
I would also like to include the following honourable mentions: 2040: Join The Regeneration, The Ivory Game, Anote's Ark, Being The Change, The Island President, Climate Of Doubt and Switch.
Do you have any environmental documentaries that you would like to recommend? If so, do let us know in the comments section below or over on Twitter. You can find me @500DaysOfFilm.