500 Days Of Film Reviews Eighth Grade Starring Elsie Fisher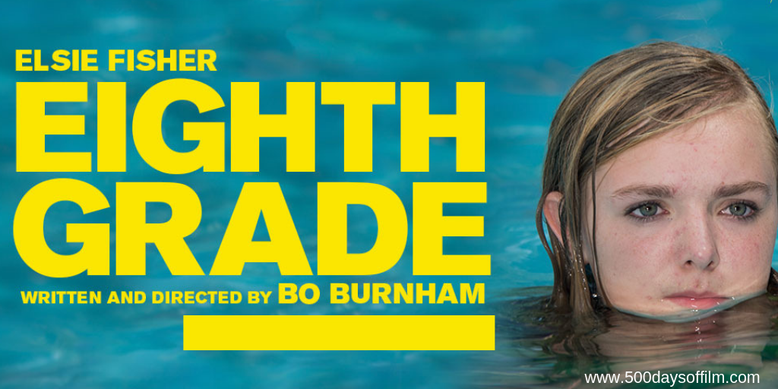 Thirteen-year-old Kayla (Elsie Fisher) endures the tidal wave of contemporary suburban adolescence as she makes her way through the last week of middle school - the end of her thus far disastrous eighth grade year - before she begins high school. 
Is It Any Good?
I fell in love with Bo Burnham's directorial debut during its very first seconds. In Eighth Grade's opening, we see (and, perhaps, remember) the often excruciating experience of being 13 years old.
No matter your gender, your age or your physical location, the emotions of this scene (and the entirety of the film that follows) feels poignantly, hilariously and heartbreakingly true. Burnham's insight into this time of life and social anxiety in general is remarkable.
Remarkable too is the actor chosen to bring the character of Kayla to life on screen. Elsie Fisher is superb in this role. You can't help but fall in love with her… and her journey will likely break your heart.
Fisher's performance is incredibly perceptive and utterly convincing - from the way she speaks, to the way she moves, from the way she observes others, to the way she tries to hide her true self. 
While Eighth Grade will likely strike a chord with a wide variety of people, the film also explores issues specific to the teenage experience today. The pressure Kalya feels to present a particular version of herself online - via social media platforms and endearing motivational/self help videos on Youtube - is overwhelming.
How can we hope to protect such vulnerable young people in this potentially toxic digital world that we have created? The adults in Eighth Grade, while well meaning, seem hopelessly out of their depth.
It is a genuinely terrifying prospect. Indeed, Burnham portrays social media (and peer pressure in general) in scenes that would not feel out of place in a horror movie. It truly is that frightening.
Thankfully, the film is tempered with charming and deeply moving moments of hope and optimism. The message is clear: if you can be brave enough to be yourself and value the life that exists beyond your phone screen, the future is yours for the taking.  
Sadly, Eighth Grade did not get a wide UK theatrical release. However, if you can find it I would wholeheartedly recommend this wonderful gem of a movie. Meanwhile, I cannot wait to see what Bo Burnham does next.
Random Observations
Have you seen Eighth Grade? If you have, what did you think of this movie? Let me know in the comments section below. Alternatively, you can find me over on Twitter @500DaysOfFilm.