500 Days Of Film Reviews Dumplin' Starring Danielle Macdonald And Jennifer Aniston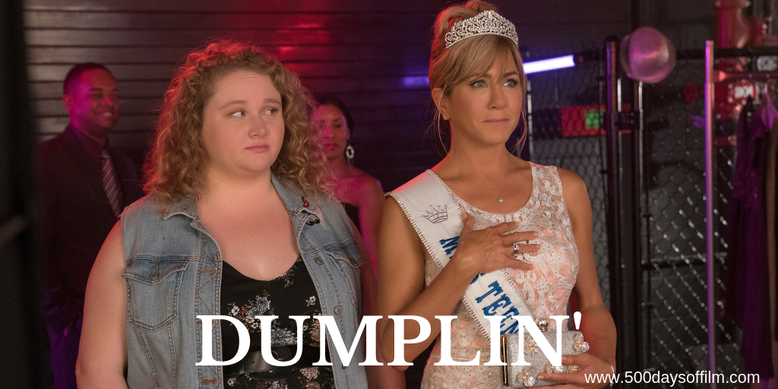 Willowdean (Danielle Macdonald) is the teenage daughter of a Texas beauty queen (Jennifer Aniston). As a form of protest, Will enters a local pageant and, as others follow her example, discovers the meaning of true beauty and friendship along the way.
Is It Any Good?
On paper, Dumplin' may appear rather predictable. A fish out of water / coming of age story that we have all seen many times before. However, underestimate the poignancy and emotional power of Anne Fletcher's film at your peril. 
Based on the best-selling novel by Julie Murphy, Dumplin' is a wonderful, feel good film. Yes the narrative holds few surprises, but it has so much heart that you cannot help but fall in love with this movie (and its foot-taping Dolly Parton soundtrack). This is the film to watch if you are ever feeling low. Indeed, that is exactly what drew Fletcher to the project. 
"The reason I responded to this is because, when I was growing up, I had none of these movies telling me, 'It doesn't matter what you look like, you're still perfect the way you are,'" she explains. "There's just so many layers to it that I love, and if this can affect girls and women in a positive way, that will make me so happy."
The cast of Dumplin' all give endearing and heartfelt performances. Jennifer Aniston, for example, is really rather fabulous as Rosie. In lesser hands, she could have been portrayed as a wicked cartoon villain. There are no mean girls in this movie, however. While she has unwittingly contributed to Willowdean's lack of self esteem, Rosie clearly loves her daughter. 
"The role of Rosie is kind of a combination of the mum in the book, Jen's mum and my mum," says screenwriter Kristin Hahn. "I felt like (Jen) was perfect for it, because I knew she
would humanize that character, brilliantly capture her coiffing quirks, and make you fall in love with her, even if you were on Will's side."
Willowdean, of course, is the centre of Dumplin'. That the story works so well is largely thanks to Danielle Macdonald's funny, sensitive and engaging performance. So impressive in Patti Cake$, Macdonald creates a character that is endlessly likeable. We love her exactly the way she is - a feeling the film encourages.
"You just don't see this character portrayed enough in stories for teenagers," Hahn adds. "I felt like it was a chance to tell a more sophisticated story for and about young people rather than it be just about 'the girl and the guy.' This story is about a girl falling in love with herself, and it's about a group of girls learning how to be friends to each other."
I was surprised by how much I enjoyed Dumplin'. I was fully invested in Willowdean's journey - all the way to the film's surprisingly moving conclusion.
Random Observations
The Dumplin' soundtrack features several reworked versions of Dolly Parton classics alongside new material written by Parton and, producer, Linda Perry. 
"When Linda and I got together, we realized we had so much in common musically," Parton says. "We went to see the movie and then started writing some songs that were based loosely on the attitude and the feel of the movie."
Have you watched Dumplin'? If you have, what did you think of this film? Let me know in the comments section below. Alternatively, come find me on Twitter @500DaysOfFilm.