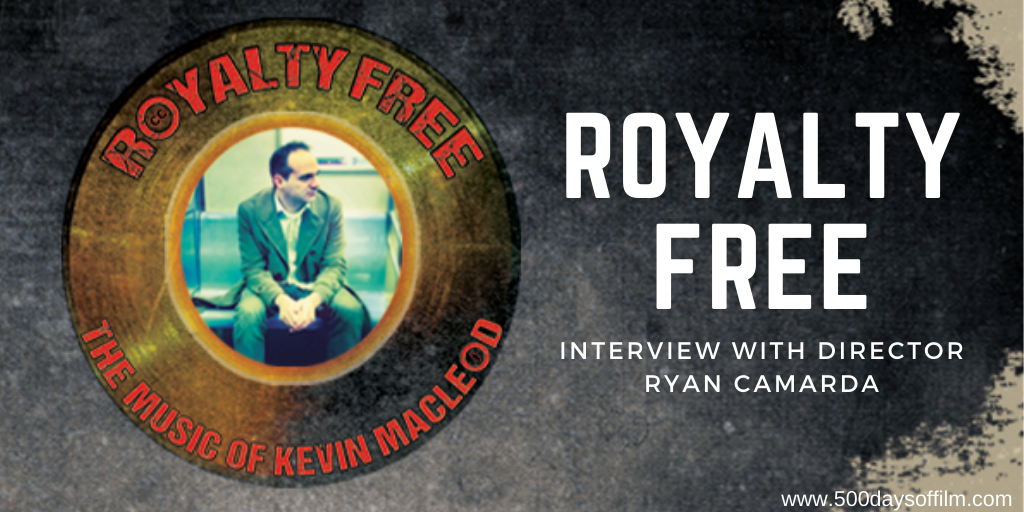 Ryan Camarda's documentary, Royalty Free: The Music of Kevin MacLeod, is a fascinating look at the life and career of composer Kevin MacLeod, whose practice of releasing his music for free has made him one of the most heard composers in the world.
I was lucky enough to talk to Ryan about his film and would like to thank him for being so generous with his time.
What inspired you to make Royalty Free?
I was editing a trailer for a film that I was working on and I needed music. I have been using Kevin MacLeod's music from his website Incompetech.com for years and I started to wonder… who is this guy?
So, I looked him up online. At the time, he had a thousand credits on IMDB and over three million hits on YouTube. I wondered if anyone had made a documentary about Kevin. I found that, apart from a few scattered interviews here and there, there was nothing like the film I had in mind.
I emailed Kevin and mentioned that I wanted to make a documentary about him. We then arranged to meet. My business partner and I came prepared. We had a detailed description and a huge folder full of research about what we wanted to do in the film. It was a big pitch! Kevin just glanced at it and said, okay you guys can do it.
How did you find the documentary's other contributors?
Kevin put me in touch with some of his friends and I did lots of research. Once I got the initial people involved, I asked them if they could suggest anyone else that I should be talking to in the documentary. 
I then contacted all of these people - except for the dominatrix who is featured in the film. She came to me after finding out about the documentary through the Kickstarter campaign. She asked me if I wanted to interview her. 
In all, I did over 60 interviews. Sadly, I couldn't use all of them. I feel really bad about that! 
How closely did you work with Kevin on Royalty Free?
I showed him some clips as we were editing but I kept the final edit rights. I didn't want Kevin to be a producer on the film because I didn't want any kind of conflict of interest. While the film praises him, I didn't want it to be a "Kevin's The Greatest Thing Ever!" type of documentary. 
Did you always plan to explore the more controversial aspects of Kevin's decision to release his music for free?
I always intended to show both sides of this story and I tried to take a journalistic approach.
When it came to the broader issue of the digital audio revolution, I contacted both sides of the divide. However, only the creative commons/royalty free people wanted to be interviewed. 
I still wanted to create a balance between both sides of the argument because I think it makes the film more interesting.
How long did it take to make Royalty Free? What was it like to fund the film via Kickstarter?
I first contacted Kevin in January 2013.
The Kickstarter funding was crazy. I had a serious accident on 21st January 2014. I was bedridden up until the Kickstarter, which was in October/November of that year.
At the same time, I was also working on a short documentary about my friend's illness, Neurofibromatosis Type 2, which causes tumours throughout the body. I had this idea of her in a black room with light bulbs going out as her friends died around her.  
My friend was in contact with the Queens Museum in New York and they said that we could film the documentary there. In late September, they asked if I wanted to create an exhibition at the museum and screen my film, Unwavering Truth: Archive Of Our Own, there. I was like, of course!
Unfortunately, this all happened at the same time as the Kickstarter. It was so hectic but I somehow managed to succeed. I am so grateful that the people who contributed to the Kickstarter have been so patient during all of these years. I am trying to figure out the best way to make that up to them.     
Did your focus change at all during the production phase?
The digital/audio issue was always there, but its importance ballooned. I did not know the information about Kevin's brother - that only came out while we were filming.
While making the film, we also discovered the many ways that Kevin's music has been heard. 
Did you enjoy the experience of making Royalty Free?
The creative and planning parts, yes. The mundane parts? Not so much. The worst thing was that, after completing 60 interviews and capturing hundreds of hours of footage, I then had to watch and transcribe it all. That part was quite dull and it took a year. After that, it was like building with Lego - working out what part fits best where. That part was great.
What would you like your audience to take away from the documentary?
I want people to make up their own minds about Kevin and about a lot of the issues in the film. For example, how would you feel if you, like Kevin, put your work out there to be used by anyone - from Neo Nazis to other controversial groups? With the license Kevin uses, you cannot stop that.
Kevin believes that once his music is out there it isn't his anymore. If you don't have that mentality, it is a tricky concept and might make people shy away from this business model.
Then you have the issue of digital orchestras taking over - is that a good or bad thing? Personally, I think the democratisation of music is a good thing. The more voices out there the better. However, some people argue that the more voices there are, the harder it is to find quality. There is a lot to think about and I wanted people to go away from Royalty Free thinking about these issues.