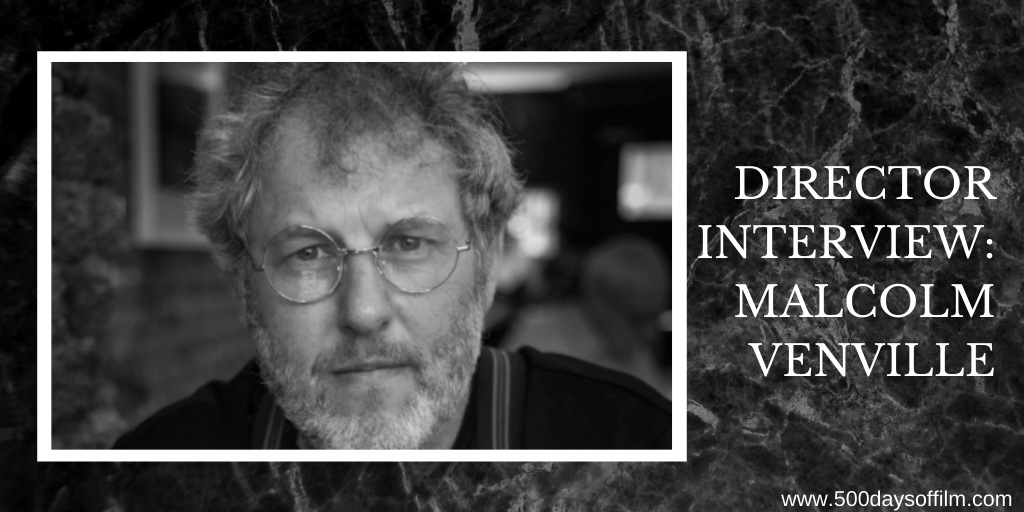 Malcolm Venville is a director and photographer who made his feature film directorial debut with the dark comedy 44 Inch Chest starring Ray Winstone, Ian McShane, John Hurt, and Tom Wilkinson. 
In collaboration with fellow director Fisher Stevens, Venville has now made And We Go Green, a documentary about Formula E - the electric car racing championship. I was lucky enough to speak to him about this film.
What inspired you to make And We Go Green?
Fisher Stevens is an old friend of mine. We have worked together in the past and stayed in touch over the years. Fisher was asked to make a film about Formula E by Leonardo DiCapprio. However, he didn't know the front end of a racing car from the back! 
Fisher knew that I had made a lot of car commercials so, after flying to Spain to meet the Formula E teams and see the cars, we decided to partner together and make the film. It was a great experience.
How did you secure such impressive access behind the scenes of Formula E?
Alejandro Agag, the former chairman of Formula E, gave us unlimited access. We could go wherever we wanted. 
Did you enjoy making the film?
I have had a passion for motor racing since my childhood. My family were always in the car industry and I was always around cars. I dreamed about being a racing driver but I could never get near cars of the magnitude of Formula E. Thanks to Fisher, this film was a real boyhood dream come true. 
What are the main themes that you explore in And We Go Green?
What I discovered while making the film was that [racing driver] Jean-Eric Vergne's passion to win is so great that he wants to win more than he wants to breathe. With Vergne, the risk wasn't to get hurt or to lose his life, it was to not win. That was the very core of the film - an exploration of that level of passion.
The film is also about the universality of ambition. The drive to win is the same in environmentally sound motor racing as it is in carbon burning, emission excessive cars. It's all about the spirit of competition. While the backdrop about sustainability is different, nothing changes in terms of the sport - not in the egos or the passion involved.
There are many comparisons in the film between Formula One and Formula E. Was it interesting to explore the differences?
Formula One cars are based on a 19th Century principle of the internal combustion engine. Formula E is based on a 21st Century form of transportation. They share four wheels and have a similar shape, but they do not have much more in common. 
Meanwhile, the demands on the drivers of Formula E cars is completely different. The sport requires a whole new set of driving skills. It is like driving a mobile phone when you are running out of battery - do you order an uber, do you order a takeaway or do you phone your partner? You have to pick one. 
The drivers are much more involved in Formula E. There is no more pedal to the metal. It is, of course, about winning but there are many more technological demands on the drivers. The driving is much more rugged and aggressive than it is in Formula One.
The racing drivers are fascinating to watch in And We Go Green - both off and on the track. What was it like to interview them?
I asked one of the drivers: what do you do when you see a driver spin out of a race? He said: I put my foot down. A really competitive driver is a very ruthless person.
Making this film allowed me access to an extremely elite bubble - into the world of Formula E. This world is only open to people with an immense amount of privilege and this film is a way of looking into that - into the dream of driving. 
The film explores the fact that many drivers come to Formula E with a redemption story. 
Yes, in Formula E most of the drivers have previously been fired or dropped from Formula One. As a result, they are keen to reclaim some form of glory. They are like medieval princes deprived of their kingdom. Formula E has given them another chance to establish themselves.
For example, Sam Bird was a reserve driver for Formula One for four or five years. He spent that time languishing, drinking coffee. Then Formula E came along and he was given a new lease of life.
You certainly introduce us to a fascinating cast of characters in the film. Many reveal intimate thoughts and feelings and share deeply personal experiences. How did you develop such trust among the drivers?
Fisher Stevens has amazing interpersonal skills. He can infiltrate somebody's life, win their confidence and get their trust. It was amazing to be able to watch him do that with people like Nelson Piquet Jr or Jean-Eric Vergne. 
Racing drivers are often quite shy and withdrawn. Fisher had the ability to penetrate their world and encourage them to speak about their deepest fears and anxieties.
Was it interesting to look at the childhood backgrounds and life experiences of the racing drivers?
Yes. I wanted to go further with that and really explore the experiences of all the drivers. For example, the way Nelson Piquet Jr drives is a product of his childhood experiences. There is so much complexity to explore. 
Jean-Eric Vergne's father, in extreme contrast to Nelson Piquet's relationship with his son, was the kind of father every youngster wants. He was very attentive and brought his son into the world of motor racing in a really elegant way. 
Alongside the fascinating human stories And We Go Green also follows Formula E's technological developments. Were you filming these advances - such as the longer life battery - as they unfolded?
Yes and there was genuine anxiety about the new battery because the future of Formula E depended on that development. If they didn't have that battery, teams like Mercedes and Porsche would not join the formula - they wanted to have one battery for the entire race. 
It was very stressful for them to make that battery and we were there to chronicle it. 
What impact will Covid 19 have on Formula E do you think?
There's no going back to petrol powered cars because I don't know if we are going to be able to afford to make them. For example, a Formula E car has 20 moving parts. A Formula One car has 2000-3000 moving parts. The labour and capital required to develop a Formula One car is just not going to be viable anymore. 
The technological developments in Formula E are just mind blowing. It is difficult for us to comprehend what the level of technology is going to be in the future. The power of the software designers and the engineers is fascinating.
Was it difficult to finish the film given all the exciting developments?
Fisher Stevens never likes to turn the camera off - he needs two units, one for the daytime and one for nighttime! He has an amazing energy level. This was a very difficult film to edit. We worked with an incredible editor, Gabriel Rhodes, and he unified all of the elements into a cohesive film. 
We were also lucky that Jean-Eric Vergne and Sam Bird got into a battle in Formula E's fourth season and that gave the film a real sense of escalation and development.
What projects are you working on next?
I have just finished a six hour limited series, which recently aired on the History Channel in the US, about the life of US president, Ulysses S. Grant. It will be airing in the UK in October. This was a big contrast from Formula E but it was very interesting and, of course, extremely timely.
---