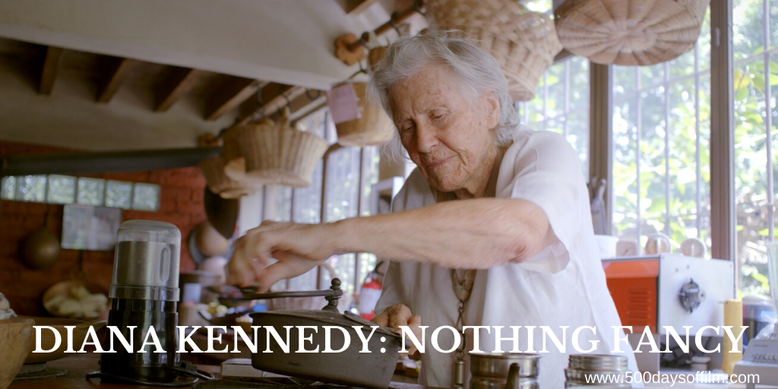 If I make it to my 90s with a fraction of the energy displayed by chef and cookbook author, Diana Kennedy, in the opening scenes of Elizabeth Carroll's documentary, I will consider myself lucky indeed. 
Considered to be one of the leading experts on Mexican cuisine, Diana is a force of nature powered by a rebellious and formidable spirit. She is confrontational, engaging, witty and driven - ingredients that make this entertaining documentary well worth your time. 
Carroll was planning a film about the matriarchy of food culture in Mexico - examining the way women pass down food culture and traditions - when she first met Diana Kennedy at a book signing event in Austin, Texas (the serendipitous story behind this meeting is pretty incredible).
"At the end of the event, I approached her and she asked me what I wanted," Carroll recalls. "I told her that I thought her voice needed to be heard by many, many more people. I said that not enough people know who she is and that she is a really inspiring person. I think she really liked that."
The two women felt an almost familial connection. Six and a half years later, Carroll's debut film, Diana Kennedy: Nothing Fancy, was finished. The documentary, named after one of Kennedy's cookery books, takes us on an enjoyable and visually stunning journey through Kennedy's fascinating life - celebrating her achievements, honouring her legacy and revealing that Diana Kennedy still has a lot to say.
The author of nine acclaimed cookbooks, Kennedy has spent nearly seventy years exploring Mexico (typically solo in her truck) and researching the country's varied and complex cuisines. She found her calling and lived her passion. 
"How can it be that a white British woman knows more about Mexican food than anyone else?" questions cookbook editor, Frances McCullough, in the film. While telling her story, Carroll also puts any fears of cultural appropriation to rest - Kennedy's love and respect for Mexico, its people and its food traditions are clear.
The feeling, as we hear from a variety of those interviewed in the film, is mutual. Kennedy was decorated with an Order of the Aztec Eagle from the Mexican government in 1982. "I think Mexico as a country will be eternally indebted to her efforts," says Pati Jinich, award-winning Mexican chef and host of PBS show, Pati's Mexican Table.
"The people who really know Diana know that she is one of the most respectful people," adds Carroll. "Her goal was to get information and to preserve tradition and recipes and do the research - she was a kind of anthropologist."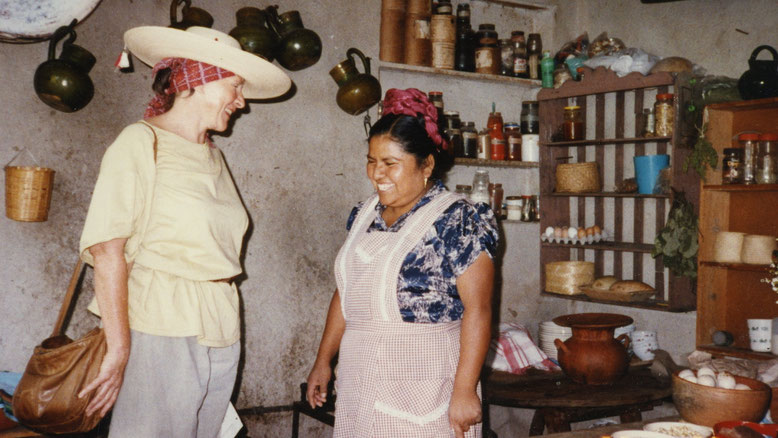 Meanwhile, Kennedy's no nonsense manner makes Carroll's film deliciously entertaining. She takes no prisoners, it's her way or the highway. I certainly wouldn't want to be on the wrong side of Diana Kennedy - particularly in her kitchen. 
However, Kennedy also displays a warm sense of humour (often making jokes about her age) and a generosity of spirit. She wants to share her hard-earned knowledge with anyone who wants (and is brave enough) to listen. 
Hers is a different cooking style to that which we have become accustomed. Kennedy favours an authentic approach that rewards time and effort. I particularly loved the film's guacamole scene where present day Diana is intercut with archive footage of Diana from around 35 years ago. 
"This is my favourite scene," says Carroll. "We had already filmed Diana making guacamole - she has this very specific way of doing that on camera and I thought it was amazing. I had access to 27 episodes of her shows - a lot of footage... I came across the episode of her making guacamole and I realised that she was making it in exactly the same way. She even says the same quirky things.
"It was so interesting to watch Diana transform into her mode of culinary instructor. You can tell that she was born to do this - to be this person, this teacher."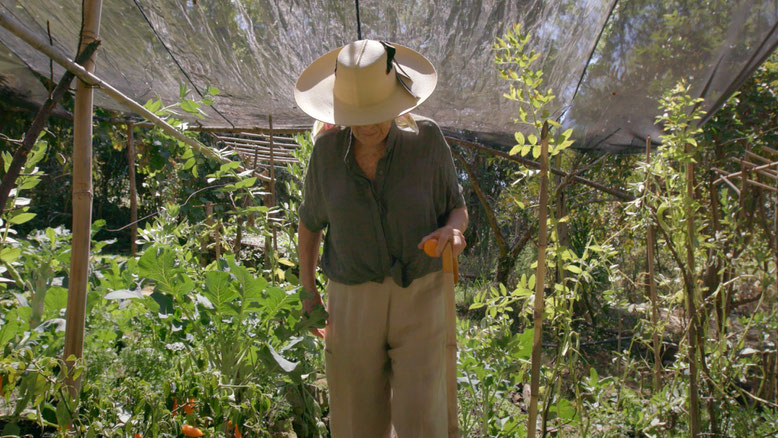 Towards the end of Diana Kennedy: Nothing Fancy, Frances McCullough makes another key observation - she suspects that Kennedy has much more to say. McCullough's comment allows the film to explore Kennedy's passion for environmentalism.
"I wasn't sure at first how we were going to weave her environmentalism into the story," says Carroll. "I knew from the beginning that this would be a big part of the story because it is a big part of who Diana is - but I wasn't sure where we were going to slot it into the film." 
Kennedy has cultivated and maintained an ecologically sustainable ranch outside Zitácuaro, Michoacán since 1974, where she recycles rainwater, uses solar power, and grows her own vegetables, coffee and corn. 
She shows us around this ranch and gives us a tour of her wonderful greenhouse. At every opportunity, she promotes the need for sustainability and condemns those who do not respect nature.
"I came here and realised that we have to live for nature... Remember there are generations coming after you," she warns. Given her work, her legacy and her remarkable, unconventional life, we would do well to listen.
Click here to read my interview with Elizabeth Carroll!