500 Days Of Film Reviews Dark River Starring Ruth Wilson And Mark Stanley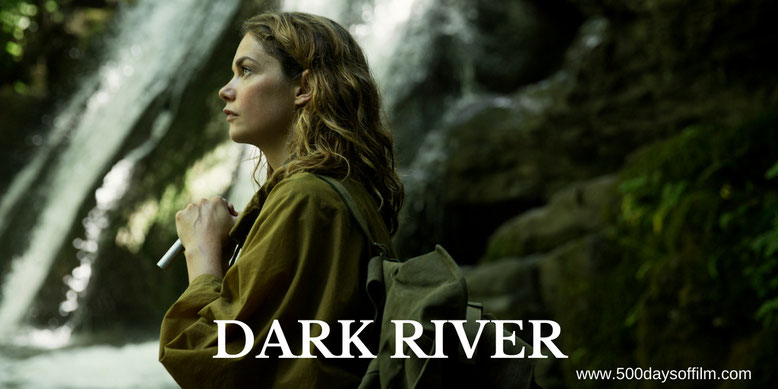 Following the death of her father, Alice (Ruth Wilson) returns home to Yorkshire for the first time in 15 years, to claim the tenancy of the family farm she believes is rightfully hers. Once there she encounters her older brother, Joe (Mark Stanley), a man she barely recognises, worn down by years of struggling to keep the farm going whilst caring for their sick father.  
Joe is thrown by Alice's sudden arrival, angered by her claim and finds her presence increasingly impossible to deal with. Battling to regain control in a fraught and fragile situation, Alice must confront traumatic memories and family betrayals to find a way to restore the farm and salvage the bond with her brother before both are irrevocably lost.
Is It Any Good?
Anchored by a breathtaking performance from Ruth Wilson, Clio Barnard's third feature film ((after The Arbor and The Selfish Giant) explores the trauma of repressed memories. Dark River is an intense and atmospheric slow burner, set in the brutal and beautiful Yorkshire landscape.
Wilson commits wholeheartedly to the role of Alice - both emotionally and physically (shearing sheep like a pro). Having spent her life running from the past, Alice's return home is accompanied by unsettling and foreboding flashbacks - each revealing more about the
disturbing relationship she had with her father (whose malevolent and pathetic presence is chillingly conveyed by Sean Bean).
Determined to confront the ghosts that haunt her, Alice attempts to follow in the footsteps of her mother and grandmother and make a success of the farm. However, her older brother, Joe (superbly portrayed by Mark Stanley), has other ideas.
Conflict ensues amid the hard reality of farm life - stunningly portrayed by Barnard both visually and by her film's incredible soundscape. Indeed, Dark River feels so authentic that you can almost sense mud under your fingernails.
Brother and sister struggle with their guilt and grief. Who should be in charge of this breathtaking yet, often, bleak countryside? Does the farm have a chance of a happier future? Do Alice and Joe? 
However, these concerns mask the real challenge at the heart of Alice and Joe's relationship. They may fight over land use and sheep care but terrible secrets haunt their past - and those secrets will not be silenced.
Random Observations
Dark River marks a trilogy of films set in the English countryside that deal with family, secrets, relationships and trauma. If you enjoyed Clio Barnard's film, I would also recommend Hope Dickson Leach's The Levelling and Francis Lee's God's Own Country.
Clio Barnard was the first recipient of the Wellcome Trust Screenwriting Fellowship, in partnership with BFI and Film4, in 2013. Dark River was developed during her year in residence at Wellcome when she had unparalleled access to experts in traumatic memory.
Have you seen Dark River? If you have, what did you think of this film? Let me know in the comments section below or over on Twitter. You can find me @500DaysOfFilm.