500 Days Of Film Reviews Daphne, Starring Emily Beecham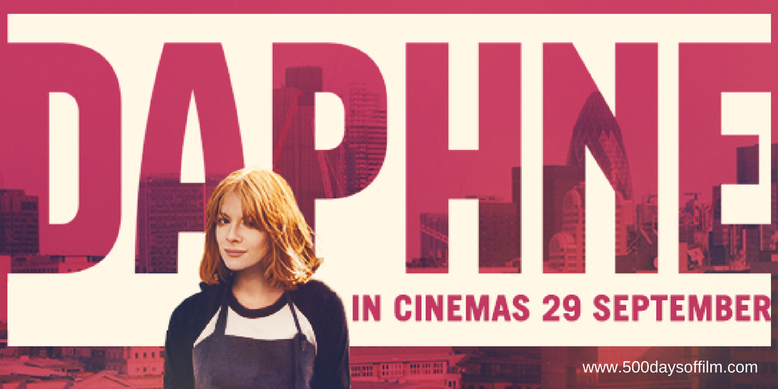 Daphne is a bright thirty-one-year-old woman negotiating modern life in London. Caught between the daily rush of her restaurant job and a hectic nightlife, Daphne seems to have everything going for her…. on the surface at least.
In reality, Daphne is isolated and unhappy, struggling to make a meaningful connection with anyone in her life. However, when she saves the life of a shopkeeper stabbed in a failed robbery, the mask she wears to protect herself begins to crack.
Is It Any Good?
Let's face it, the vast majority of films about single women (particularly those who seem somewhat adrift in life) end the same way. The woman is 'saved' by a man. Indeed, we are so accustomed to this cinematic tradition that Daphne comes as a real surprise. 
Much like its central character, Daphne is a film that refuses to take the easy way out. There will be no knight in shining armour (and, even if there was, Daphne would no doubt send him packing) and no quick, convenient fix.
What we do have is a more realistic portrayal of a troubled young woman on the brink of giving up on her own life. A woman who rejects the roles (of friend, wife, girlfriend, daughter etc) that society expects her to embrace. 
A woman who, after witnessing a shocking and violent event, is forced to consider the meaning of her existence and the potential of her future.
Daphne is anchored by a truly stellar performance from Emily Beecham. Selfish and caustic - particularly towards her mother Rita (Geraldine James) - she is not an easy character to like. However, we know that Daphne has a good heart (flagged up early on when she makes a homeless man a sandwich). 
There is much comedy in Daphne's abrasive feistiness and in her biting philosophies on life and love. However, we sense that this is only a mask that she wears in order to hide her vulnerability and isolation.
As Daphne's life spirals further downwards, so her drinking escalates. She embarks on meaningless sexual encounters and becomes ever more reckless - even prompting the concern of her takeaway delivery driver. 
We start to fear for her (in the film's lofty shots, she seems so vulnerable) and to wish that someone or something could save Daphne from herself - before it is too late. This is a testament, of course, to how real this character feels and how invested we are in her plight.  
While it is true that Daphne goes on a journey of self discovery, director Peter Mackie Burns remains true to his realistic portrayal of her struggle. I was both thoroughly entertained and gripped by this film. Long after the credits had rolled, I still found myself rooting for Daphne.
Random Observations
Peter Mackie Burns was influenced by films such as Kenneth Lonergan's Margaret, Five Easy Pieces and Happy Go Lucky. Visually, he found inspiration from Woody Allen's Manhattan, the work of cinematographer, Gordon Willis, and the photographer, Saul Leiter.
Daphne has won several awards including best performance in a British feature film at the  Edinburgh International Film Festival and the Best Screenplay Award at the Valetta International Film Festival. 
Daphne is the seventh film to receive support under the New Release Strategy - a BFI Film Audience Network (FAN) scheme to support the distribution of some of the best new films from across the globe, which aims to ensure that they are seen by more people in more cinemas throughout the UK.
Have you seen Daphne? 
If you have, what did you think of this film? Let me know in the comments section below or let's talk over on Facebook or Twitter (@500DaysOfFilm).