500 Days Of Film Reviews Colette Starring Keira Knightley And Dominic West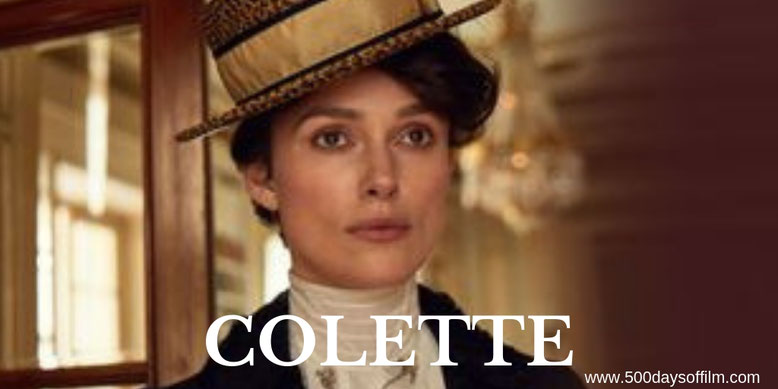 After marrying a successful Parisian writer known commonly as "Willy" (Dominic West), Sidonie-Gabrielle Colette (Keira Knightley) is transplanted from her childhood home in rural France to the intellectual and artistic splendor of Paris. 
Soon after, Willy convinces Colette to ghostwrite for him. She pens a semi-autobiographical novel about a witty and brazen country girl named Claudine, sparking a bestseller and a cultural sensation. 
After its success, Colette and Willy become the talk of Paris and their adventures inspire additional Claudine novels. Colette's fight over creative ownership defies gender roles and drives her to overcome societal constraints, revolutionising literature, fashion and sexual expression. 
Is It Any Good?
Colette is an entertaining and timely portrait of a remarkable literary icon. Director Wash Westmoreland's film follows Sidonie-Gabrielle Colette from her humble beginnings in rural France to her literary success in Paris.
Featuring a spirited and compelling performance from Keira Knightly, Colette is a period drama (the costumes are wonderful) with remarkably modern themes and parallels. Colette's desire for independence, her struggle to find her own voice and her battle with society's expectations of women are all too familiar today.
However, Westmoreland does not portray Colette as a perfect heroine. She is a flawed and often unsympathetic character. Likewise, Willy (a great, bombastic performance from Dominic West) is far from the one dimensional villain he could so easily have become. 
These nuances in both characters allow us to connect with Colette's story - to feel the stakes involved in her fight for equality, for the right to be herself and love who she wants to love.
At the end of the film, the customary "true story" title cards appeared, giving details of what happened next in Colette's life. I couldn't help but wish that these events were also included in the film. 
However, it was always Westmoreland's plan to focus on the story of her first marriage. He felt that this was a natural, fresh narrative for a feature film. "The story takes place around the turn of the 20th century when many new technologies were being developed, from automobiles, to telephones, to movie projectors," the director explains. 
"It was the new developments in perceptions of gender and sexuality that held more interest for us. So much of this seemed to be refracted through the prism of this marriage between these two unlikely characters."
The reason for Westmoreland's focus is compelling. Nonetheless, I would welcome another chapter in Colette's story. Perhaps he might consider a sequel... 
Random Observations
Westmoreland has been working on Colette since the summer of 2001 when he and partner, Richard Glatzer, set off for France with a plan to write a screenplay about her life.
Despite writing the script in ten days and getting the blessing of Baroness Anne de Jouvenel, the step-granddaughter of Colette and controller of the entire Colette estate, 16 years passed before the film was made.
During that time, the script went through some 20 drafts. However, both Westmoreland and Glatzer held onto the dream that they would, one day, bring their story of Colette to the big screen.
However, in 2011, Glatzer was diagnosed with ALS. Westmoreland explains that "rather than retreating into self-pity and depression, he spent the last few years of his life hell-bent on making movies. 
Their last film was Still Alice. Westmoreland and Glatzer watched the 2015 Oscars from the ICU at Cedars-Sinai. "It did not stop us from celebrating," the director recalls. "Afterwards, I asked him what he wanted to do next. He was almost completely paralyzed at that time and managed to type on a special device with one toe: C-O-L-E-T-T-E. A few days later he passed. It was clear what I had to do."
Have you seen Colette?
If so, what did you think of this movie? Let me know in the comments section below or via Twitter. You can find me @500DaysOfFilm.