500 Days Of Film Reviews Captain Marvel Starring Brie Larson, Samuel L. Jackson And
Ben Mendelsohn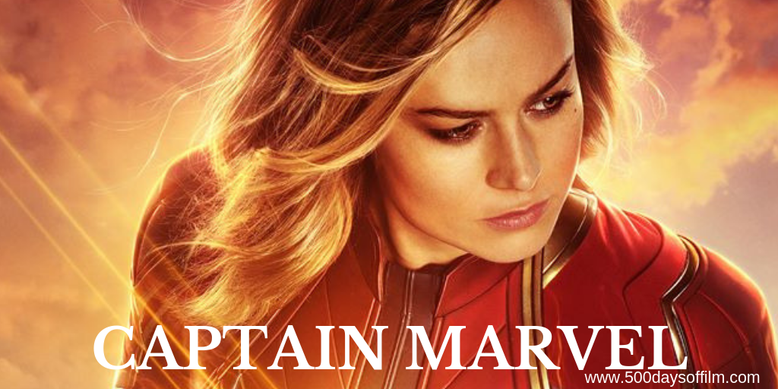 Carol Danvers (Brie Larson) becomes one of the universe's most powerful heroes when Earth is caught in the middle of a galactic war between two alien races.
Is It Any Good?
Captain Marvel is a blast… an absolute blast.
After a momentarily shaky start, the film soars... bringing us just what we wanted and needed. Finally, we have a Marvel movie with a female director (Anna Bowden, together with Ryan Fleck) and a female hero front and center. 
Who better to portray Carol Danvers than Brie Larson? She owns a role that asks so much from her - both physically and emotionally. Larson has to convince us that she is a witty, combat ready pilot - a world saving superhero in waiting. 
Meanwhile, she also has to convey Danvers's emotional conflict. In the space of just one film, we need to believe in and care about Carol. Larson has to show us why Nick Fury would trust, like and see her as a potential answer to the "what to do about Thanos?" question.
It is a tricky balancing act. However, Larson is pitch perfect and Captain Marvel is already one of my favourite MCU characters. I enjoyed her snarky feistiness, her interactions with her friend and colleague, Maria Rambeau (Lashana Lynch), and I particularly loved her relationship with Fury.
In a film full of spectacular action (including nods to Top Gun, Star Wars and Battlestar Galactica) and stunning visual effects, nothing is more impressive than the de-aging of Samuel L. Jackson. Anna Bowden and Ryan Fleck's film is just as much a Nick Fury origin tale as a story about how Carol Danvers came to be Captain Marvel. 
Jackson is utterly convincing as 40-something Fury and, beyond a momentary sense of awe, the de-aging process does not prove distracting. He and Larson have fantastic onscreen chemistry and the addition of a superb performance from Ben Mendelsohn is the icing on the cake.
With its dodgy 90s tech and brilliant soundtrack, Captain Marvel is thrilling and funny, emotional and action-packed. I can't wait to watch it again. Meanwhile, bring on Endgame. Squeeee…
Random Observations
Talk to me Goose! 
Captain Marvel has two post-credit scenes. The first is well worth staying in your seat for… the second is a bit of fun.
Have you seen Captain Marvel? If you have, what did you think of this film? Let me know in the comments section below or over on Twitter. You can find me @500DaysOfFilm.