500 Days Of Film Reviews The Highlights Of This Year's Cannes Film International Festival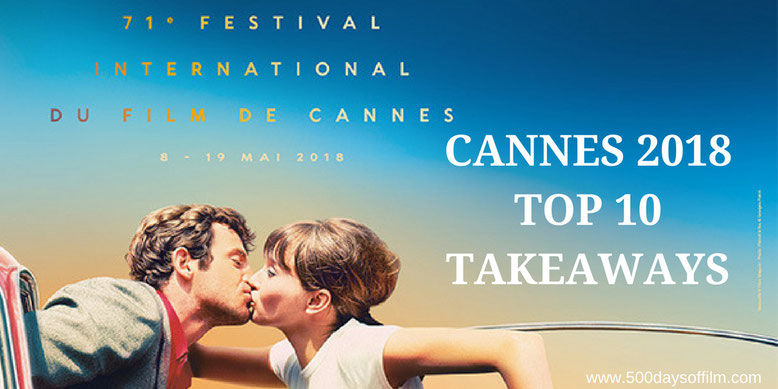 The 71st Festival de Cannes has come to a close and, as they sweep up the croisette, now
seems the perfect time to reflect on 12 days of fabulous feature film.
What were the surprises? What were the festival's most controversial moments? What are the top takeaways from Cannes 2018? Let's take a look...
1. Who Won What?
PALME D'OR
SHOPLIFTERS - directed by Hirokazu Kore-eda
GRAND PRIX
BLACKKKLANSMAN - directed by Spike Lee
JURY PRIZE
CAPHARNAÜM - directed by Nadine Labaki 
BEST PERFORMANCE BY AN ACTOR
Marcello Fonte in DOGMAN directed by Matteo Garrone
BEST DIRECTOR PRIZE
ZIMNA WOJNA (Cold War) directed by Pawel Pawlikowski 
BEST SCREENPLAY 
Alice Rohrwacher for LAZZARO FELICE (Happy as Lazzaro)
Jafar Panahi for SE ROKH (3 Faces)
BEST PERFORMANCE BY AN ACTRESS
Samal Yeslyamova in AYKA directed by Sergey Dvortsevoy
SPECIAL PALME D'OR
LE LIVRE D'IMAGE (Image Book) directed by Jean-Luc Godard
2. Cannes Still Has The Ability To Surprise
The decision to award Hirokazu Kore-eda with the Palme d'Or prize surprised many film critics and festival attendees. Lee Chang-dong's Burning and Nuri Bilge Ceylan's The Wild Pear Tree were considered to be the favourites for the award. Nonetheless, Kore-eda's film and Cannes success has been widely welcomed. 
3. Where Are The Female Directors?
Only three films in the main competition at Cannes 2018 were directed by women. Perhaps to make up for this rather disappointing fact, the Festival's main competition jury comprised five women and was chaired by Cate Blanchett.
Blanchett lead 82 women up the Cannes red carpet in a silent protest against the scandalous lack of female directors chosen for the main competition in the festival's history - 82 women as opposed to 1,688 men.
4. Netflix Proves Controversial… Again
The spectre of Netflix dominated Cannes once again. In response to new (theatrical release) competition rules, Netflix pulled out of the festival and withheld several key films including Alfonso Cuarón's Roma and the ambitious release of Orson Welles's final film, The Other Side of the Wind.
However, this didn't stop Netflix from watching events at Cannes closely. The online streaming giant expressed an interest in Asghar Farhadi's Everybody Knows (the festival's opening night film) and later bought the American and Latin American rights to Cannes best screenplay winner, Happy As Lazzaro.
5. Spike Lee Is Back… If He Ever Went Away
Spike Lee made a triumphant appearance at Cannes 2018. The director's satire BlackkKlansman was treated to a ten minute standing ovation and won the Grand Prix. Based on the book Black Klansman by Ron Stallworth, the film stars John David Washington and Adam Driver. Set in 1970s Colorado, the story follows an African-American detective who sets out to infiltrate and expose the Ku Klux Klan. 
6. Waiting For Godard's Special Prize
Legendary filmmaker, Jean-Luc Godard, was presented with a special Palme d'Or prize at Cannes 2018. The award was in recognition of the 87 year-old's latest film, Image Book, and in honour of his contribution to cinema.  
7. Me Too Looms Large
This was, of course, the first Cannes Film Festival since the Harvey Weinstein scandal and the Me Too movement loomed large. Asia Argento took to the stage during the Festival's closing ceremony to deliver a shocking, challenging and extremely powerful speech. 
8. Lars At It Again
After being banned in 2011 (following some ill-advised 'jokey' comments about Hitler), controversial director, Lars von Trier, returned to Cannes with his new serial killer film: The House That Jack Built.
The movie's screening saw high numbers of disgusted and offended walk-outs and became one of the key talking points of the festival. In an interview with Cineuropa, the challenging
filmmaker remarked that the outraged reactions to his film made him feel "very relaxed" but that he was "not sure if they hated it enough". 
9. The Man Who (Nearly) Killed Don Quixote
The legal dispute between Portuguese producer, Paulo Branco, and the team behind Terry Gilliam's The Man Who Killed Don Quixote threatened to prevent the film's Cannes Festival screening. However, fortunately, the screening of this much anticipated movie went ahead.
10. Must See Films… But Don't Hold Your Breath
Cannes 2018 revealed a number of must see films - including Shoplifters, Burning, The Wild Pear Tree, Blackkklansmen, Capharnaum, Cold War, Happy As Lazzaro and Dogman. However, don't hold your breath. Many of these movies will take quite some time to appear on your cinema screens.
However, Kevin Macdonald's acclaimed documentary, Whitney, does have a UK release date of 6th July 2018. 
Cannes 2018 - Your Thoughts?
What are your thoughts on this year's Cannes International Film Festival? What are you must see films? What did you think of the awards? Let me know in the comments section below or via Twitter. You can find me @500DaysOfFilm.