500 Days Of Film Reviews Cam, Starring Madeline Brewer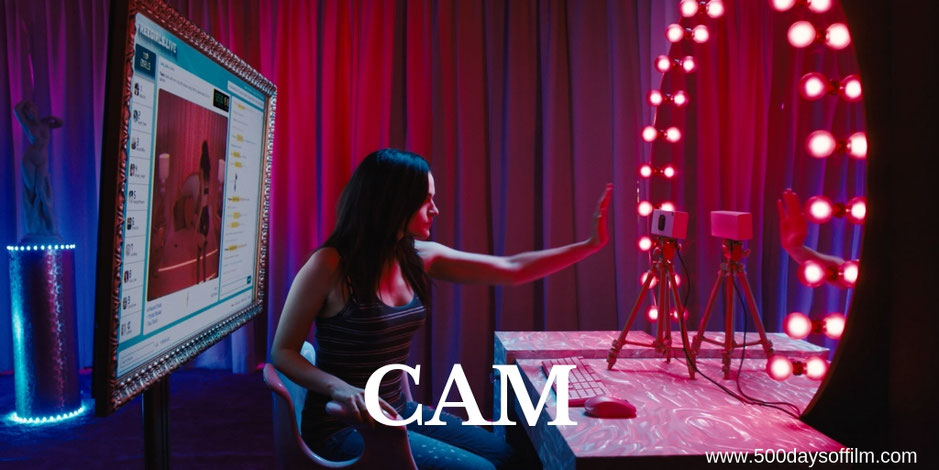 Alice (Madeline Brewer) is an ambitious and entrepreneurial camgirl. However, she enters a waking nightmare when she discovers that she has been replaced on her show with an exact replica of herself. 
As this copy begins to push the boundaries of Alice's internet identity, the control that Alice has over her life, and the men in it, vanishes. While she struggles to regain what she's lost, Alice slowly finds herself drawn back to her show and to the mysterious person who has taken her place.
Is It Any Good?
I will admit that I was wary of psychological thriller, Cam. I felt uneasy about watching a horror-inflected film about a camgirl (an erotic webcam performer), concerned that the story could all too easily descend into leary exploitation. 
However, I kept hearing positive reviews about the film (not least from Stephen King) and Madeline Brewer's central performance as Alice. As a result, I thought I'd give Cam a go - it's on Netflix, I reasoned, if it is not for me, I can always walk away.
I did not walk away.
Cam is a gripping, unsettling and thought provoking experience. A collaboration between writer (and former camgirl) Isa Mazzei and writer/director Daniel Goldhaber, the film features scenes of nudity but, thankfully, steers clear of titillation. Cam respects and empowers Alice - even when she begins to lose control.    
Many films would have portrayed Alice (or Lola to her clients) as the exploited victim in this story. Instead, Cam presents a smart, ambitious and creative entrepreneur. Camming is her choice - Alice is in charge of her life and her business. She is achieving significant success, rising up the ranks of the most popular camgirls. 
If anything, her (steadily increasing and predominantly male) audience are the ones who are being manipulated and, yet, even here Cam breaks away from cliche. Mazzei and Goldhaber wanted to recognise the complicated nature of sex work. 
"Most people (mostly men) are drawn to watching webcam pornography because it gives them an outlet to intimately interact online," Goldhaber explains. "Sex is only a small component of that, and we wanted to engage with the diverse array of experiences that sex work offers to both performers and consumers."
However, Alice's desire to rise to the top of the camgirl leaderboard (and gain more financial tokens), pushes her to stage increasingly elaborate and provocative shows - with devastating consequences.
Cam is intriguing even before the horror elements kick in. The film explores the emptiness and loneliness of transactional relationships - on both sides of the screen. In a telling scene, Alice buys an expensive sofa on her phone while at the hairdressers. 
What could have been a symbol of her growing success and financial freedom later turns into something more poignant. We see Alice sitting on this new sofa and realise that only one seat is free of its cellophane wrapping. 
Meanwhile, we never feel that Alice is truly safe. The intimate interactions she develops with her (terrifyingly anonymous) audience can so easily be misconstrued. For all her independence, Alice is still being controlled by men who have the financial means to dictate her behaviour.
In its second act, Cam moves further into thriller territory. Much like Leo Gabriadze's Unfriended, the film highlights just how scary the online world can be and how remarkably difficult it is to switch off our screens.
Cam also explores the nightmarish scenario of identity theft. Alice's growing frustration and fear are palpable as she grapples with the replica Lola who has stolen her show. "We wanted to make a movie about being and performing online that reflected that full range of the internet experience: the color, the kitch, the addictive rush of a new notification, and the
fragile, corruptible nature of digital identity," Goldhaber explains.
Much of the film's success rests on Madeline Brewer's shoulders - she is barely off screen. 
Cam works because Brewer is able to convey these complex emotions and make us care about Alice's plight. She is superb in this role.
Far from being a sleazy exploitation flick, Cam is a gripping, interesting and entertaining film that explores many disturbing aspects of our increasingly tech driven world. 
Random Observations
The search to find someone to portray Alice took months and the filmmakers saw hundreds of actresses. "Honestly, it was hard to get anyone to come in and read. The idea was too wild," says Goldhaber. "I'd run into actresses whose reps told us they had passed on the movie only to learn they'd never even been sent the script. Nobody wanted their clients in this movie."
It was Goldhaber's father who, in early January 2017, eight weeks away from shooting, saw Madeline Brewer in an episode of Black Mirror. Luckily, she was interested in this challenging role.
The filmmakers also knew the crew needed to be predominantly female. "That was one of the things that we all decided early on in the process," recalls Mazzei. "We needed a female DP and as many other female crew members as possible. It wasn't just about politics. We wanted the movie to have a legitimate blend of male and female gazes. We had a male director and a male editor and knew that had to be balanced out." Ultimately, all but two of the production crew heads were women.
Have you seen Cam? If you have, what did you think of this movie? Let me know in the comments section below or over on Twitter. You can find me @500DaysOfFilm.