500 Days Of Film Reviews Bumblebee Starring Hailee Steinfeld, Jorge Lendeborg Jr. And John Cena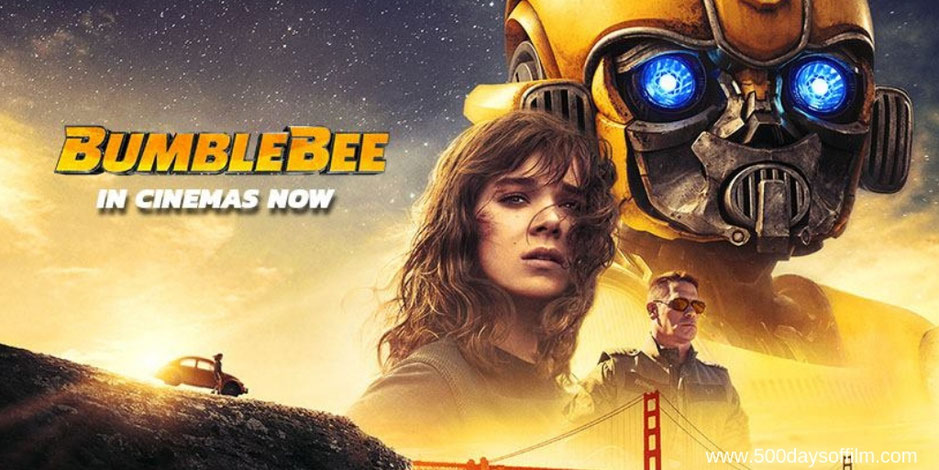 It is 1987 and Bumblebee, an Autobot transformer on the run from the evil Decepticons, finds refuge in a junkyard in a small Californian beach town. Charlie (Hailee Steinfeld), newly turned 18 and trying to find her place in the world, discovers Bumblebee and the pair soon form a powerful and much needed friendship.
Is It Any Good?
I am not alone in my dislike of the films in the Transformers movie franchise. I have little invested in this world and I have minimal interest* in two machines bashing each other to bits…
Or so I thought. 
With the Autobot versus Decepticon smashy set up out of the way, Travis Knight's Bumblebee movie literally transforms into a charming film full of fun, friendship and 80s nostalgia (check out awesome that soundtrack!).
Knight (and my love for his previous film - the superb Kubo And The Two Strings) was the only reason I took a chance on Bumblebee. He did not disappoint - sensibly focusing on the growing relationship between Charlie (a brilliant performance from Hailee Steinfeld) and Bee.
This is very much a Spielbergian friendship in a Spielbergian world. Charlie is grieving her father, Bumblebee is stranded far from home. They are united against a misguided government official (a great comedic portrayal by John Cena). 
Yep, there are ET references galore here along with a host of rather lovely 80s nods and winks (and t-shirts). As a result, Bumblebee is as much fun for the adults as it is for the children. This is the Transformers movie we have been waiting for... and should have had all along.
Random Observations
*Aside from Real Steel, of course.
This is a rather top end PG… there is a lot of machine on machine violence, moderate amounts of swearing and peril.
Have you seen Bumblebee?
If you have, what did you think of this film? Let me know in the comments section below or via Twitter. You can find me @500DaysOfFilm.