500 Days Of Film Reviews Brain On Fire Starring Chloë Grace Moretz, Richard Armitage, Carrie-Anne Moss and Jenny Slate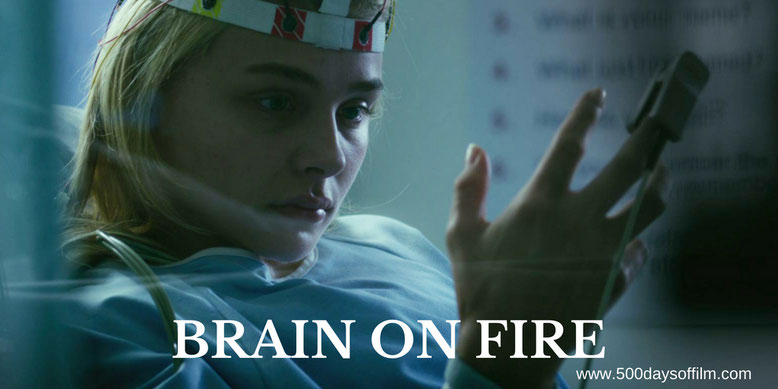 One morning, 24-year-old Susannah Cahalan (Chloë Grace Moretz) woke up in a hospital bed. She couldn't speak. She couldn't move. And she had no idea how she got there.
Is It Any Good?
Brain On Fire (now available on Netflix), is based on a true story. When she was just 24, Susannah Cahalan fell seriously ill with a condition that no one could identify. What happened next - involving devastating seizures and misdiagnosis - is both terrifying and inspiring. 
That Brain On Fire is based on Cahalan's memoir of her experience is what will stay with me the most after watching Gerard Barrett's film. This is a story I was not aware of based on a condition that we all need to know far more about.
There were moments while I was watching Brain On Fire when I was reminded of The Big Sick. Sadly, given the potential inherent in Cahalan's story, this film is not a patch on Michael Showalter's wonderful movie. 
Despite an admirable performance from Chloë Grace Moretz and an impressive supporting cast (featuring the likes of Carrie-Anne Moss and the always welcome presence of Jenny Slate), Brain On Fire fails to engage us on any deep emotional level.
There's no real suspense here - even if, like me, you don't know how the story ends. It all feels like a "disease of the week" TV movie. Again, this is a shame - particularly as many of the elements needed for a powerful film are here. 
However, Brain On Fire is still watchable and if it helps to raise awareness of the condition that struck Cahalan, it will have served a greater purpose than many "more engaging" movies. 
Random Observations
Have you seen Brain On Fire?
If you have, what did you think of this film? Let me know in the comments section below or over on Twitter (I'm @500DaysOfFilm).