500 Days Of Film Reviews Boy Starring James Rolleston And Taika Waititi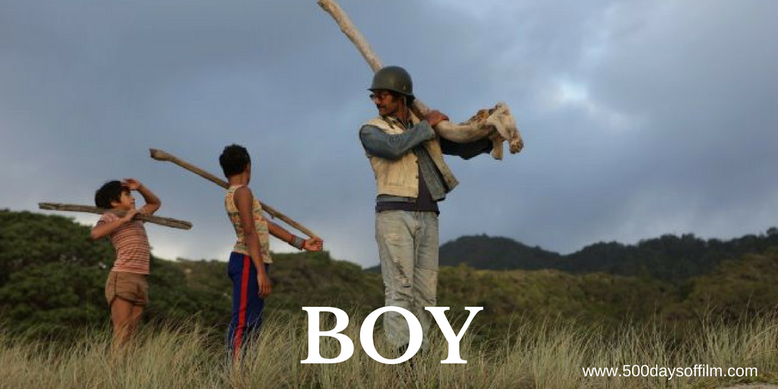 The year is 1984 and on the rural East Coast of New Zealand Boy (James Rolleston), a dreamer who loves and is inspired by Michael Jackson, lives with his brother, Rocky (Te Aho Eketone-Whitu), a tribe of deserted cousins and his Nan. 
Boy's other hero is his father, Alamein (Taika Waititi). Often the subject of his fantasies, Boy imagines his father as a deep sea diver, a war hero and a close relation of Michael Jackson (he can even dance like him). However, in reality, Alamein is an inept, wannabe gangster who has been in jail for robbery.
When Alamein returns home after seven years away, Boy is forced to confront the man he thought he remembered, find his own potential and learn to get along without the hero he had been hoping for.
Is It Any Good?
Inspired by Taika Waititi"s Academy Award-nominated short film, Two Cars, One Night, Boy is an absolute movie gem - a coming of age tale that is both extremely funny (infused with wonderful New Zealand humour familiar to Waititi's films) and also deeply moving.
I couldn't help but fall in love with Boy (brilliantly played by Rolleston) and his misplaced fantasies about Alamein. Yes these delusions trigger many hilarious moments (all superbly realised by Waititi) but, as they help him cope with reality, they also reveal his hidden grief and sadness.
It is the balance of these two emotions - laughter and sadness - that makes Boy such an entertaining and satisfying experience. There is certainly much more to this film than a series of silly gags. Boy is both a laugh out loud comedy and also a drama that explores the impact of loss (both personal and cultural).
Boy was filmed in the town where Waititi grew up, in the actual house in which he lived. This allowed the director to maintain the movie's crucial sense of authenticity. "I draw a lot of inspiration from true and imagined memories," the director reveals. "This story is personal in
that I believe you must write what you know in order to create honest art. Some events are true, some true of other people, most are imagined."
A powerful sense of place also allows Boy to explore the contradictions facing its characters. While the area is called "The Bay Of Plenty", many of its residents appear to hover on the poverty line. The natural world is visually stunning, the man-made world increasingly derelict.
However, there is joy here and a real sense of community. "The area where my family lives is what most people in the US would describe as poor, or poverty stricken, but it's not at all," Waititi explains. "People have money and they get by quite well, but their idea of what is important and the kinds of material things they need are very different."
While Boy explores such complex and powerful themes, the film's wonderful comedy will have you laughing from beginning to end. "I can't really handle depressing films about depressing subjects," Waititi confesses. 
"I would prefer to make something that pulls an audience in with a light, welcoming tone, and then bash them with little moments of drama and real, human emotion. This is truer to real life, I believe, that we are all balancing on a fine thread that lies between drama and comedy. You have to have both in your life to keep sane and balanced, and that's why I like to tell stories that reside in both worlds." 
Random Observations
Due to the enormous success of his short film, Two Cars, One Night, Waititi was invited to the Sundance Writer"s Lab, where he work-shopped the Boy script with Frank Pierson 
(Dog Day Afternoon), David Benioff (Troy), Naomi Foner ("Running On Empty), and Susan Shilliday ("Legends Of The Fall"). 
Have you seen Boy? 
If you have, what did you think of Taika Waititi's film? Let me know in the comments section below or via Facebook or Twitter (@500DaysOfFilm).