500 Days Of Film Reviews Book Club Starring Diane Keaton, Jane Fonda, Candice Bergen And Mary Steenburgen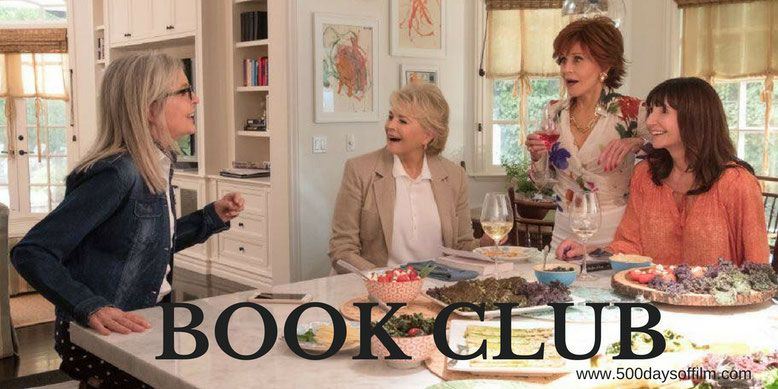 Four lifelong friends - Diane (Diane Keaton), Vivian (Jane Fonda), Sharon (Candice Bergen) and Carol (Mary Steenburgen) - have their lives forever changed after reading 50 Shades of Grey in their monthly book club.
Is It Any Good?
I'll admit that I had mixed feelings about Book Club. On the one hand, just look at that superb cast. I adore Diane Keaton, Jane Fonda, Candice Bergen and Mary Steenburgen. To see them on screen together made Bill Holderman's debut film a must watch.
On the other hand, I am so over 50 Shades (not that I was ever actually into it… I must be one of the few people on the planet not to have read E. L. James's trilogy). I worried that the use of these books would make the film feel cringe-worthily dated - and the trailer didn't alleviate my concerns. 
I need not have worried. While Book Club uses 50 Shades as a way to explore the sex lives of its central characters, the film does not focus on the adventures of Anastasia Steele and Christian Grey. (In addition, many of the issues I had with Book Club's trailer were not used in the film itself.)
Book Club is one hour and 44 minutes of silly, innuendo-fuelled fun. It's ridiculous, it's predictable and it's cheesy. However, for all that, the film is entertaining and enjoyable. It is just wonderful to be in the company of these four acting legends.
For me, Candice Bergen (as Federal Judge, Sharon) steals the show. She has so much fun with this role and gets many of the funniest lines (and a fantastic range of disapproving looks). Diane Keaton is fabulously Diane Keaton and Jane Fonda is great - particularly during some silly slapstick scenes. 
Meanwhile, Mary Steenburgen is a joy (watch out for her classic Werner Herzog reference!). Her scenes with on-screen husband, Bruce (the brilliant Craig T. Nelson), are as close as the movie comes to genuinely moving emotion.   
Of course, Book Club focuses on the stories of these four female friends. However, the film's male cast is also worth noting. Alongside Nelson, the movie features welcome cameos from Andy Garcia, Don Johnson. Ed Begley Jr. and Richard Dreyfuss.
As a result, despite my misgivings, I had a good time with Book Club. I just couldn't help but wish that someone would offer these superb actors material truly worthy of their impressive talents. I need to see these ladies on my screen again soon. 
Random Observations
Have you seen Book Club? 
If you have, what did you think of this movie? Let me know in the comments section below or come find me over on Twitter. I'm @500DaysOfFilm!