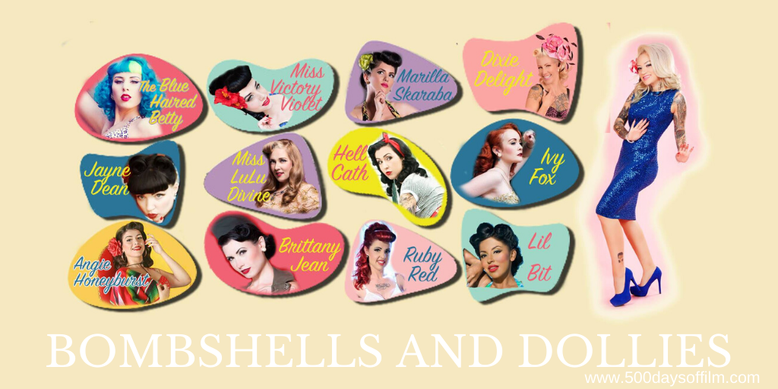 Bombshells and Dollies follows a group of 12 women as they prepare to compete in the Pinup contest at the Viva Las Vegas Rockabilly Weekend festival. 
This annual event twins vintage cars with contestants who hope to wear the Miss Viva Las Vegas crown. Why? Well, according to festival goers interviewed in Daniel Halperin's documentary, both are beautiful and both have curves. 
Hello alarm bells. Indeed, I felt concerned about the potential objectification of women in Bombshells and Dollies when I was first made aware of and invited to write a review about this film.
However, I was pleasantly surprised that - from its very opening scenes - Bombshells and Dollies reveals a far more progressive focus. The women interviewed all state that they have found this competition and the vintage lifestyle incredibly empowering. 
The documentary emphasises the themes of body confidence, self acceptance and inner beauty that are important both in the Viva Las Vegas contest and to the Pinup world as a whole.
We hear how the Pinup community has helped the women through difficult times, has given them a powerful voice and has enabled them to raise awareness of significant issues - suicide prevention and support for veterans to name but two extremely worthy causes. 
Meanwhile, Bombshells and Dollies also touches on how the Viva Las Vegas PinUp competition has become increasingly more inclusive - both in terms of the race of the contestants and with regards to their sexual orientation.
This is all admirable, of course, even though there is clearly much work still to be done. As the documentary shows, not all members of the Viva Las Vegas PinUp contest are quite so progressive. I would have welcomed a deeper exploration of these themes and issues.
However, it is hard to deny the energy and fun that Bombshells and Dollies depicts. This is not a film that seeks to peek in any dark corners or explore problematic issues in any real depth.
It is reassuring, therefore, that (as we see from the documentary's many interviews) these women love what they do, the characters they portray and the creativity and community that being a vintage Pinup inspires. 
While my concerns about beauty contests remain, the stories shared in Bombshells and Dollies quietened those alarm bells.
You can watch Bombshells and Dollies on demand via streaming sites such as Amazon and Vimeo on Demand.