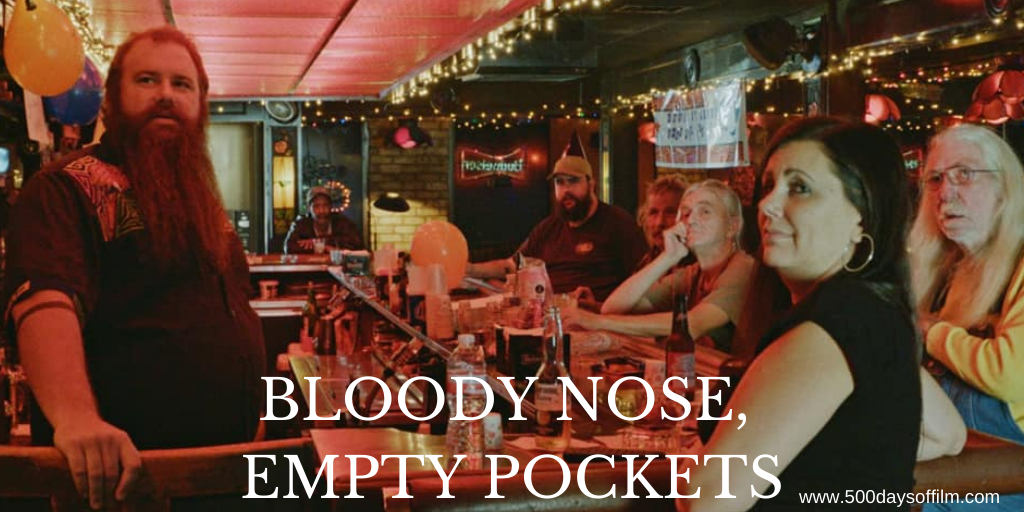 I came to Bill and Turner Ross' documentary, Bloody Nose, Empty Pockets, knowing nothing about this film. I hadn't watched its trailer and had (somehow) managed to avoid all spoilers and behind the scenes discussions.
My initial impression was that, wow, this is a hugely entertaining film - a raucous and poignant journey through the last night at the Roaring '20s, a bar in Las Vegas that is closing down.
I enjoyed meeting all the characters in Bloody Nose, Empty Pockets - a community of lost souls finding comfort in each other, drinking (so, so many drinks) and sharing pearls of drunken wisdom.
I was also really impressed by the filmmaking. Bloody Nose, Empty Pockets is wonderfully shot (making full use of light, colour and sound) and superbly edited. Watching is an atmospheric and immersive experience - you feel as if you too are propped up at the bar as events unfold. 
Meanwhile, I marvelled at the trust Bill and Turner Ross had built among the bar's patrons. Many scenes capture people at their most vulnerable. While some scenes felt staged, the documentary feels, for the most part, like an authentic record of time and place.
All in all, I enjoyed Bloody Nose, Empty Pockets. It is a lot of fun, albeit with a persistent note of profound sadness. The film reminds us of the importance of community experience and the dangers of addiction.
However, my feelings about Bloody Nose, Empty Pockets changed when I understood how it had been made. 
After watching Bloody Nose, Empty Pockets, it was brought to my attention that Bill and Turner Ross' documentary may well have crossed the line between fiction and non-fiction filmmaking. 
This is a story about a bar in Las Vegas that is closing down, much to the regret of its community of patrons. In reality, the bar is not in Las Vegas (it is a fictional bar in Louisiana) and it hasn't closed. Meanwhile, the people we meet in the film were chosen after an exhaustive casting process.
Looking back, the clues were there. I had noticed the film's false notes and staged scenes. However, I had been willing to overlook these slightly jarring moments. To be honest, I felt like I had been deceived. 
Don't get me wrong... I do not possess a fixed view of what a documentary can and cannot be - many of my favourite non-fiction films (I'm thinking of docs such as Stories We Tell, Dick Johnson Is Dead and Kate Plays Christine) explore this territory. 
Had I known more about the concept behind Bloody Nose, Empty Pockets, my experience would have likely been far different. Perhaps then I would have appreciated the way the film blurs the line between fact and fiction. Perhaps I just would have preferred to have been in on the joke. 
Of course, no documentary is an unbiased record. Every non-fiction film is the result of a series of choices made by a team of filmmakers. For example, the decision to follow one particular person's story is arguably a form of casting.
In short, since watching Bloody Nose, Empty Pockets, I have spent a lot of time thinking about Bill and Turner Ross' approach. Have they crossed a line? Does it matter? Why did I feel deceived? Why can't I stop thining about this film?
I now realise that not only has Bloody Nose, Empty Pockets made me examine the joys and sadness associated with bar life, it has inspired me to consider my relationship with the documentary genre.
And, for that, I will raise a glass and toast a truly entertaining and thought provoking film.