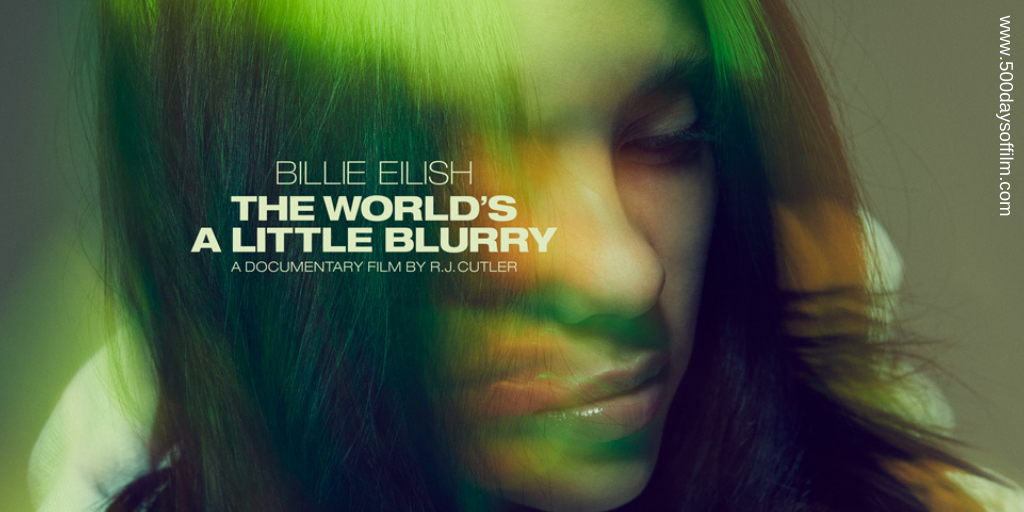 From Amy to Aretha, Judy to Nina, the world of documentary film is full of stories about musicians. Some of these films offer us a backstage pass. Many others deliver a carefully controlled, "on message" version of reality. And, really, who could blame anyone for wanting - after years in an often brutal spotlight - to keep their private life private?
This is what is so startling about Billie Eilish: The World's A Little Blurry. R.J. Cutler's entertaining documentary has incredible access and is, as a result, a wonderfully intimate and deeply personal portrait. Watching, it is hard not to feel amazed by Eilish's unapologetic insistence - despite her iconic status - to be vulnerable, to be human. This is not the story of a brand. This is the story of a person. A person who - despite attaining global stardom - is still a teenager dealing with many of the same things that any teenager faces.
It is refreshing (and inspiring) to watch as Eilish shares many deeply personal moments in the film. For example, she reveals her mental health challenges and her experience of Tourette's Syndrome. She shares key relationships in her life - some heartwarming, others heartbreaking. Like any teenager, she struggles with the pressures of growing independence (including not wanting to get out of bed - even when you have been nominated for a whole bunch o' Grammys).
Of course, Eilish is not living the life of a typical teen. She is a music icon with seven Grammy Awards and a Bond theme song to her name. Cutler documents her extraordinary journey by combining home footage with clips from her energetic live performances. We watch as, at just 17 years old, she navigates life on the road, on stage, and at home with her family. We see the joy and the isolation of such overwhelming fame.
Cutler's documentary celebrates Eilish's raw (ie. not manufactured) talent. She is determined and driven. She is not here to compromise and she knows what she wants. Her debut album, When We All Fall Asleep, Where Do We Go, was recorded without label interference and her talents go beyond songwriting and performing - we see her developing ideas for and directing her music videos.
Meanwhile, she fosters a close relationship with those who enjoy and identify with her music (she doesn't like to call them "fans"). In several (rather nerve wracking) scenes we see her embracing crowds of people. Eilish understands the power of connection and wants to give her audience the best experience that she can - shin splints be damned.
The feeling is, of course, intensely mutual. While it is easy to summarise Eilish's success in awards, downloads and social media followers, it is far more impactful in Billie Eilish: The World's A Little Blurry to watch her audience (in close up) sing along with her - visibly moved in joy and in sadness. 
Eilish has not achieved her success alone. We see glimpses of her older brother, Finneas O'Connell's, phenomenal talent and witness the incredibly supportive bond between the siblings. We are invited "in the room" as Eilish writes and records with Finneas - working on her debut album When We All Fall Asleep, Where Do We Go?
We also meet Eilish's parents - Maggie Baird and Patrick O'Connell. They are both all too aware of what can happen to talented young artists. Take Justin Bieber for example. During his career, he has experienced similar levels of fame and global media attention. He has been incredibly successful and his mistakes have been excruciatingly public as a result. In Cutler's documentary, Bieber is not just a cautionary tale. He is an example of how to survive overwhelming fame.
In charming scenes we watch as Eilish - who had quite the crush on the pop star in her early teens and remains utterly starstruck by him - meets Bieber for the first time. At first, she can barely look at him. He waits until she is ready and the two share a hug. It is (unlike the, frankly uncomfortable, scenes with Orlando Bloom) really rather touching.
Speaking from their bungalow in north-east LA, Maggie talks about how she and Patrick support their daughter and help to keep her grounded. They accompany their children on tour and are unafraid to call bs when someone tries to question their daughter's beliefs. With their support, we feel - and desperately hope - that Eilish can avoid the pitfalls that have damaged so many.