500 Days Of Film Reviews The Movies To Watch at LFF 2018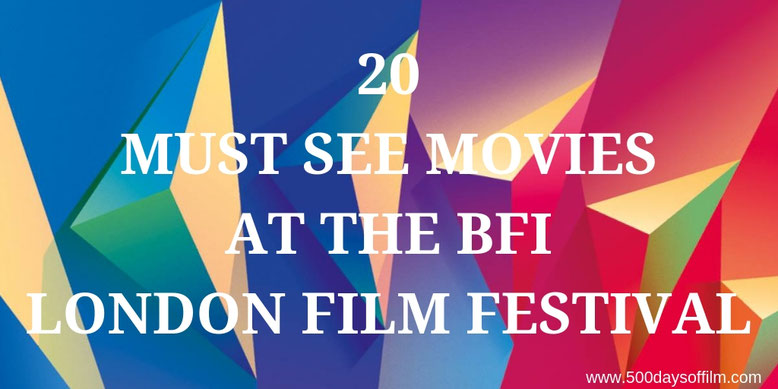 BFI London Film Festival (LFF) kicks off this year (on 10th October) with a screening of Steve McQueen's Widows. Concluding on 21st October with Jon S. Baird's Stan & Ollie (starring Steve Coogan and John C Reilly), LFF promises to be another exciting cinematic event.  
Tickets vary in price from £13 (for non-West End venues) to £30 (for opening and closing night gala premieres). The box office opens today, Thursday 6th September, for BFI Members with public booking available from 10am, Thursday 13th September.
The big question, of course, is what to see. Of the many movies featured in the 2018 LFF programme, I have picked 20 of my must watch films...
20 Films To Watch At LFF 2018
Widows 
Director: Steve McQueen
Starring: Viola Davis, Michelle Rodriguez and Elizabeth Debicki
Synopsis: When Veronica's husband is killed during a daring heist, she (Viola Davis) and the wives of the men he worked with discover money was owed to some particularly nasty people… and now they want it back.
Stan & Ollie
Director: Jon S. Baird
Starring: John C Reilly and Steve Coogan
Synopsis: In 1953, several years after their last film and with their celebrity on the wane, Stan Laurel and Ollie Hardy embark upon a tour of British seaside towns and music halls.
The Favourite
Director: Yorgos Lanthimos
Starring: Olivia Coleman, Emma Stone and Rachel Weisz
Synopsis: It is the early 18th century and England is at war with France. Queen Anne (Olivia Coleman)'s poor health finds her reliant on her friend, Lady Sarah (Rachel Weisz). However, their relationship is tested by the arrival of Sarah's cousin, Abigal (Emma Stone).
The Ballad Of Buster Scruggs
Director: Joel and Ethan Coen
Starring: Tim Blake Nelson, Liam Neeson, Tom Waits and Zoe Kazan
Synopsis: An anthology of six Western tales, the BFI programme calls The Ballad Of Buster Scruggs "wildly idiosyncratic, undeniably hilarious and often touchingly melancholic".
Beautiful Boy
Director: Felix Van Groeningen
Starring: Steve Carell and Timothee Chalamet
Synopsis: A father struggles to deal with his son's drug addiction.
Can You Ever Forgive Me?
Director: Marielle Heller
Starring: Melissa McCarthy and Richard E Grant
Synopsis: The early 1990s finds writer, Lee Israel (Melissa McCarthy), struggling to find her place in the world - both professionally and personally. Spurred on by roguish drinking buddy, Jack (Richard E Grant), Lee tries a get rich quick scheme - with surprising results.
The Front Runner
Director: Jason Reitman
Starring: Hugh Jackman, Vera Famiga and J.K. Simmons
Synopsis: Democratic candidate, Gary Hart (Hugh Jackman), was the man to beat in the 1988 US Presidential campaign. However, his career was destroyed by devastating allegations concerning his private life. 
Life Itself
Director: Dan Fogelman
Starring: Oscar Isaac, Olivia Wilde, Antonio Banderas, Olivia Cooke and Annette Bening
Synopsis: Life's complexities are explored in this multi-layered love story.
A Private War
Director: Matthew Heineman
Starring: Rosamund Pike, Jamie Dornan, Stanley Tucci and Tom Hollander
Synopsis: A biopic of The Sunday Times war correspondent, Marie Colvin.
Suspiria
Director: Luca Guadagnino
Starring: Dakota Johnson and Tilda Swinton
Synopsis: A homage to Dario Argento's classic horror, Suspiria follows Susie Bannion (Dakota Johnson) as she auditions for a prestigious international dance school. However, things are certainly not all they seem.
Outlaw King
Director: David Mackenzie
Starring: Chris Pine, Florence Pugh and Aaron Taylor-Johnson
Synopsis: A historical drama about the life of Robert the Bruce.
Roma
Director: Alfonso Cuaron
Starring: Yalitza Aparicio and Marina de Tavira
Synopsis: In Mexico City, 1970, Cleo (Yalitza Aparicio) is a live-in domestic worker of Mixteco heritage. She is employed by middle-class mother of four, Sofia (Marina de Tavira), who struggles to cope with the extended absence of her doctor husband. Cleo loves the children as if they were her own but her work leaves little space for a personal life.
The Man Who Killed Don Quixote
Director: Terry Gilliam
Starring: Adam Driver and Jonathan Pryce
Synopsis: Terry Gilliam's imaginative adaptation of Miguel de Cervantes's picaresque novel.
Out Of The Blue
Director: Carol Morely
Starring: Patricia Clarkson, James Caan, Tobey Jones and Jacki Weaver
Synopsis: Recovering alcoholic, Detective Mike Hoolihan (Patricia Clarkson), is haunted by a mysterious murder case. Adapted from Martin Amis's Night Train.
If Beale Street Could Talk
Director: Barry Jenkins
Starring: Kiki Lane and Stephan James
Synopsis: Barry Jenkins adapts James Baldwin's account of love, injustice and racism in America.
Peterloo
Director: Mike Leigh
Starring: Rory Kinnear and Maxine Peake
Synopsis: A tale of a working class uprising and its violent suppression in Manchester, 1819.
Happy As Lazzaro
Director: Alice Rohrwacher
Starring: Adriano Tardiolo, Sergi Lopez and Alba Rohrwacher
Synopsis: A story of what happens when innocence is faced with corruption and greed.
Happy New Year, Colin Burstead
Director: Ben Wheatley
Starring: Neil Maskell, Hayley Squires and Sam Riley
Synopsis: Colin (Neil Maskell)'s New Year celebrations are thrown into chaos by the appearance of his estranged brother. 
The Old Man And The Gun
Director: David Lowery
Starring: Robert Redford, Casey Affleck and Sissy Spacek
Synopsis: Adapted from David Grann's New Yorker article, The Old Man And The Gun tells the story of Forrest Tucker, a self styled 'Houdini' whose many prison breaks include fleeing from Alcatraz in a homemade kayak.
Wildlife
Director: Paul Dano
Starring: Jake Gyllenhaal and Carey Mulligan
Synopsis: A couple move to suburban Montana for a fresh start. However, cracks soon start to show in their marriage.
Over To You...
Are you hoping to attend LFF this year? If so, what movies are you planning to watch? What films are you most excited about on this list?
Let me know in the comments section below or over on Twitter. You can find me @500DaysOfFilm.