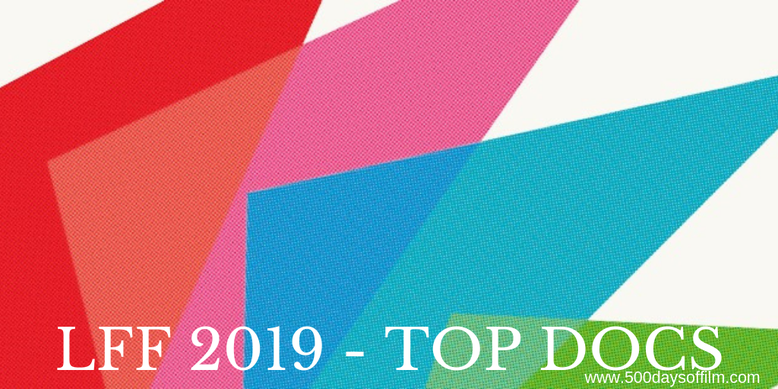 Exciting news… the BFI London Film Festival programme was announced this week! I just love going through the festival's brochure and making a list of all the movies that I am desperate to watch. 
Yes, that first list is ridiculously long and, yes, time and money issues will intervene at some stage… but a girl can dream!
Two things have changed since I attended LFF last year. One, I have a press pass (yay) and, two, I am totally and unapologetically obsessed with documentaries. There are some fascinating docs at this year's festival. I cannot wait to see Western Stars, Cold Case Hammarskjöld, The Cave, The Kingmaker, Citizen K and Leap Of Faith… to name but six.
Meanwhile, I know that some of the festival's documentary films of which I am, perhaps, not as familiar are going to blow my mind and stay with me forever.
Alongside its film strands, LFF has a special documentary competition. The Grierson Award recognises feature-length documentaries with "integrity, originality and social or cultural significance". Launched in 1972 and named in honour of documentary filmmaker John Grierson, recent winners include Roberto Minervini's What You Gonna Do When the World's on Fire?, Lucy Cohen's Kingdom of Us and Mehrdad Oskouei's Starless Dreams.
Below are 29 documentaries that will be screened at the 2019 BFI London Film Festival. The Festival takes place between 2-13th October and "public" tickets go on sale on 12th September (if you are a member of the BFI, you can book tickets from the 5th September). 
Are you planning to attend LFF this year? Are any of these documentaries on your radar? Let me know in the comments section below or over on Twitter. You can find me @500DaysOfFilm.
LFF 2019 - The Docs To Watch
THE CAVE
Oscar-nominated Feras Fayyad (who directed Last Men in Aleppo) film tells the harrowing story of an underground Syrian hospital and its incredible staff.
WESTERN STARS
Bruce Springsteen performs the entirety of his latest release, Western Stars, in this mix of concert documentary and memoir. 
DOCUMENTARY COMPETITION
COUP 53
Award-winning director Taghi Amirani's decade-long investigation into the 1953 CIA/MI6-led coup that overthrew Iran's democratic Prime Minister Mohammad Mossadegh.
CUNNINGHAM
A 3D portrait of American choreographer Merce Cunningham in celebration of the centenary of his birth.
I AM (NOT) A MONSTER
Director Nelly Ben Hayoun-Stépanian explores the origins and power of knowledge.
THE KINGMAKER
A look at the life and legacy of Imelda Marcos, former First Lady of the Philippines.
MYSTIFY: MICHAEL HUTCHENCE  
Capturing his rise to super-stardom and subsequent tragic fall, Mystify gives remarkable insight into INXS lead singer Michael Hutchence and a truth he took to the grave.
OVERSEAS
Each year, hundreds of thousands of Filipino women train to become domestic workers abroad. This documentary explores the economic and familial pressures pushing Filipino women to accept jobs abroad, some of which resemble modern-day slavery.
A PLEASURE, COMRADES!
An exploration of the lingering illiteracy, patriarchal power relations and sexual taboos of post-dictatorship Portugal. 
WHITE RIOT
Rubika Shah's documentary profiles punky reggae protest movement Rock Against
Racism, from grassroots beginnings through to a major multicultural event.
COLD CASE HAMMARSKJÖLD
Mads Brügger attempts to solve the mysterious death of Dag Hammarskjöld, who served as the second Secretary General of the United Nations. In 1961, while attempting to negotiate a ceasefire in the Congo, his plane crashed in Zambia, killing all on board. The reason for the crash is a mystery. 
DEBATE STRAND
CITIZEN K 
Multiple award-winning documentarian Alex Gibney returns with an exploration of the contemporary Russian political landscape and a portrait of oligarch Mikhail Khodorkovsky.
HOPE FROZEN
Pailin Wedel's award-winning documentary follows parents who are doing what they believe
is best for their child, no matter what the cost.
REWIND
Sasha Joseph Neulinger's powerful and intimate film investigates the history of his childhood trauma.
THE STREET
The long-term community of Hoxton Street face gentrification in this portrait of a rapidly changing London.
THE VALLEY
On the mountainous border of France and Italy, local residents are self-organising in order to help refugees, while law enforcers attempt to intervene.
THE AUSTRALIAN DREAM
A documentary about the Australian Rules football star Adam Goodes that examines the dangers of casual racism.
CULT STRAND
THE EL DUCE TAPES
Assembled from archive VHS footage, the story of one of punk rock's most outrageous
provocateurs, Eldon Hoke, is told. 
LEAP OF FAITH
46 years ago, The Exorcist terrified an entire generation of cinema-goers. Documentarian Alexandre O Philippe explores the story behind the making of a horror masterpiece.
CREATE STRAND
MAKING WAVES: THE ART OF CINEMATIC SOUND
Hollywood sound editor Midge Costin's directorial debut explores the power of sound in cinema.
MILES DAVIS: BIRTH OF THE COOL
The story of the, sometimes controversial, life of iconic trumpet player, Miles Davies.
MY FRIEND FELA
Exploring the life of Fela Kuti who inspired a generation of Africans and African Americans with his unique style of music, known as Afrobeat. 
RECORDER: THE MARION STOKES PROJECT
A documentary about Marion Stokes, the African-American activist who recorded
30 years of TV news.
SID & JUDY
Judy Garland's post-MGM triumphs and tragedies are explored in this documentary that uses the memoirs of her husband Sidney Luft.
SOMEBODY UP THERE LIKES ME
Mike Figgis's documentary about the life and career of Ronnie Wood, legendary rock guitarist and long-time member of The Rolling Stones.
TALKING ABOUT TREES
Winner of the Berlinale Best Documentary Award, filmmaker Suhaib Gasmelbari follows Ibrahim Shadad, Manar Al Hilo, Suleiman Mohamed Ibrahim and Altayeb Mahdi, four veteran members of the Sudanese Film Club, as they try to bring a cinema-going culture back to the country. 
YVES SAINT LAURENT: THE LAST COLLECTIONS
Withheld from release for nearly 20 years, this documentary goes behind the scenes of Yves Saint Laurent's final collection.
SHOOTING THE MAFIA 
Acclaimed documentary filmmaker Kim Longinotto (Dreamcatcher) focuses on Sicilian photographer Letizia Battaglia, whose work recorded the Mafia's violent crimes.