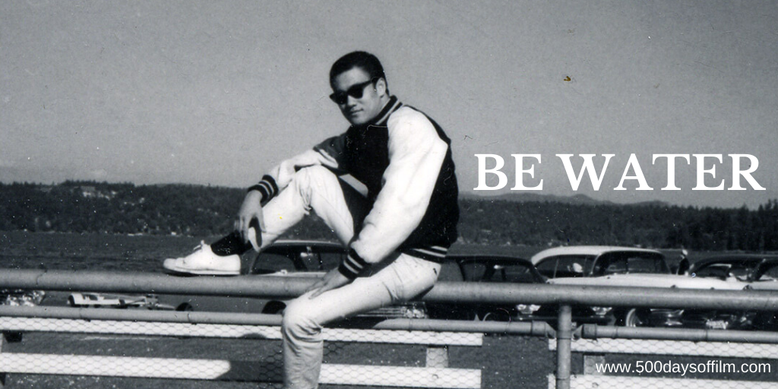 In 1971, after being rejected by Hollywood, Bruce Lee returned to Hong Kong. Over the next two years, he completed four iconic movies. These films would define his legacy - a legacy that was tragically cut short when he died in 1973 at just 32 years old. 
Be Water is a fascinating and intimate exploration of Lee's life and his belief that "under the sky, under the heavens there is but one family". In examining the devastating racism that Lee faced, Bao Nguyen's film goes deeper than many traditional bio-pics and offers important insights that couldn't feel more timely.
Lee's story is told by the family, friends and collaborators who knew him best. As they share their memories and Lee's daughter, Shannon, reads excerpts from her father's letters, we see a wonderful collection of photographs and archive film footage. The combined effect takes us on a moving and immersive journey through Lee's remarkable life.
The son of a Chinese opera star, Lee was born in San Franciso while his father was on tour. He was raised in Hong Kong until the age of 18 when, as a result of his sometimes troubled childhood, he was sent to live in the US.
Settling in Seattle, Lee began teaching Kung Fu. It was here that he met his future wife, Linda, who shares her memories and insights in the film. 
At first, Lee was not interested in acting in the US. Instead, he wanted to develop a number of martial arts schools. That all changed when he was spotted at a martial arts event and asked to do a screen test. Footage from this screen test reveals what we all now know - Lee was an utterly magnetic presence on screen and off. 
Be Water documents Lee's move to Los Angeles and his attempt to break into the US film and television industry. However, despite his obvious charisma and some success as a fight choreographer and actor, Lee found that Hollywood just wasn't ready for an Asian leading man. 
At that time, the film industry was often blatantly racist - at best portraying Asians as subservient, at worst ridiculing them (think Mickey Rooney in Breakfast at Tiffany's). If a film or television show called for the portrayal of an Asian character, that role would be given to a white actor (think John Wayne as Genghis Khan in The Conqueror). 
"I often describe this film as both a coming of age and a coming of history," says Nyguen. "It's Bruce Lee's coming of age as we follow him through his immigrant journey from Hong Kong to America but it's also a coming of history of Asian Americans. 
"I felt in order to really understand why Bruce Lee didn't succeed in Hollywood initially, we must first understand all the biases that were built into America's image of the Asian at that time. By reflecting on the history of the Asian American community, it helps us to better explain what Bruce Lee had to go through at that time and what many Asian Americans still go through today." 
Lee felt that he had a vital role to play in educating people about Asian culture - believing that he could become a bridge between east and west. As a result, he stood up and challenged society's misconceptions.
Here, Nyguen draws parallels with legendary boxer, Muhammad Ali. Both men were deeply philosophical, both men called for a change in how minorities were treated and, of course, both men had a beautiful, balletic fighting style.
Despite many setbacks, Lee felt confident that he could succeed in his ambition to become an Asian leading man. He approached Warner Bros with an idea for a Kung Fu series. Be Water explores the impact of the studio's decision to cast David Carradine instead.
After this rejection, Lee returned to Hong Kong to create the films that would make him a legend. Tragically, of course, he would never be able to enjoy this success or know just what his work has meant to so many people.
"As a child of Vietnamese war refugees, I grew up in America where depictions of Asians and Asian Americans were through a very skewed and narrow lens," says Nguyen. "In cinema, Vietnamese were faceless casualties to an American fallacy and Asians in general were viewed as subservient and docile. 
"It wasn't until I saw a young man named Bruce Lee onscreen that all that changed. I saw someone who looked like me for the first time, with an unapologetic confidence and magnetism that resonated on every inch of the silver screen."
It took Nguyen five years to make Be Water. The documentary's release couldn't feel more timely. "Right now, in the midst of the COVID19 pandemic, the fear of an uncertain future and the need to blame the 'other' has sparked anti-Asian racism and harassment throughout the world," the director explains. 
"As a victim of some of this anti-Asian racism, I know the importance of sharing positive images and stories of Asian Americans like Bruce's to a broad audience. I hope it helps to build awareness and prevent future incidents but also it can become a source of inspiration and pride to a community that has been deeply affected by the pandemic.
"Americans are Americans too and it's unfortunate that we have to remind people of this. Bruce really was about building bridges - bridges between cultures and bridges between people, no matter what you looked like or where you came from. Let's always remember that."