500 Days Of Film Reviews 2017's Best True Life Films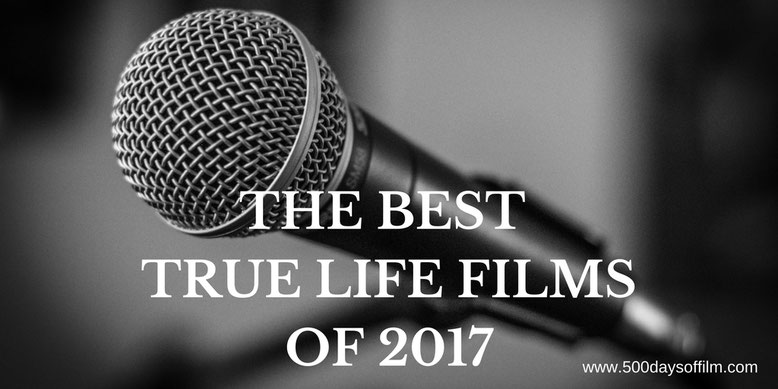 I love a true life story and 2017 has had a number of remarkable stories to tell. Here is my top five...
5. Patriots Day
Synopsis: 
On 15 April 2013, two homemade bombs exploded near the finish line of the Boston Marathon. The blast killed three people and injured hundreds of others - many losing limbs. 
In addition to recreating this tragic event, Patriots Day also depicts the FBI investigation and dramatic manhunt for the two brothers responsible - Dzhokhar Tsarnaev and Tamerlan Tsarnaev. Director Peter Berg shows how Boston responded to the attacks, revealing inspirational solidarity and resilience. 
What I Said:
Both gripping and moving, Patriots Day treats its tragic subject matter with sensitivity and respect. 
4. Hidden Figures
Synopsis: 
Hidden Figures tells the incredible true story of Katherine G. Johnson (Taraji P. Henson), Dorothy Vaughan (Octavia Spencer) and Mary Jackson (Janelle Monáe) - three brilliant African-American women who, while working at NASA, served as the brains behind one of the greatest operations in history: the launch of astronaut John Glenn into orbit.  
What I Said:
Hidden Figures is an enjoyable, entertaining and inspirational film that crosses racial and gender boundaries to tell an against the odds tale of incredible human endeavour. 
3. Detroit
Synopsis: 
During the summer of 1967, the city of Detroit was rocked by civil unrest. Attempting to escape the violence and riots, Dramatics musician Larry Reed (Algee Smith) and his friend Fred Temple (Jacob Latimore) took shelter in the Algiers Motel.
However, soon after, the motel was raided by Detroit police - in the mistaken belief that a sniper was firing from one of its rooms. Demanding to know the identity of the gunman and the weapon's whereabouts, three officers then interrogated a group of residents - resulting in a night of horrific brutality and death.  
What I Said:
As the final title cards disappeared... I felt exhausted and deeply disturbed by all that I had seen. However, I was also thankful for films such as this - movies that, while difficult to watch, remind us of important moments in history. For, 50 years on, perhaps the most devastating aspect of Detroit is how relevant Kathryn Bigelow's film feels today. 
2. Denial
Synopsis: 
In 1996, American historian Deborah Lipstadt (Rachel Weisz) was accused of libel by David Irving (Timothy Spall) after she declared him to be a Holocaust denier in her book, Denying The Holocaust (published in 1993). 
In England, the burden of proof falls upon the defendant in cases of libel. As a result, it was up to Lipstadt and her legal team - led by solicitor Anthony Julius (Andrew Scott) and barrister Richard Rampton (Tom Wilkinson) - to prove and honour the truth of the Holocaust. 
What I Said:
In our post-truth world, where facts come under fire on an almost daily basis, Denial is utterly essential viewing. For not only is Mick Jackson's film about the (truly terrifying) issue of Holocaust denial, it is also a rallying cry for historical truth.  
1. Dunkirk
Synopsis: 
During World War II, 400,000 Allied troops found themselves surrounded by the German army and trapped on the coast of Dunkirk. With their backs to the sea and the enemy closing in, the chances of survival were bleak.
However, just when all hope seemed lost, a flotilla of small boats - manned by both military and civilians - came to their rescue. Against all the odds, 338,226 soldiers were saved.
What I Said:
Dunkirk is both visually and aurally stunning - a deeply moving story brought to life by a superb cast and told via tales of land, air and sea.  
What Is Your Favourite True Life Film Of 2017?
There have certainly been some amazing and moving stories told in 2017. 
What were your favourite true life films of 2017? Let me know in the comments section below or via Facebook or Twitter (@500DaysOfFilm).