500 Days Of Film Reviews Stunning Scores From Classic Space Films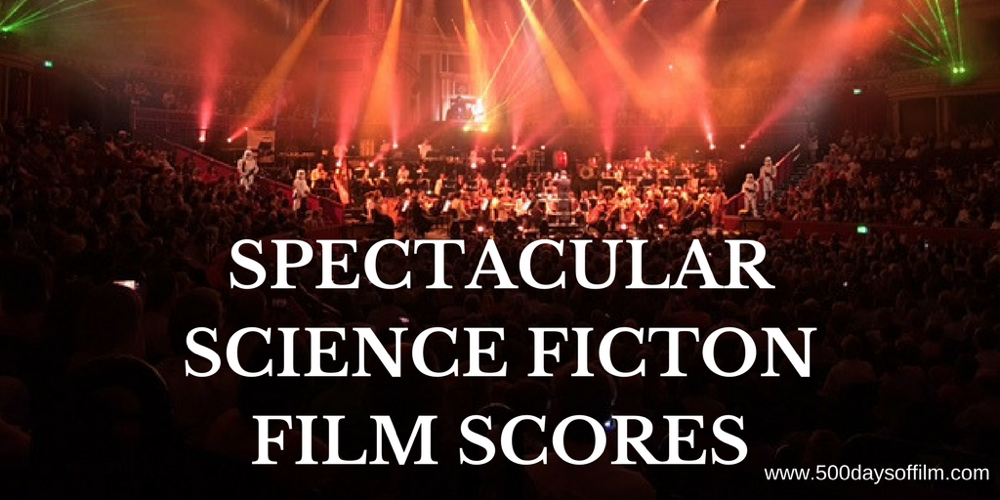 I was lucky enough to attend Space Spectacular at London's Royal Albert Hall recently. This fantastic concert featured music from classic space films, performed by the Royal Philharmonic Orchestra and conducted by the brilliant Anthony Inglis.
This hugely enjoyable event made me consider my favourite science fiction movie scores. Now, full disclosure, I cannot claim to be a music expert (I can barely play the triangle) but I know what I like and I love the work of these 20 composers.
20 Great Composers Of Spectacular Sci Fi Scores
Bernard Hermann
Legendary composer, Bernard Hermann, is responsible for a dizzying list of film scores. He created the music for such classic films as Citizen Kane, Vertigo, Psycho and Taxi Driver. Not one to be trifled with, Hermann also wrote the superb (and genre-defining) music for Robert Wise's 1951 film, The Day The Earth Stood Still.
Vangelis
In 1982, Ridley Scott released Blade Runner - his cinematic adaptation of the story by Philip K Dick. In the years since its release, this film has became a giant of the genre. This is in no small part thanks to Vangelis' incredible score - rated by many as one of the best film soundtracks of all time.
Jerry Goldsmith
Legendary film composer, Jerry Goldsmith, wrote wonderful music for so many brilliant movies. Consider his fun theme for Joe Dante's Gremlins, his (controversially treated) eerie score for Alien, his work on Planet Of The Apes and Total Recall and the truly iconic sound for Star Trek: The Motion Picture. Goldsmith was a phenomenal talent in the world of film music.
Edward Artemiev
Edward Artemiev is perhaps best known for his remarkable electronic film scores. He liked to experiment and innovate and the end results - like in Andrei Tarkovsky's 1972 film, Solaris - were often works of ground-breaking genius. 
Richard Strauss
Sometimes the music comes first and the film comes later. When the original score for Stanley Kubrick's film 2001: A Space Odyssey failed to match the film's weighty themes, the director turned to classical and orchestral pieces such as Sunrise from Also sprach Zarathustra by Richard Strauss. This was, of course, an inspired decision - it is now hard to separate the film from its iconic music.
John Williams
No list of science fiction movie scores would be complete without John Williams. His composition for Star Wars reignited cinema's appetite for orchestral film music. Indeed, the main theme of this work is one of the most recognised musical motifs in film history. 
Williams is the master of emotion. Try watching the end of Steven Spielberg's ET without his music - it makes for a very different (far less weepy) experience. It is hard to pick a favourite - all of Williams' pieces feel iconic. However, if forced, I think I would choose his wonderful score for Close Encounters Of The Third Kind.
Hans Zimmer
Music plays a crucial role in a film's storytelling. A brilliant example of this can be found in Hans Zimmer's score for Christopher Nolan's space epic, Interstellar. Zimmer and Nolan have an extremely productive working relationship and this enabled them to explore innovative new musical themes in this film. The result is a wonderfully rich and ethereal sound. 
James Horner
In 2015, the world of film and music was rocked by the death of iconic composer, James Horner. He was only 61 when he was killed in a plane crash in California. He left behind a stunning array of movie compositions for films such as Avatar, Apollo 13 and Star Trek II: The Wrath Of Khan. I love the score that he created for Aliens - earning Horner his first Oscar, it is just sublime.  
David Arnold
When you listen to David Arnold's adrenaline-fueled score for Independence Day you can almost picture the spectacular and patriotic scenes in Roland Emmerich's film. Arnold's composition marries alien threat with military response, conveying the story of human survival via superb sound.
Clint Mansell
When Steven Soderbergh decided to remake Solaris, he knew that he needed a special score (particularly in the light of Edward Artemiev's work). With this in mind, he turned to Clint Mansell. The pair had, of course, worked together before (Mansell composed the music for Soderbergh's first film, Sex Lies and Videotape). The result of this collaboration was the stunning ambient score for Solaris. 
It came as no surprise, therefore, that Duncan Jones should want Mansell to score his 2009 space movie, Moon. Here again, Mansell creates a wonderfully ambient musical atmosphere to match astronaut Sam Bell's desperate loneliness. A truly superb score.
Jóhann Jóhannsson
As I watched Denis Villeneuve's thought provoking film, Arrival, I was struck by Jóhann Jóhannsson's intense and impressionistic score. Here, once again, we find a tremendously successful and lasting collaboration between a director and a composer. For this film, Villeneuve gave Jóhannsson room to experiment with the film's themes of communication and language, resulting in Arrival's powerful and innovative sound.
Mica Levi
Mica Levi is a tremendously exciting composer. Her scores are insistent and powerful characters in their own right (I'm also thinking about Jackie here). In Jonathan Glazer's Under The Skin, her fiercely modern work is as unsettling and disturbing as Scarlett Johansson's predatory female.
Danny Elfman
Danny Elfman has worked with Tim Burton since the director asked him to score his first film, Pee Wee's Big Adventure. His work on the music for Mars Attacks is one of many brilliant scores that the pair have collaborated on in the intervening years. Inspired by Bernard Hermann's music for The Day The Earth Stood Still (with its brilliant use of theremin), this score is wonderfully strange, matching the film's B-movie aesthetic perfectly. 
Michael Giacchino
Michael Giacchino is, of course, no stranger to science fiction scores. He has worked on such films as Rogue One, Star Trek: Into Darkness and Doctor Strange - all movies that have been boosted by his powerful compositions. I also love his score for J.J. Abram's nostalgic sci fi, Super 8. This film is brilliantly Spielbergian and Giacchino's emotional orchestral score is wonderfully reminiscent of John Williams.
Peter Schickele and Joan Baez
Douglas Trumbull's classic 1972 film, Silent Running, features a truly beautiful and utterly haunting score by Peter Schickele and Joan Baez.
Alan Silvestri
I recently wrote a feature article on the best monsters in movies. This resulted in a long overdue Predator re-watch. I was surprised at how much I enjoyed Alan Silvestri's score. Full of danger and tension this certainly is an exciting composition. I also love Silvestri's work on Contact and the Back To The Future Trilogy.
John Barry
Another legendary composer, John Barry created the classic scores for films such as Born Free, On Her Majesty's Secret Service, Goldfinger, Midnight Cowboy and Dances With Wolves (I could go on… and on!).
I also love Barry's score for Disney's 1979 space film, The Black Hole. I adored this film as a child and so, for me, Barry's composition is brimming with nostalgia. This superbly visual and atmospheric score also made history by being the first to be digitally recorded.
Ennio Morricone
John Carpenter's The Thing is one of my all-time favourite horror movies. Until this film, Carpenter had composed his own film music. However, the director enlisted Ennio Morricone's help for The Thing - asking the composer to create something akin to Escape From New York. The result is stunning. The base throbs as tension and paranoia mounts - a true classic score. 
Steven Price
I love Steven Price's work on Alfonso Cuarón's film, Gravity. The movie's music is perfectly in tune with the physical and emotional journey taken by Sandra Bullock's Ryan Stone. It is a beautiful, powerful and haunting score.
Brad Fiedel
Brad Fiedel's score for James Cameron's Terminator is one of the most iconic in movie history. Following the success of this film's music, Fiedel became one of the most sought-after film composers. He returned to create the score for Terminator 2: Judgement Day, managing to capture lightning in a bottle once again - superb.
What Is Your Favourite Sci Fi Score?
What do you think about this list of science fiction movie scores? Is your favourite there? If not, which composer (or which score) would you add?
Let me know in the comments section below or come find me over on Twitter or Facebook!