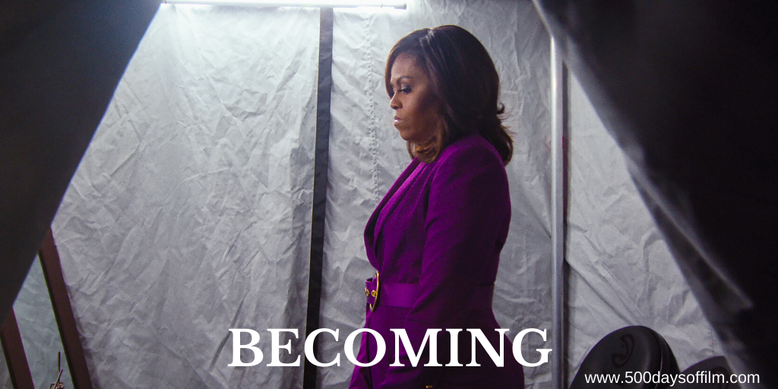 Becoming follows Michelle Obama as she embarks upon a 34-city tour, promoting her book of the same name. Nadia Hallgren's film gives the former First Lady a powerful platform on which to spread an inspiring message of hope.
This is a carefully managed yet still powerful, behind the scenes look at Obama's life during her book tour. We see her at various concert style events being interviewed by the likes of Oprah, Reese Witherspoon, Gayle King and Stephen Colbert in front of huge, adoring crowds. Meanwhile, we see her at book signings and community events.
Becoming also features more intimate moments - such as those between Obama and her mother, Marian, her brother Craig and her two daughters, Malia and Sasha. I would have loved to have heard more stories from each of them but, of course, respect their right to some much needed privacy.
Obama has learnt - from often bitter experience - how to protect herself and her family by controlling her image and being careful with her words. 
Hallgren's documentary explores how she was thrust into the media spotlight after Barack Obama's advisors recognised her as an asset - inadvertently making her vulnerable to devastating and offensive attacks.
The toll this has taken is clear. In Becoming, Obama talks about how hurt she felt during this time. As a result, despite stating at the beginning of the film that "this is totally me, unplugged, for the first time", it is understandable that she would want to maintain control of her image and her message throughout the film.
Michelle Obama is a magnetic and charismatic presence. When she speaks, you want to listen. Becoming shows us how her story, her work and her message is appreciated by so many people - young and old. 
Hallgren (who also directed Netflix's superb documentary short, After Maria) follows some of the girls who have been inspired by Obama's 'dare to dream' narrative. I would have loved to have spent more time with these girls - their stories feel important in establishing Michelle Obama's legacy.
It is fascinating to consider Obama's lasting, post White House, impact. Many people are emotionally overwhelmed when they meet her and feel compelled to tell her their own stories. "It's like an emotional, sociological dance," she says before explaining the importance of looking people in the eye and truly listening. 
For as much as she knows how to work a crowd, Obama also knows how to draw people in - one-to-one - and make everyone feel heard.
While carefully managed, Becoming is far from a cold and calculated film. It radiates warmth, humour (including a few timely Trump jokes) and compassion. Obama promotes empathy. She also understands the importance of gatherings and the sharing of experiences - something that now, of course, feels particularly poignant.
Becoming leaves us with an inspiring message of hope and Michelle Obama's steadfast belief that people are essentially good and that we all have the power and the responsibility to play our part in creating a better future.
This is message I think we all need to hear. 
You can watch Becoming on Netflix. It is the third documentary - after American Factory and Crip Camp - from Michelle and Barack Obama's production company, Higher Ground Productions.