500 Days Of Film Reviews Beautiful Boy Starring Steve Carell And Timothee Chalamet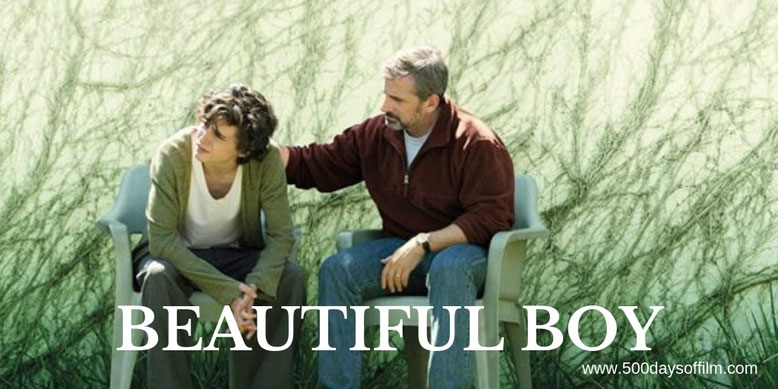 Based on the memoir, Beautiful Boy, by David Sheff and Tweak by his son, Nic Sheff, Beautiful Boy chronicles the heartbreaking and inspiring experience of survival and recovery in a family coping with addiction over many years.
Is It Any Good?
Beautiful Boy is the true story of David Sheff's battle to save his son, Nic. Featuring a deeply moving performance from Steve Carell and a powerful portrayal from Timothee Chalamet, the film charts a family's desperate journey through drug addiction. 
Cinema is, of course, no stranger to such tales. However, Felix van Groeningen's film is notable for its refusal to follow the tropes we would, perhaps, expect from such movies. For example, Beautiful Boy does not give us the ease of redemption or offer any clear solutions. 
Nic's drug addiction is complex, inconvenient and undeniably frightening. Apart from bearing the weight of his father's expectations, it is hard to understand why Nic has stumbled down this path. 
After all, he is not dealing with a troubled past or a traumatic background. In fact, he comes from an incredibly loving, financially well off family. A family who are willing to do almost anything to aid his recovery. 
We watch David try a number of different strategies to save Nic. At first, he tries to help him to get back onto the 'right' path. Then he tries to educate himself in the ways of drug addiction. However, over the course of the film, David's objective changes. By the end, he simply hopes that his son will live.
Beautiful Boy is a tough watch and never lets us off the hook. We sense the precariousness inherent in every positive moment in Nic's life. The hammer could fall at any stage and the film paints recovery and rehabilitation as a journey with no end.
As a result, while van Groeningen's film is visually accessible, it is also a rather unrelentingly bleak experience - particularly if you do not know the outcome of this true story. Even the powerful moments of love shown within the family and the joyful flashbacks depicting David and Nic's past life are coloured by sadness. 
However, this is the point. Drug addiction could impact anyone at any time and is no respecter of wealth, status or familial background. In addition, Carell's moving portrayal alongside emotionally powerful performances from Maura Tierney and Amy Ryan show us how this devastating illness damages far more than just the individual involved.
Beautiful Boy ends without warning, leaving us with some shocking statistics and the heartfelt message that there is help out there for anyone affected by addiction.
Random Observations
Have you seen Beautiful Boy?
If you have, what did you think of this film? Let me know by leaving me a comment in the box below or let's chat over on Twitter. You can find me @500DaysOfFilm.