500 Days Of Film Reviews A Wrinkle In Time Starring Storm Reid, Reese Witherspoon, Oprah Winfrey and Chris Pine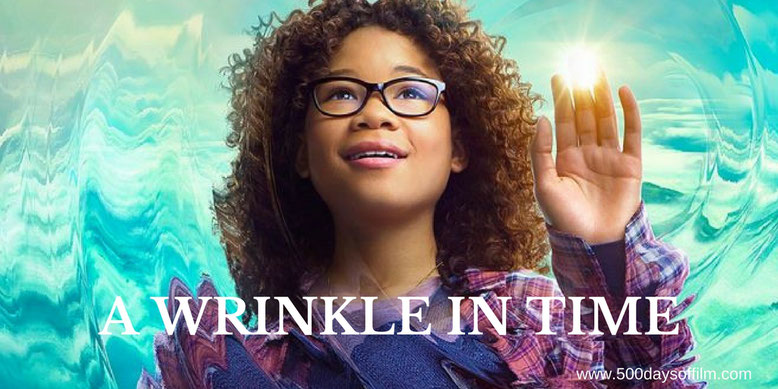 Meg (Storm Reid) is struggling to cope following the unexplained disappearance of her scientist father (Chris Pine). She gets into trouble at school and refuses to make friends or trust anyone. 
On the anniversary of the day her father went missing, three strange beings appear offering Meg, her brother Charles Wallace (Deric McCabe), and her friend Calvin (Levi Miller) the chance to explore space and time in order to find him. 
However, will Meg be brave enough to face her fears and her flaws?
Is It Any Good?
I love listening to Ava DuVernay talk about A Wrinkle In Time. She is utterly, infectiously passionate about her film. The director of Selma and 13th has every right to be proud - this is an admirable, if somewhat flawed adaptation of Madeleine L'Engle's (often considered unfilmable) book.
DuVernay has spoken about the love she had as a child for fantasy and science fiction films. However, she also felt that these movies did not "love me back". They would never place a young black girl at the centre of the adventure.
A Wrinkle In Time is, therefore, a groundbreaking film. DuVernay is the first woman of colour to direct a $100 million blockbuster movie. In addition, she has transformed the source novel to become a multi-racial story with a young African-American girl taking the lead. 
As a result, A Wrinkle In Time feels important - DuVernay's gift to a new generation of cinema goers.
Sadly, despite DuVernay's passion and noble ambition, A Wrinkle In Time is not wholly successful in conveying the complexity of the book or the emotion of its story.
However, let's begin by focusing on what works. First and foremost, the film has a powerful message about love's potential to conquer evil. The movie also emphasises the importance of trust and friendship. Alongside Meg, it encourages us to believe in ourselves while accepting our flaws.
A Wrinkle In Time features an impressive cast. Storm Reid (only 13 when filming began) is a revelation. She is barely off screen and conveys a wide range of emotions. Meg's scenes with her father (a great performance from Chris Pine) are particularly effective.
Meanwhile, I enjoyed meeting Mrs Which (Oprah Winfrey), Mrs Whatsit (Reese Witherspoon) and Mrs Who (Mindy Kaling). Their costumes and make-up are stunning. I would have liked to have spent more time in their company.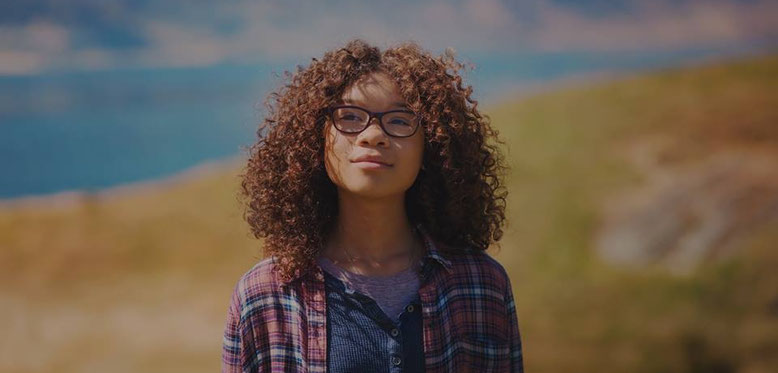 The arrival of Mrs Which, Mrs Whatsit and Mrs Who signals a significant shift in A Wrinkle In Time - both narratively and visually. Before their appearance, the story is intimate - told in extreme close-up. Afterwards, the film expands to show us the visual wonder of what Meg is experiencing. 
The wonder in A Wrinkle In Time is conveyed via extended sequences of magical visual effects. They are undeniably effective but, amid the spectacle, the film's sense of intimacy is lost. We lose contact with the heart of the story. As a result, I found myself appreciating the film rather than being swept up by it. 
When early reviews began to highlight the flaws in A Wrinkle In Time, DuVernay defended her movie by explaining that it was made specifically for children. This is the audience that she is seeking to entertain and inspire - not a bunch of cynical film critics.
I understand that I may not be A Wrinkle In Time's target audience. However, even with that in mind, the film's universal themes should have elicited an emotional response. I should have felt moved. Sadly, I was not.
However, I still very much admire A Wrinkle In Time. Its themes are important, its vision is exciting and it is wonderful to see a young girl front and centre - using her intellect to save the day. 
Random Observations
Have you seen A Wrinkle In Time? 
If you have, what did you think about Ava DuVernay's film? Let me know in the comments section below or let's chat over on Twitter (@500DaysOfFilm).