500 Days Of Film Reviews Apostasy Starring Molly Wright, Siobhan Finneran and Sacha Parkinson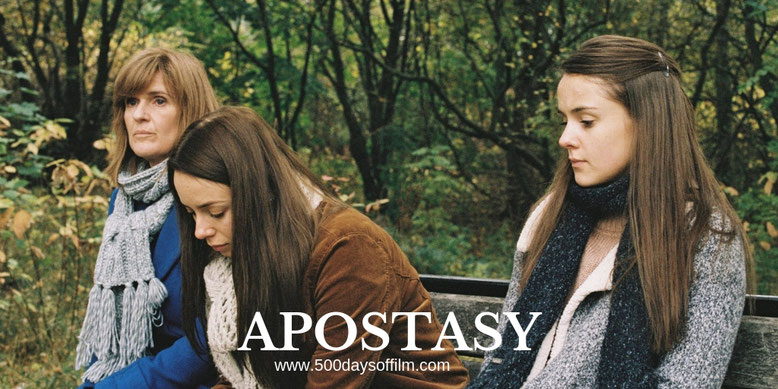 A family of Jehovah's Witnesses - mother Ivanna (Siobhan Finneran) and her daughters Luisa (Sacha Parkinson) and Alex (Molly Wright) - begin to question their faith following a series of heartbreaking events. Will their religion bring them together or tear them apart?
Is It Any Good?
Apostasy is a sombre and quietly devastating film about the power and perversion of religion. Writer, director and ex-Jehovah's Witness, Daniel Kokotajlo, tells a haunting and thought-provoking tale - exploring issues that you will want to discuss as soon as the credits roll.
Of course, cinema is no stranger to films that examine faith. However, what sets Apostasy apart is Kokotajlo's close personal knowledge of his subject and his refusal to villanise his former religion. 
Indeed, by the end of the film, I found myself understanding far more about why Jehovah's Witnesses behave in the way that they do - even though I do not share their beliefs or condone their actions.
Apostasy has a bleak story to tell - one that could (particularly given its grey and beige colour palate) feel overwhelmingly depressing. However, thanks to the brilliant performances of the cast, Kokotajlo's powerful film is gripping, atmospheric and deeply moving.
The majority of the drama unfolds between Ivanna and her two daughters. Molly Wright, Siobhan Finneran and Sacha Parkinson are all superb. They need but few words to convey their struggle - their facial reactions speak volumes.
As his film moves into its final act, Kokotajlo creates conflict, tension and a keen sense of desperation that wouldn't feel out of place in a horror movie. For there are few things more horrific than the damage done by those who believe they are doing the "right" thing.
Random Observations
Have you seen Apostasy?
If you have, what did you think of this film? Let me know in the comments section below or via Twitter. You can find me @500DaysOfFilm.