500 Days Of Film Reviews Annihilation Starring Natalie Portman, Jennifer Jason Leigh And Oscar Isaac.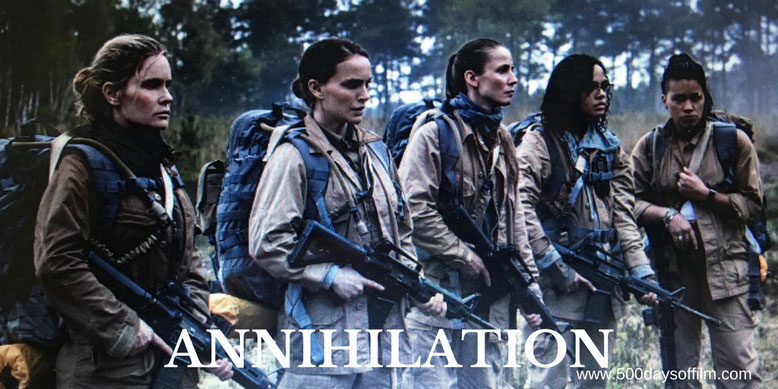 Lena (Natalie Portman), a biologist and former soldier, joins a mission to uncover what happened to her husband (Oscar Isaac) inside Area X - a sinister and mysterious phenomenon that is expanding across the American coastline. Once inside, the expedition discovers a world of mutated landscape and creatures, as dangerous as it is beautiful, that threatens both their lives and their sanity.
Is It Any Good?
There are two ways to view Alex Garland's Annihilation. On the one hand, you could watch this film and see a visually stunning science fiction thriller. You could enjoy Annihilation for its beautiful surface while appreciating the mysterious twists, turns and references to sci fi / horror classics such as Aliens, The Thing, and The Abyss.
On the other hand, you could see Annihilation as something more cerebral - an Adam and Eve tale and an exploration of identity, depression, self-destruction, disease and death.
Garland (who also wrote the screenplay - adapted from Jeff VanderMeer's best-selling story) certainly welcomes the ambiguity inherent in his film - allowing his audience to take away any number of (often deeply personal) interpretations. 
Of course, it is also possible to enjoy this film on both levels at once. I certainly did. I was utterly gripped by this cinematic story - fascinated by its themes and its science and drawn in by the nuanced performances of its cast.
Natalie Portman is superb - we experience the story from her point of view and her portrayal of Lena is wonderfully nuanced. We are never sure if we can trust her or what really lies behind her decision to explore The Shimmer.
Jennifer Jason Leigh is also extremely compelling as Dr. Ventress. Cold and complicated, I wish that we could have spent more time with her. Indeed, I would have liked more time with all the "broken" members of the expeditionary group.
Meanwhile, I loved the look (Rob Hardy's cinematography and the movie's fantastical art design are stunning), sound and feel of this film. However, most of all, I loved the way Annihilation made me think. 
While Annihilation is not perfect and did not have such a profound effect on me as Denis Villeneuve's Arrival, I know that I will be processing the themes in Garland's film for quite some time. 
However you view the story, Annihilation was meant for a theatrical release. Sadly, for many audiences outside the US, this was not possible as - much to Garland's dismay - Paramount Pictures sold the movie to Netflix.
According to reports, Paramount was concerned that Annihilation was too intellectual and, as a result, off-putting for cinema audiences. Sigh. There were also rumours that the film's all female cast might not generate big box office bucks. (Cue another sigh plus an eye-roll.)
Now, this may not be the truth behind Paramount's decision. Still, let's address these issues for a moment. Number one, we need more intelligent, thought-provoking films - not less. Number, two, the film is enriched by its gender approach.
Finally (or number three), Annihilation is not overly complex or hard to follow. As I mentioned above, you can easily watch Garland's movie as a simple piece of entertainment without having your mind blown by its themes and interpretations. 
Nevertheless, word of mouth should ensure that Annihilation reaches its audience. Netflix does have many advantages… including ease of access. I'm certainly looking forward to a rewatch... as soon as my brain feels ready.
Random Observations
With home-viewing in mind, I would recommend that Annihilation is watched in the dark with no distractions, in one sitting, on the biggest screen possible and with the film's wonderful soundtrack turned up… loud.
Annihilation is my favourite Alex Garland directed movie. Don't get me wrong, I enjoyed Ex Machina... I just had some issues with this film.
Annihilation was based on Jeff VanderMeer's best-selling Southern Reach Trilogy. I haven't read these books (yet) but have been told that the film often chooses to follow its own path. 
Have you seen Annihilation? 
If you have, what did you think of Alex Garland's film? Do you wish that you had seen it on a bigger screen? Let me know by leaving me a comment in the section below or let's chat Annihilation over on Facebook or Twitter (@500DaysOfFilm).