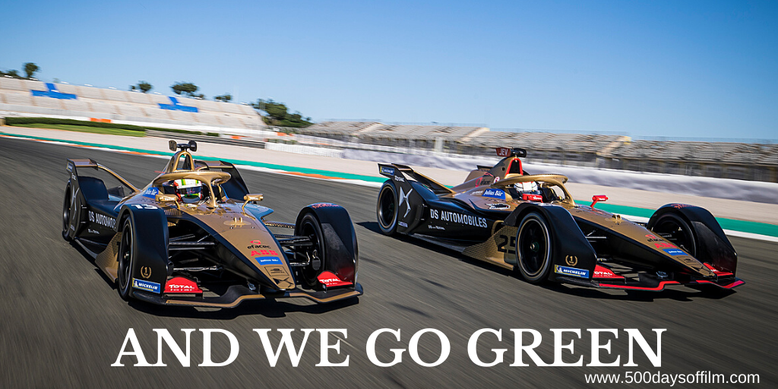 When entrepreneur, Alejandro Agag, and FIA president, Jean Todt, decided to create an all electric global motor racing competition, few thought that they would succeed. This is a sport beloved by petrol heads not battery heads after all. 
Undeterred, Agag and Todt knew that the combination of competitive motor racing and the world's growing environmental concerns was a powerful mix - and, in 2014, the Formula E racing series was born.
Fisher Stevens and Malcolm Venville's documentary introduces us to FE - a championship that, each season, sees 20 drivers take part in 12 races in ten cities around the world. 
Agag is keen to describe himself as a racing man not an environmentalist. Apart from the cars themselves, there is not much discussion in And We Go Green about, for example, the carbon footprint of the championship.
Nonetheless, Agag assures us that he is concerned about the environment. He believes that electric racing could have far reaching 'green' benefits. For example, developments in FE could well filter down to improve the electric cars on our roads. 
And We Go Green joins Formula E in its fourth season. You get the sense from Stevens and Venville's film that this is a sport getting ready to move out of the shadows of its gas guzzling rivals.
It hasn't been an easy journey. Clips of newspaper articles hint that FE has encountered significant teething troubles. Reclining on his sofa smoking a cigar, Agag does not appear phased. An ex politician, he is ready for any obstacle.
One of FE's main challenges is range anxiety. Simply put, this is the concern that a car's battery will run out mid-race. FE drivers and teams are right to be worried - And We Go Green shows several examples of electric cars running out of power.
The issue of battery life has proved a serious barrier to entry. While watching events unfold in FE's season four, we discover that drivers have two cars for each race. Agag understands that this is not sustainable and the film follows him as he works with McLaren to develop a battery that will go the distance.
It is fascinating to watch the sport develop and consider its potential. Inevitably, comparisons are made to Formula One. Drivers are asked why they would race in FE when the pinnacle of their sport is, surely, F1? Stevens and Venville explore this question by taking us behind the scenes and revealing the experiences of some of FE's leading racing drivers.
We meet Jean-Eric Vergne, Sam Bird, Lucas di Grassi, Andre Lotterer and Nelson Piquet Jr. All come with that remarkable (and in some cases insufferable) arrogance familiar to top flight racing drivers. 
However, And We Go Green examines the more human side to these men - the pressure they are under, the betrayals they endure, the very public disappointments they have to manage and, of course, the danger that they all face each and every time they get behind a wheel. 
As a result, And We Go Green is a fascinating introduction to an exciting new sport - one that offers potential environmental benefits both one and off the track.