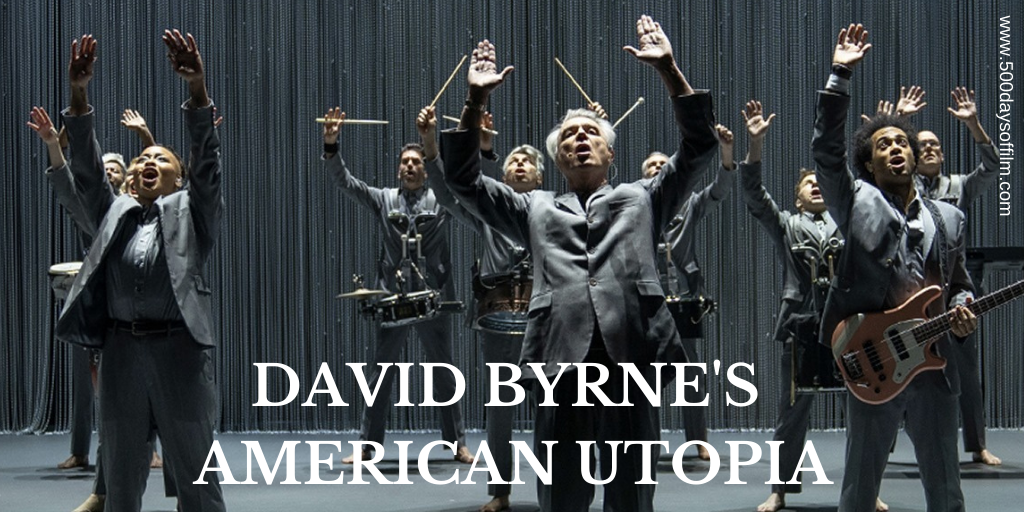 How to describe David Byrne's American Utopia? Well, that is really quite the challenge. In his critically acclaimed Broadway show, the Talking Heads frontman is joined by an incredibly talented ensemble of 11 musicians, singers and dancers from around the world. 
Via thoughtful monologues, performances of songs from his 2018 solo album (of the same name) and Talking Heads classics such as Once in a Lifetime and Burning Down the House, Byrne explores such socio-political issues as climate change, police brutality, immigration and the value of democracy.
Spike Lee filmed American Utopia during its late 2019 to early 2020 run at the Hudson Theatre in New York City.  A dazzling array of cameras put us at the centre of the action. One minute we are looking down on the stage from up high. The next we are level with the feet of the performers. We also join the show's enthusiastic audience - both in the front row and from the seats at the back of the theatre.
Lee's work on American Utopia is an endlessly impressive feat of filmmaking. His documentary captures the essence of Byrne's show - with all its eccentricity, magic and power. 
Now, I have to admit that, despite loving Jonathan Demme's 1984 concert movie Stop Making Sense, I am not particularly well versed in David Byrne's career. As a result, I found much of American Utopia rather bewildering in the "okay, just what exactly is going on?" sense.
However, while some of the songs did not work for me, I found Byrne to be an endearing and engaging presence. It is a joy to watch a musician be so defiantly and resolutely himself. Mixing the personal and the policitial, he forgoes all of the trappings typically associated with stage shows in order to connect with his audience.
Meanwhile, I was utterly mesmerised by American Utopia's performers. Thanks to Lee's brilliant and immersive direction, I felt as if I was there on stage with them. The talent on display is astounding. Untethered (using wireless instruments), they are free to move around the stage. Annie-B Parson's energetic choreography is a wonder to behold.
As American Utopia moves into its third act, the show explores themes of social justice and the devastating impact of racism. Byrne's powerful rendition of Janelle Monáe's Hell You Talmbout moved me to tears. Having felt rather bemused at the start of the film, American Utopia won me over by the end.