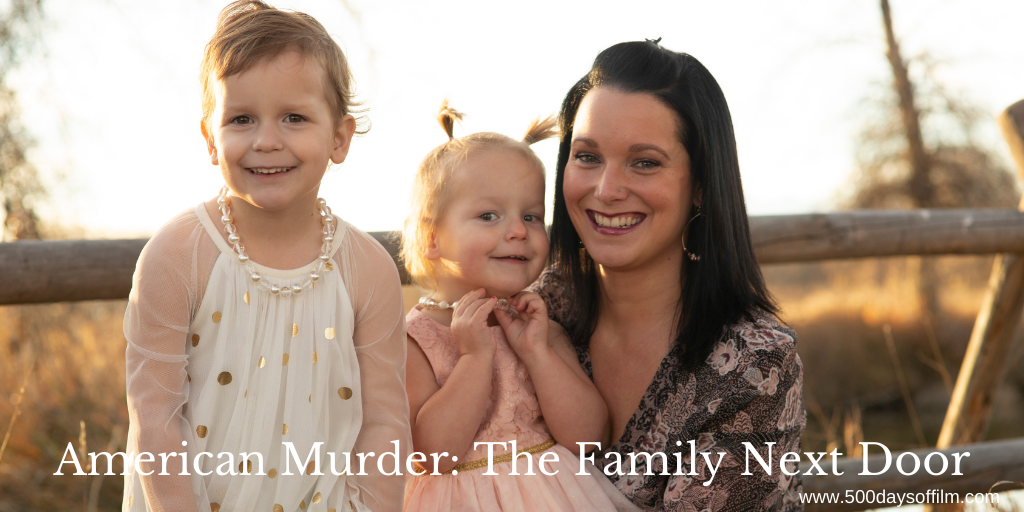 In 2018, 34-year old Shanann Watts and her two young daughters, Celeste and Bella, went missing in Frederick, Colorado. Their shocking and heartbreaking story made headlines around the world. 
In American Murder: The Family Next Door, director Jenny Popplewell uses archive footage to piece together what happened to Shanann (who was pregnant at the time with a baby boy called Nico) and her daughters. 
Social media posts, law enforcement recordings, text messages and never-before-seen home videos are used to chart a disintegrating marriage and reveal a chilling and horrific crime.
Those familiar with the case (it has been covered in several documentaries and docuseries), will likely find nothing new in American Murder. However, Popplewell's impressive use of archive footage gives this retelling a fresh, immersive feel.
For example, American Murder puts us at the centre of the initial search for Shanann. Thanks to body cam footage, we are there when the police first search her home and we witness how her husband, Chris Watts, reacts to his wife's disappearance. 
The search for Shanann, Celeste and Bella and the aftermath of their disappearance forms one of American Murder's two timelines. The other takes us back in time through Chris and Shanann's relationship.
Shanann made full use of home video and, as a result, Popplewell had an impressive amount of Watts family footage with which to work. What becomes increasingly and tragically clear is that Shannan's 'Facebook marriage' did not match her reality. 
As the timelines converge, so we feel the devastating weight of Shanann, Celeste, Bella and Nico's fate. At this point, we also need a justification for watching such a horrific story unfold. This should not be pure entertainment.
Thankfully, from the very beginning of American Murder, we understand that the documentary has been made with the full cooperation of Shanann's family, friends and the police. Shanann is no forgotten victim here. Popplewell gives her a powerful voice. 
Meanwhile, American Murder encourages us to remember Shanann's story when considering the horrendous number of instances of domestic violence that take place every single day. Our awareness is critical to prevent such a tragedy from happening again.