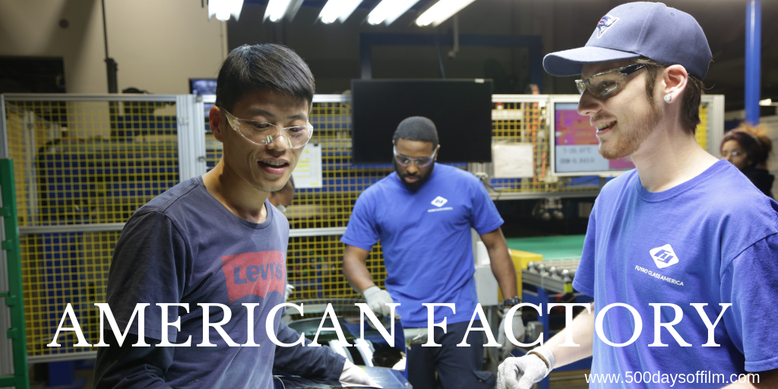 On 3 October 2008, workers at the General Motors factory in Dayton, Ohio received the news they had all been dreading. Their plant was to close for good by the end of the year, with the loss of 2400 jobs. 
Local filmmakers, Julia Reichert and Steven Bognar, were deeply moved by the situation and decided to tell the story of the factory's closure. They were particularly interested in the impact on their community - a community whose lives and livelihoods were intrinsically linked to their place of work.
After speaking to several hundred of the factory's employees, Reichert and Bognar released a documentary short called The Last Truck: Closing of a GM Plant. The film was widely acclaimed and nominated for an Academy Award.
The story did not stop there, however. In 2014, Chinese billionaire Cao Dewang reopened the Ohio plant for his new Fuyao factory, in order to produce glass for the car industry. Suddenly, jobs were there for the taking.
The air was filled with hope, at first. Sadly, all too soon cultures clashed, frustrations mounted and tensions rose to boiling point - the community of Dayton faced an uncertain future once again.
This story is told in Reichert and Bognar's feature documentary, American Factory (now available on Netflix). Created from over 1,200 hours of footage, the film is generous and funny, shocking and emotionally engaging. It is also beautiful to look at - the documentary's opening shots of factories at work are mesmerising. 
American Factory won the US documentary directing award at the 2019 Sundance Film Festival and went on to become the first film to be championed by Barack and Michelle Obama's new production company, Higher Ground.
What sets American Factory apart - and what has stayed with me the most - is how Reichert and Bognar tell many sides of this remarkable story. This is not just a tale of Amercian workers in an American town. 
Reichert and Bognar may not agree with everyone they document but, regardless, American Factory shows us the experiences of everyone involved - from the new American Fuyao recruits, to the Chinese employees sent to train them. Even Chairman Cao Dewang gets a chance to explain his position.
The film begins by exploring the melding of two cultures… and it is fascinating to watch. The Chinese employees in Ohio are given lessons in what it means to be an American. They are told that living in America offers additional freedoms… you can even make jokes about the president! 
These observations are amusing at first. Then alarm bells start to ring. Americans are slow. They have fat fingers. There is a frustrating language barrier. Meanwhile, the American workers have concerns of their own. Many are being paid less than half of what they used to earn working for GM and they are worried about Fuyao's safety standards.
Amid this culture clash are many heartwarming moments. Members of the American and Chinese workforce begin to bond. Friendships are forged through work, music and food. They all recognise that this is far from an easy process for either side.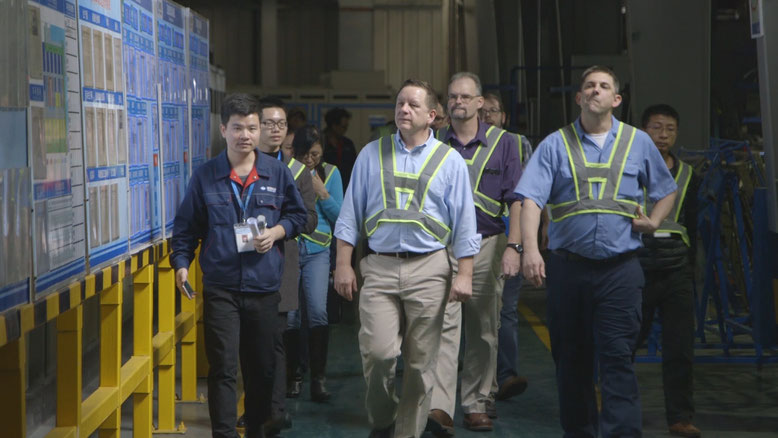 Before long, talk begins about the possibility of starting a union. Many of the American employees believe that this is the only way that their pay and working conditions can be protected.
Chairman Cao Dewang disagrees. He cannot see a way to make the factory a success if a union is created and, in deeply unsettling scenes, he makes several attempts to quash the chances of one being formed.
Tensions mount on both sides. The workers are frustrated with their pay and conditions and management is increasingly exasperated by their demands - particularly when the Dayton factory is not meeting its targets.
It all, of course, comes down to the cultural differences between China and America - between Chinese and American factory workers, between Chinese and American management styles and between Chinese and American aspirations. 
These differences are highlighted further when a group of American Fuyao employees are invited to observe production in one of the company's facilities in mainland China. They are shocked and also rather impressed by what they find.
It is fascinating to watch the Chinese workers. They work far longer shifts (12 hours as opposed to the eight hour shifts in America) and have much less time off. While those interviewed don't seem particularly happy about their situation, they are resigned to their working conditions and the factory's safety standards.
It soon becomes clear why the process of bringing a Chinese factory to America has been so challenging. The Fuyao management believe that Chinese workers are "better" and more productive than the American employees. Meanwhile, the American workers are determined to protect their employment rights. 
Reichert and Bognar offer no answers.
However, while American Factory makes room for everyone involved, it is clear where the filmmaker's sympathies lie. Yes they show us Chairman Cao's position and the views of the unions. However, their hearts - and ours - are with the workers. American and Chinese.