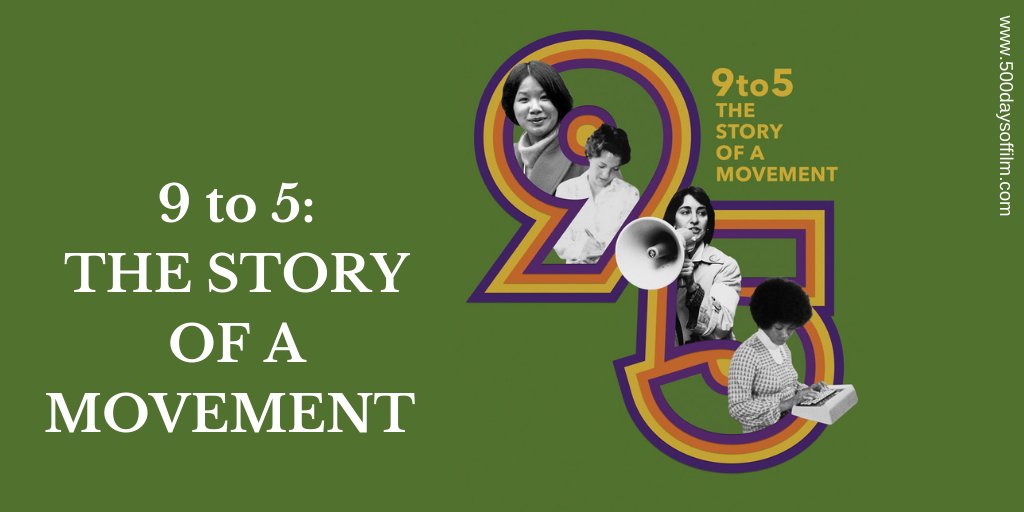 When you think of the words 9 to 5, you inevitably hear Dolly Parton. Her iconic anthem, celebrating the life of women office workers is, of course, the theme song of Colin Higgins's film of the same name. Starring Jane Fonda, Lily Tomlin and Dolly Parton herself, 9 to 5 is a wonderful satire about three secretaries who decide to get revenge on their tyrannical, sexist boss (played by Dabney Coleman). 
I absolutely love this movie. However, for far too long, I was unaware of the story behind 9 to 5. In Julia Reichert and Steven Bognar's documentary, 9 to 5: The Story Of A Movement, we find out that, long before it was a film, 9 to 5 was an organisation fighting for women's rights in the workplace. 
In this documentary, Reichert and Bognar continue their compelling and wonderfully human exploration of American workers (following their Oscar winning documentary, American Factory, and their Oscar nominated documentary short, The Last Truck: Closing of a GM Plant) by combining a simple mix of archive and to-camera interviews. 
With incredible and inspiring women such as 9 to 5 co-founders, Karen Nussbaum and Ellen Cassedy, you certainly don't need anything flashy. Their experiences are fascinating. These are incredible stories of organisation, activism and the power - despite enormous challenges and bitter defeats - to keep moving forward towards meaningful change.
Joining Nussbaum and Cassedy are a host of women who each played a key role in the movement. Janet Selcer, for example, talks about how the group became organised. American Labour Historian, Dr Lane Windham, puts the movement in historical context. 
While 9 to 5 started in Boston, it quickly spread to other cities across America. Among many others, we hear from Verna Barksdale who was instrumental in 9 to 5 Atlanta, Kim Cook who organised the movement in Seattle and Mary Jung who worked tirelessly for 9 to 5 Cleveland.
It is a privilege to hear their stories - about both their time with the 9 to 5 movement and also their more personal experiences. These women dedicated their lives to the cause. It is deeply moving to consider their legacy - and see how many continue to campaign for women's rights.
As the movement grew in numbers, so the issues it wanted to address increased. Reichert and Bognar'd film examines these issues which include sexism, devastating abuse, racism, the need for equal pay and conditions and the movement's key desire - that women office workers be treated with respect. Today, their demands seem obvious. However, they had to fight for each victory - and suffered many bruising losses. 
One of the most striking moments in the documentary explores how the movement coped with the defeats that they faced. There is a universal lesson here - do not give up even, when the outlook appears bleak. The story may well be very different the next time you try. If not, try again.
When Jane Fonda met Karen Nussbaum, she was already an activist (having voiced her concerns about the Vietnam War). Nussbaum told Fonda about the experiences of women office workers. "They were jaw dropping," Fonda explains in the documentary. "I started to think, I should make a movie about this." She visited the 9 to 5 office in Cleveland and listened to the stories of the women there before making a movie that celebrated a powerful movement that, to this day, inspires activism around the world.
There is, of course, much still to be done. However, Nussbaum remains hopeful. "I'm optimistic because there is still a heartbeat out there," she says. The legacy of 9 to 5 lives on.