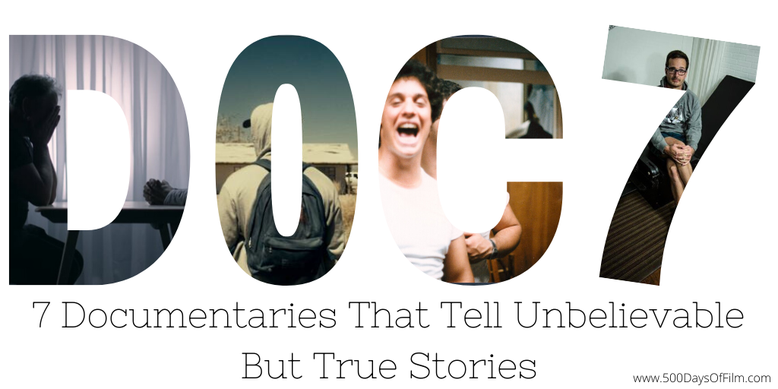 If you discover a quotation that you love, chances are it was conceived by Mark Twain. They are the work of genius. It was Twain, of course, who stated that "truth is stranger than fiction, but it is because fiction is obliged to stick to possibilities; truth isn't."
The following seven documentaries prove Twain's theory… and then some. They tell stories that have to be seen to be believed - for better and, sadly, sometimes for worse. 
Tell Me Who I Am
In 1982, Alex Lewis's life changed forever. He was involved in a near-fatal motorcycle accident - an accident that left him in a coma. When he awoke, he was relieved to find his identical twin brother, Marcus, by his side.
However, Marcus was the only person that Alex remembered from his life before the accident. He didn't remember his mother or his stepfather. He didn't remember his girlfriend, his friends or his childhood home. He didn't even remember who he was.
It fell to Marcus to provide Alex with his missing memories - teaching him about everyday objects and informing him about the complicated rules that had to be followed in their family home.  
As Marcus recreated Alex's life, he decided to repress some aspects of the past. Secrets that remained in place for almost 15 years. Secrets that threatened to shatter Alex's reality all over again. Incredible, unthinkable secrets that refused to remain buried.
Click here to read more about Tell Me Who I Am
Three Identical Strangers
Three strangers are reunited by astonishing coincidence after being born identical triplets, separated at birth, and adopted by three different families.
Their jaw-dropping, feel-good story instantly becomes a global sensation complete with fame and celebrity. However, the fairytale reunion sets in motion a series of events that unearth an unimaginable secret - a secret with radical repercussions for us all.
Click here to read more about Three Identical Strangers 
Finders Keepers
When the mummified leg of amputee John Wood was found in a barbecue grill purchased at an auction by flea marketer Shannon Whisnant, no one could guess just how bizarre events were about to become. 
Who could have imagined that Whisnant would sue John in a custody battle over the leg? Who could have thought that this would be just the start of the story?
The Imposter
On 13 June 1994 in San Antonio, Texas, 13 year old Nicholas Barclay was out playing basketball with friends. He called home and asked his older brother Jason to wake his mother to ask her to collect him. Jason refused and told Nicholas to walk back. 
Nicholas never returned home... or did he?
Three years later, the Barclay family received some truly unexpected news. Nicholas had been found at a youth shelter in Linares, Spain. He was physically well but traumatised following years of sexual and emotional abuse.
Nicholas's sister, Carey, flew over to collect him. And so began one of the most bizarre true crime stories ever recorded. 
Click here for more about The Imposter
Dreams Of A Life
Surrounded by the Christmas presents that she was wrapping, Joyce Vincent died in her bedsit in North London in 2003. She was 38 years old.
Joyce's body was not discovered for three years. 
Carol Morely's heartbreaking and unsettling documentary, Dreams Of A Life, investigates Joyce's life and interviews those people who knew her best but who did not realise that she was gone.
Click here to read more about Dreams Of A Life
Tickled
Journalist David Farrier stumbles upon a mysterious tickling competition online. As he delves deeper he comes up against fierce resistance, but that doesn't stop him getting to the bottom of a story stranger than fiction.
The Inventor: Out For Blood In Silicon Valley
In 2004, Elizabeth Holmes dropped out of Stanford to start a company that was going to revolutionise healthcare. In 2014, that company - called Theranos - was valued at $9 billion, making Holmes - touted as "the next Steve Jobs" - the youngest self-made female billionaire in the world.
Just two years later, however, Theranos was cited as a "massive fraud" by the SEC, and its value was less than zero. Using archive footage and interviews with Theranos employees and investors, Gibney explores an unbelievable tale of deception. 
Click here to read more about The Inventor: Out For Blood In Silicon Valley
Over To You...
Have you seen any of these documentaries? If you have, what do you think about them? What other films would you add to this list?
Let me know in the comments section below or over on Twitter. You can find me @500DaysOfFilm.