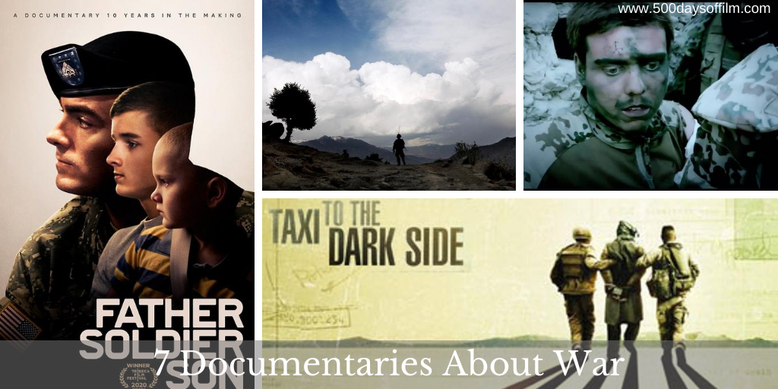 Documentary films are often at their most powerful when they offer us a glimpse of a different world. That world might be a place (like, for example, the rock face of El Capitan shown in Free Solo) or an experience that, otherwise, we would never know.
Of course, we can never really know what it is like to be in another person's shoes. However, even the smallest peak into their world can help us become better informed and more understanding about the lives of others.
Nowhere is this more important than when considering the impact of war. Civilians are often confronted with complex moral and ethical questions about combat - questions that are challenging to answer when you have had no military experience. 
However, documentaries like the seven listed below give us important insights that can help us to understand these extremely complicated issues and experiences.
Father Soldier Son
Father Soldier Son is a deeply moving, powerful and thought provoking documentary about the reality of being in the military - in good times and in bad. Following Brian Eisch - a former platoon sergeant - and his two young sons for almost a decade, Father Soldier Son traces the long term effects of military service on a family. 
Click here to read more about Father Soldier Son
Restrepo
Restrepo follows a US platoon into the Korengal Valley - a location that was considered to be one of the most dangerous places in Afghanistan. Over the course of 15 months, filmmakers Tim Hetherington and Sebastian Junger (author of The Perfect Storm) lived with the unit and shadowed their every move. 
Restrepo doesn't explore the politics involved in the situation or the rights or wrongs of the Afghanistan war. Instead, Hetherington (who later tragically died on his way to hospital after being hit by shrapnel from a mortar blast in the Libyan city of Misrata) and Junger wanted to portray the experience of combat - the boredom and the fear - through the eyes of the soldiers themselves.
Click here to read more about Restrepo
Armadillo
After the Taliban were removed from power in Afghanistan in 2001, it was left to the International Security Assistance Force (ISAF) to try to stabilise the country. However, as we now know all too well, this was no easy task. 
In 2009, director Janus Metz and cameraman Lars Skree accompanied a platoon of Danish soldiers to Armadillo, a combat operations base in southern Afghanistan. For six months, often while under fire, they filmed the young soldiers fighting the Taliban in a hostile and confusing environment. The footage is incredibly insightful… and disturbing. 
Click here to read more about Armadillo
They Shall Not Grow Old
Peter Jackson's powerful film, They Shall Not Grow Old, is a deeply moving and utterly gripping first hand account of day-to-day life in World War One. Using state of the art technology to restore original archival footage (which, of course, is now more than 100 years old), the documentary brings to life the people who can tell this story best - the men who were there.  
Click here to read more about They Shall Not Grow Old
For Sama
For Sama isn't the first documentary that I have watched about the devastating conflict in Syria. Over the last few years, there has been a steady influx of films - including The White Helmets, City Of Ghosts and Last Men in Aleppo - depicting the war and the battle for Aleppo. 
However, Waad al-Kateab's documentary is the one I feel will stay with me the most. 
For Sama's mix of powerful journalism and intimate storytelling makes this film an unforgettable experience. The documentary offers both an uncompromising and important account of life in Aleppo between 2012 and 2016 and immersive access to a family under siege.
Click here to read more about For Sama
Taxi To The Dark Side
In 2002, US soldiers occupied war-torn Afghanistan. Tensions were high and violence was commonplace. At a checkpoint, a young Afghan taxi driver called Dilawar was arrested along with his passengers. They were believed to be suspects in a Taliban rocket attack.
Dilawar was taken to Bagram Air Base where he was confined in a solitary cell. He was then chained, sleep deprived and subjected to a series of brutal beatings and torture from the US soldiers on duty.
Five days after his arrest, Dilawar died.
Taxi To The Dark Side is an unquestionably tough watch - revealing the ugly face of war. The images we see, the reenactments we watch and the stories we hear (from an impressive number of the soldiers involved) are horrific. The stories stay with you long after the film has concluded. As they should.
Click here to read more about Taxi To The Dark Side
The Fog Of War
The Fog Of War tells the story of Robert S. McNamara - a man who rose from humble origins to reach the heights of political power. In Errol Morris's iconic and Oscar winning documentary, McNamara recounts the key chapters - both personal and professional - in his life.
Morris encourages McNamara - at the time aged 85 - to discuss many themes central to war and politics. These include questions about the moral justification of violence in war, how to avoid the escalation of a conflict, why things can go so very wrong and how to deal with different personalities in politics.
Click here to read more about The Fog Of War
Over To You...
What do you think of the films on this list? What documentaries would you add? 
Let me know in the comments section below or over on Twitter. You can find me @500DaysOfFilm.