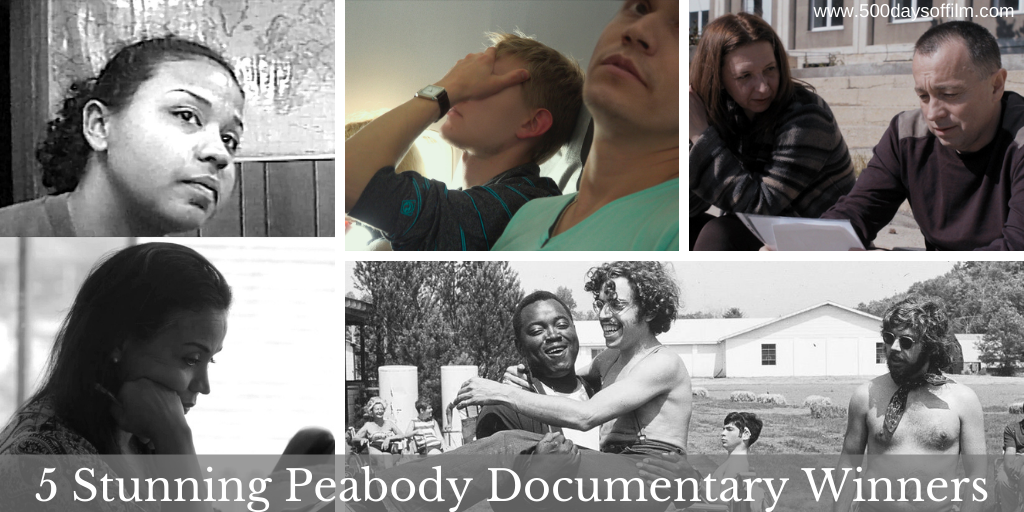 The winners of the 81st annual Peabody Awards were announced this week during a multi-day virtual celebration. 30 Peabody winners were chosen in the categories of entertainment, documentary, news, podcast/radio, arts, children's and youth, public service and multimedia programming.
The winners comprise a collection of stories that reflect "pressing social issues and the vibrant emerging voices of our day. From major productions to local journalism, the Peabody Awards shine a light on the Stories That Matter and are a testament to the power of art and reportage in the push for truth, social justice and equity".
This year, five incredible documentary feature films were selected for Peabody Awards:
Time
How can you visualise the passage of time? How can you convey the significance of five, ten, twenty years of life? Garrett Bradley answers this question in her stunning and powerful documentary, Time.
The film tells the story of Fox Richardson, her husband Robert and their family as they cope with Robert's incarceration in Angola, Louisiana's State Penitentiary. In 1997, a lapse of judgement born out of financial desperation led Robert, his nephew, and Fox to commit armed bank robbery.
All three were caught and no one was physically hurt during the incident. Fox's punishment was a five-year jail term. Robert was sentenced to 60 years in prison with no possibility of probation, parole or chance of a suspension of sentence. 
Time takes up the Richardson's story 20 years into Robert's incarceration. Beautifully shot in black and white and featuring a wonderful blues score, Bradley explores how the family has coped with Robert's long absence by combining clips from Fox's home videos with 'present day' footage. 
You can watch Time on Amazon Prime.
76 Days
On 23rd January 2020, China locked down Wuhan - a city of 11 million people - to combat the outbreak of Covid 19. The world watched in shock and disbelief as the city became eerily quiet - no cars on the roads, no people on the streets. The lockdown lasted for 76 days. 
76 Days is also the title of a documentary by directors Hao Wu, Weixi Chen and Anonymous (a local photo journalist in Wuhan who wishes to remain anonymous to protect his identity). Their incredible film places us on the frontline with doctors and nurses in a hospital at the centre of the pandemic.
From its opening seconds, 76 Days is a tough watch. A woman begs in vain to be allowed to say goodbye to her dying father. "I want to say goodbye for the last time," she cries as his body is taken away. In incredibly distressing scenes, we witness her raw and overwhelming grief.
These and many other moments in 76 Days would not feel out of place in a horror movie. Of course, in the days since January 2020, we have heard many similar stories and seen many similar images. 76 Days proves that they have lost none of their devastating power.
You can watch 76 Days via Dogwoof On Demand.
Collective
Collective is a tough watch but a must-watch documentary. Alexander Nanau's film examines the impact of a fire that devastated Bucharest's Colectiv nightclub in 2015. The horrific tragedy left 27 people dead and 180 injured and sparked massive nationwide protests. The unrest eventually forced Romania's ruling Social Democratic party to resign.⠀
⠀
In an attempt to calm the country's anger, a politically independent government of technocrats was appointed and given a one-year mandate, until the next general election. Nanau's comprehensive and stunning film documents the shocking revelations that were uncovered during that year.⠀
You can watch Collective on BBC iPlayer and via Dogwoof On Demand.
Crip Camp
Nicole Newnham and Jim LeBrecht's documentary, Crip Camp, tells the story of the impact of Camp Jened, a ramshackle camp located in the Catskills a few hours north of New York City for teenagers with disabilities. 
Camp Jened's founder, Larry Allison, wanted to provide an environment where teenagers could be teenagers without stereotypes and labels. As a result, many campers experienced a sense of freedom, acceptance and community that they had never felt before. 
In 1972, empowered by their experience at Camp Jened, campers and camp counselors decided to campaign for the rights of disabled people and change the world. 
You can watch Crip Camp on Netflix.
The Cave
Oscar nominee Feras Fayyad (Last Men in Aleppo) returns with another unflinching story of the Syrian war. For besieged civilians, hope and safety lie underground inside a subterranean hospital known as the Cave, where pediatrician and managing physician Dr Amani Ballour and her colleagues Samaher and Dr. Alaa have claimed their right to work as equals alongside their male counterparts, doing their jobs in a way that would be unthinkable in the oppressively patriarchal culture that exists above. 
Following the women as they contend with daily bombardments, chronic supply shortages and the ever-present threat of chemical attacks, The Cave is a powerful portrait of courage, resilience and female solidarity.
You can watch The Cave on Nat Geo TV
Sam Pollard