500 Days Of Film Reviews 20th Century Women, Starring Annette Bening, Greta Gerwig and Elle Fanning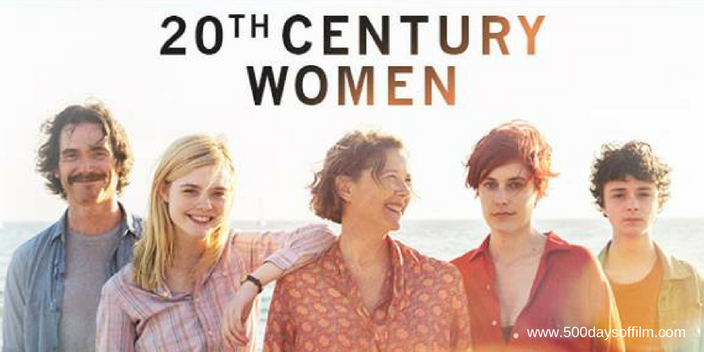 Dorothea Fields (Annette Bening) is a single mother raising her adolescent son, Jamie (Lucas Jade Zumann), in a time full of cultural change and rebellion. Worried that she will fail to teach Jamie how to be a good man, Dorothea enlists the help of two younger women: Abbie (Greta Gerwig), a free-spirited artist living as a boarder in the Fields' home, and Julie (Elle Fanning), a savvy and provocative teenage neighbour.
Is It Any Good?
Watching director Mike Mills' 20th Century Women is like experiencing a poem - a funny and poignant poem with superb performances, brilliant music and evocative visuals. A poem that explores the struggles of growing up and finding your place in an ever-changing world.
The film's central concern is a single mother's desperate need to support her young son as he becomes a man. This process allows Mills to explore the experiences of three women - Dorothea, Abbie and Julie. It is an absolute joy to go on this journey with them.
Greta Gerwig is fantastic as Abbie. She is powerful and confrontational, sensitive and vulnerable. Her challenging views (and her brilliant dinner party conversation) about life and the female experience are entertaining and thought-provoking. Watching, I couldn't imagine anyone in this role apart from the always superb Gerwig.
Meanwhile, Elle Fanning is great as Julie. She conveys Julie's growing awareness of her sexual power - showing how it both empowers and terrifies her. She takes great comfort in her friendship with Jamie - feeling safe in his company even as she breaks his heart. 
However, 20th Century Women is Annette Bening's movie. Giving an utterly superb performance, she owns the screen as Dorothea - a complex character with as many frustrating flaws as fabulous attributes.
Based on Mills' own mother (as his previous film, Beginners, was inspired by his father), Dorothea stays with you after the film ends both because her story is so poignant and because she feels so wonderfully real. 
Random Observations
Have you seen 20th Century Women? 
If you have, what did you think of this film. Do let me know in the comments section below or over on Facebook or Twitter!