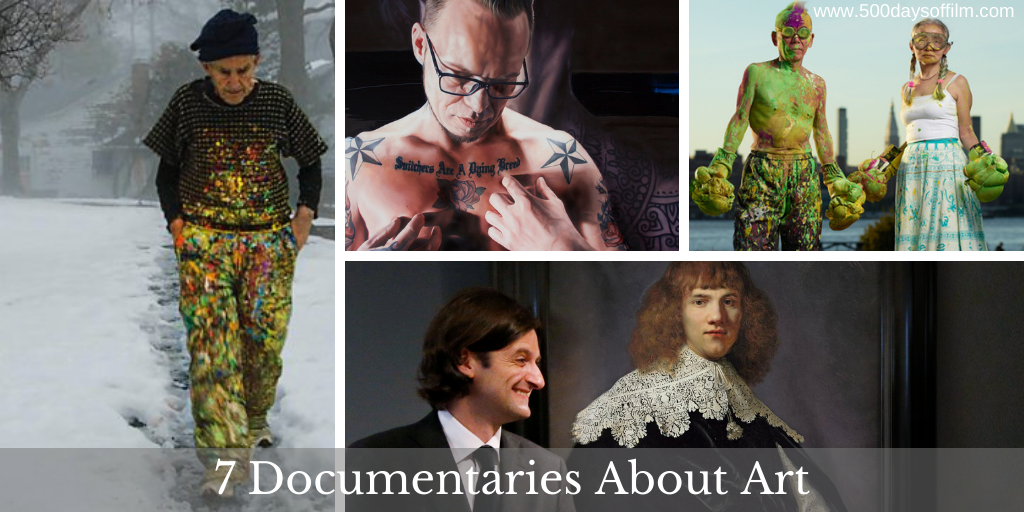 What is art? Is it a framed painting by a Dutch Old Master hung on the wall of a famous gallery? Is it a stencil drawing left in secret on a wall? Is art made by a paintbrush, a spray can or a boxing glove? 
Many documentaries seek to answer these questions and examine the nature, power and value (monetary and otherwise) of art. They may not reach inconvertible conclusions, but the journey is always fascinating.
Here are seven of my favourite documentaries about art and artists...
The Painter and the Thief
The opening moments of Benjamin Ree's documentary, The Painter and the Thief, almost feel like the beginning of a true crime documentary. CCTV footage captures two men as they break into an art gallery in Norway and steal two large paintings.
However, Ree is not as interested in the crime as he is in what happened next. The director introduces us to the Czech artist, Barbora Kysilkova, whose paintings were stolen and we follow her to the trial of one of the thieves responsible.
Kysilkova feels compelled to attend court because she is haunted by two questions. Why did the two men steal her paintings and what did they do with them? We know nothing of the thief in question and, as a result, are somewhat surprised by his response to her first question: "because they are beautiful".
This will not be the last time that the documentary wrong foots us.
My Rembrandt
My Rembrandt features a collection of fascinating stories that are linked by a passion for the paintings of Rembrandt. 
Art collectors such as Eijk and Rose-Marie De Mol van Otterloo, Thomas Kaplan and the Scottish Duke of Buccleuch reveal their special connection with the Dutch master painter.
Meanwhile, My Rembrandt also follows aristocratic Dutch art dealer Jan Six on the trail of not just one but two 'new' Rembrandt paintings. His journey may be the realisation of his  biggest boyhood dream or it may turn into a disaster. 
Exit Through The Gift Shop
Exit Through The Gift Shop is a compelling documentary about the world of street art and a revealing account of what happens when fame, money and vandalism collide. 
The film follows an eccentric shopkeeper, turned amateur film-maker as he attempts to capture many of the world's most infamous art vandals on camera. However, all is definitely not what it seems.
Cutie And The Boxer
Cutie And The Boxer is a wonderful documentary that explores the marriage of boxing painter Ushio Shinohara and artist Noriko Shinohara. A examination of love, sacrifice and the creative spirit, this is a must watch film about the connections between art and artists.
My Kid Could Paint That
Amir Bar-Lev's documentary, My Kid Could Paint That, follows the early artistic career of Marla Olmstead, a young girl from Binghamton, New York who found fame as a child prodigy painter of abstract art.
However, Marla's work soon became the subject of significant nationwide controversy when people began to question whether she really did complete the paintings by herself. Could she have had direction (or assistance) from her parents?
The Price Of Everything
Nathaniel Kahn's documentary is a fascinating exploration into the contemporary art world - and the story behind the creation, value and price of art. What place does art have in a consumer-driven society? 
Peggy Guggenheim: Art Addict
Peggy Guggenheim was an heiress to a family fortune who became a central figure in the modern art movement. As she lived through the cultural upheaval of the 20th century, she built an impressive art collection.
Guggenheim's fascinating life featured such figures as Samuel Beckett, Max Ernst, Jackson Pollock, Alexander Calder and Marcel Duchamp (among others). Despite suffering personal tragedy, Guggenheim curated one of the most important collections of modern art.
Over To You...
What do you think of this list of documentaries about art and artists? What films would you add? Let me know in the comments section below or over on Twitter. You can find me @500DaysOfFilm.