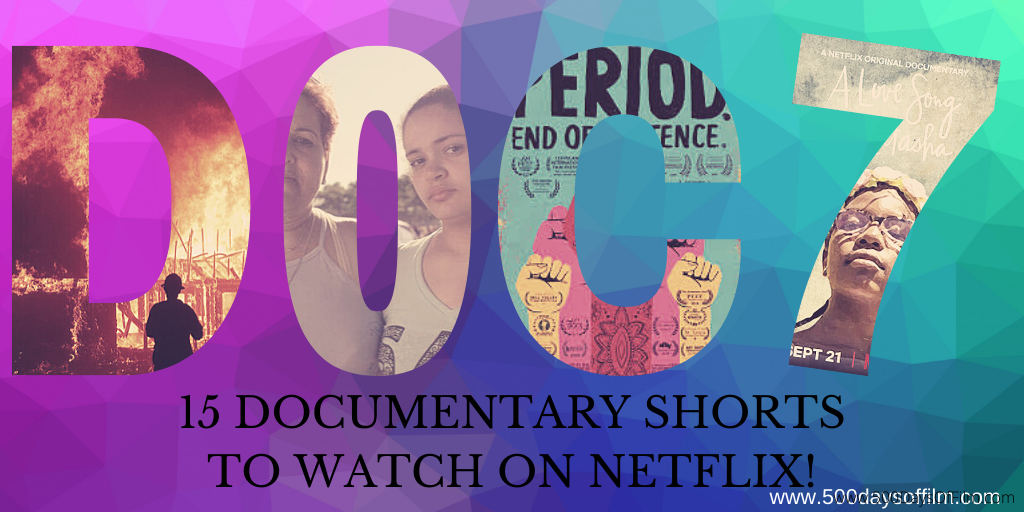 Documentary films don't always get the attention that they deserve and the same goes double for documentary shorts.
This is such a shame. These films more than deserve our time (and they don't ask much of it either) and they are just as satisfying to watch as any full length feature.
So, I'm flying the flag for doc shorts - starting here with 15 unmissable documentary short films on Netflix.
Period. End Of Sentence
Period. End Of Sentence is a really moving (and Oscar winning) documentary short. It takes us to a rural village outside Delhi where a group of women are involved in a quiet revolution. They are fighting against the deeply rooted stigma of menstruation. 
Rayka Zehtabchi's film reveals that for generations a lack of access to pads has led to health problems and girls missing school or dropping out of education entirely. 
However, when a sanitary pad machine is installed in the village, the women learn to manufacture and market their own pads. Zehtabchi's documentary follows their inspiring journey. 
A Love Song For Latasha
Who was Latasha Harlins?
Nearly three decades after her death (she was fatally shot in 1991 by Soon Ja Du, the owner of a South Central Los Angeles convenience store), director Sophia Nahli Allison's brilliant documentary short, A Love Song for Latasha, explores Harlins' story and builds a powerful and moving archive of the promising life that was lost. 
Described as an experimental, dreamlike conversation with the past and the present, A Love Song for Latasha brings Harlins back to life via intimate memories shared by her cousin and best friend. 
As heartbreaking as her story is, it is wonderful to get to know Latasha as a person. Thanks to Allison's beautiful film, Latasha becomes so much more than just a victim. As a result, we feel her loss more intensely - the loss of the girl that she was and the woman that she was set to become.
After Maria
Hurricane Maria was a deadly Category 5 hurricane that devastated Dominica, St Croix, and Puerto Rico in September 2017. Nadia Hallgren's film follows a group of women who, in the aftermath of the disaster, face an uncertain future. Forced to leave their island, the women form powerful bonds as each struggles to cope with a series of heartbreaking challenges.
The White Helmets
Orlando von Einsidel's Oscar winning documentary short takes place amid the daily devastation of airstrikes on civilian targets in Syria. The film follows a group of brave and resilient first responders - called The White Helmets - as they risk their lives to rescue victims from the rubble.  
Fire In Paradise
Drea Cooper and Zackary Canepari's powerful documentary tells the story of 2018's devastating Camp Fire, which destroyed the US town of Paradise and became California's deadliest wildfire. Using incredible footage, the film puts us at the centre of the nightmare. It also features the heartbreaking stories of those who survived and questions why such wildfires seem to be on the increase.
Lessons From A School Shooting
In the aftermath of the Sandy Hook Massacre, two priests - one from Dunblane, Scotland and the other from Newtown, Connecticut - forge a bond across the Atlantic through a series of letters sharing experiences of trauma and recovery. Kim A. Snyder's documentary is an incredibly powerful and moving experience - exploring grief in the wake of gun violence.
Heroin(e)
Patrick Coker and Isaiah Mackson's film follows three women - a fire chief, a judge and a street missionary - as they battle West Virginia's horrendous opioid problem. Heroin(e) is a moving and insightful look at the challenges faced by those on the front line of this devastating epidemic.  
Life Overtakes Me
Hundreds of children in Sweden have fallen into a prolonged coma-like-state. The cause of this devastating phenomenon is a mystery, but all of the children affected have come from refugee families. Kristine Samuelson and John Haptas's documentary investigates this worrying condition - known as Resignation Syndrome.
Ghosts Of Sugarland
Ghosts Of Sugar Land examines the shock and bitter betrayal felt by a group of young Muslim men from Sugar Land, Texas after one of their friends decides to cross the Turkish border and live in the Islamic State.
"We all have to wear masks because of something he did," says one man. "That's important for him to know." 
Bassam Tariq's powerful and compelling film considers the factors that led "Mark" to become radicalised and explores what it is like to be a Muslim man in post-911 America.
Zion
Zion is a gripping documentary short about Zion Clark, a young wrestler born without legs. Floyd Russ's film reveals how Clark, who grew up in foster care, began wrestling in the second grade against his able-bodied peers. The physical challenge became a therapeutic outlet and gave him a sense of family. Moving from foster home to foster home, wrestling became the only constant thing in his childhood. 
Extremis
Dan Krauss's thought-provoking film follows Dr Jessica Zitter, a palliative care specialist who leads a team in the Highland Hospital ICU in Oakland, California. Zitter helps families make incredibly challenging end-of-life decisions for their loved ones, who are often terminally ill. Extremis is one of two Netflix short docs that examine important end-of-life themes - the other being Rob Epstein and Jeffrey Friedman's End Game. Both films tell their stories sensitively, encouraging discussion of a very difficult topic.
Speed Cubers
The Speed Cubers is less concerned with solving rubik's cubes than you might expect. Don't get me wrong, Sue Kim's film is set deep within the quirky and competitive world of speedcubing and is full of extraordinary examples of speedcubing.
However, this gorgeous documentary short is more interested in capturing a truly heartwarming friendship. This is the story of the rivalry/friendship between two of best rubiks cubers in the world - 17 year old Max Park and 23 year old Feliks Zemdegs.
Little Miss Sumo
Matt Kay's documentary, Little Miss Sumo, follows Hiyori Kon, one of Japan's top amateur sumo wrestlers. 
As Kon narrates her own story (she is endlessly engaging and has a wonderful sense of humour), we see archive footage of her successes, travel to her home town and watch as she prepares to compete in the 2018 Sumo World Championship.
However, perhaps her greatest challenge is the fight against the gender inequality in sumo.
Little Miss Sumo examines why women sumo wrestlers are banned from competing professionally.
Kon hopes that, by raising awareness and encouraging more women into the sport, she can overturn this ban. After watching Kay's film - a portrait of an endearing, driven and inspiring woman - you certainly wouldn't bet against her.
Long Shot
Long Shot tells the incredible story of Juan Catalan - an innocent man who was accused of murder. His lawyer embarks upon a remarkable journey to confirm his alibi. Can raw footage from a television show save the day?
John Was Trying To Contact Aliens
John Shepherd spent 30 years trying to contact extraterrestrials by broadcasting music millions of miles into space. Matthew Killip's film tells his story and reveals how, after giving up the search, Shepherd made a different connection here on Earth.
John Was Trying To Contact Aliens is fascinating - the technology Shepherd used in his search for signs of alien life is incredible. Killip's documentary is also really poignant. This film certainly packs a lot of heart into its 16 minutes.
Over To You...
Have you seen any of these documentary shorts? If you have, what did you think of these films? What other doc shorts would you add to this list - either on Netflix or available elsewhere.
Meanwhile, click here for a list of 50 documentary features to watch on Netflix!
Let me know! Leave me a comment in the section below or come and find me on Twitter @500DaysOfFilm.