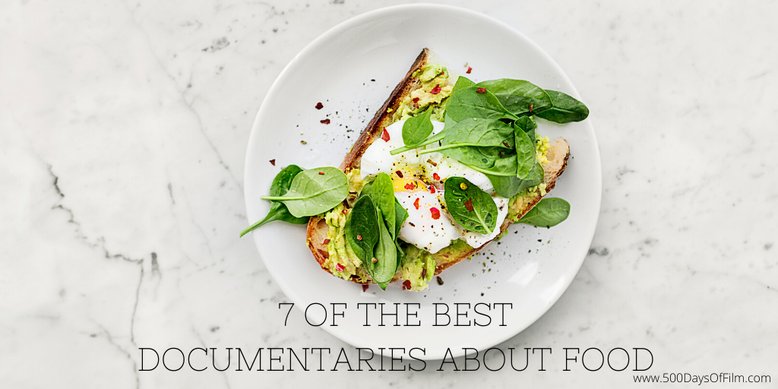 Food documentaries tend to fall into three main groups.
The first gives us behind the scenes access to the kitchens of some of the best chefs in the world. In addition to making us feel rather peckish, these films inspire us to try new recipes. (All sourced from the finest ingredients, of course.)
The second group of food documentaries remind us of the importance of care, balance and sustainability in food production. These films provide a fascinating insight into different, more ethical food production and farming methods. 
Finally, the third category of films shock us by revealing horrific details about what exactly goes into some of the food we eat and exploring the mistreatment of humans and animals in some parts of the food industry.
There are, of course, many great documentaries about food. Below, I have picked seven of my favourites…
Food Group One
Jiro Dreams Of Sushi
I have wanted to watch Jiro Dreams Of Sushi for ages. Often included in "top" documentary lists, I just knew that I was going to love David Gelb's film. I wasn't wrong. 
Jiro Dreams Of Sushi tells the story of 85-year-old Jiro Ono, considered by many to be the world's greatest sushi chef. Jiro's restaurant, Sukiyabashi Jiro, is located in a Tokyo subway station, has only ten seats and serves only sushi. 
Despite its humble appearance, Sukiyabashi Jiro was the first restaurant of its kind to be awarded a prestigious three-star Michelin Guide rating. Sushi lovers from around the world flock to Jiro's restaurant, making bookings months in advance and willing to pay any price to sample Jiro's masterful sushi collection.
Diana Kennedy: Nothing Fancy
Considered to be one of the leading experts on Mexican cuisine, Diana Kennedy is a force of nature powered by a rebellious and formidable spirit. The author of nine acclaimed cookbooks, she has spent nearly seventy years exploring Mexico (typically alone in her truck) and researching the country's varied and complex cuisines. 
Kennedy is confrontational, engaging, witty and driven - key ingredients that make this entertaining documentary well worth your time. 
Kings Of Pastry
While making Kings Of Pastry, directors DA Pennebaker and Chris Hegedus gained exclusive access to the prestigious Meilleurs Ouvriers de France competition. Every four years, 16 French pastry chefs gather for three intense days of mixing, piping and sculpting.
They make everything from delicate chocolates to six-foot sugar sculptures in the hope of being declared the winner and awarded the ultimate honour of wearing the famous blue, white and red striped collar on their jackets. 
Food Group Two
Honeyland
Honeyland tells the story of Hatidze Muratova, a traditional beekeeper in the remote mountains of North Macedonia. This double Oscar nominated film explores many themes. One of the most powerful is Muratova's passion for balance. 
From Honeyland's opening scenes we see her gentle and respectful treatment of the bees. It is incredible to watch her maintain balance - taking half of the honey for herself and leaving half for the bees.
This wonderful portrait of harmony and sustainability is important to all of our lives, regardless of where we live in the world.  
The Biggest Little Farm
The Biggest Little Farm follows John and Molly Chester as they attempt to develop a sustainable farm. The result is a visually stunning, emotionally moving adventure. Willing to put their egos aside for our greater ecological good, John and Molly record their remarkable achievements alongside their embarrassing mistakes.
The Biggest Little Farm explores the importance of harmony and balance. Molly Chester says it best. When asked about the greatest lesson that she has learned from the land, she replies: "conquering doesn't work, that the focus isn't eradication or winning - it's collaboration and understanding… You have to watch and be observant. Something is always going to be causing 'problems' but they're not really problems, they're just teaching you what the land needs. They're your next place to find greater harmony." 
Food Group Three
Forks Over Knives
Lee Fulkerson's film examines the claim that most, if not all, of the chronic diseases that afflict us can be controlled and even eradicated if we stop eating animal-based and processed foods. Yep, the food that we eat - the food we are encouraged to eat - may well be killing us.
Forks Over Knives follows Dr T Colin Campbell, a nutritional biochemist from Cornell University, and Dr Caldwell Esselstyn, a former top surgeon at the Cleveland Clinic. Their research has led them to the same startling conclusion: a whole-food, plant-based diet can prevent chronic diseases including heart disease and type 2 diabetes. The film leaves us with the question... could changing the food we eat save our lives? 
Food Inc
Food Inc explores the changes that have taken place in the way we eat, the growing power of food companies and what exactly goes on behind the scenes in the food industry. It is shocking and upsetting and Robert Kenner's film went on to net an Oscar nomination.
While many of Food Inc's claims were disputed, the documentary certainly raised awareness and contributed to a very important conversation about the food we eat.
Over To You...
What do you think about these documentaries about food? What films might you add to this list?
Let me know in the comments section below or let's talk food docs over on Twitter! You can find me @500DaysOfFilm :)