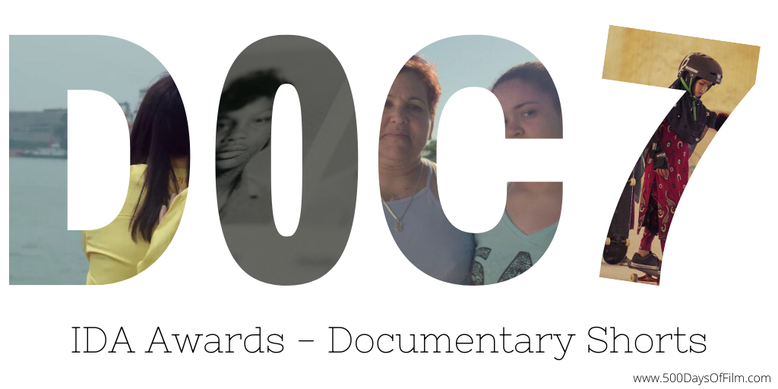 The 35th annual International Documentary Association (IDA) Awards take place on 7th December. Among the hundreds of submissions, IDA received 153 documentary shorts. It must have been no small feat to cut the list down… but voting is now coming to a close on the final ten nominees.
If documentaries often get left out of the film conversation, documentary shorts are barely mentioned. Given the incredible power and quality of these films, this is nothing short of a crime against cinema. 
Over dramatic? Perhaps.
However, it is a travesty that we are not talking about these short films. We should, I would argue, make more space and time for them. They are just as important, emotionally affecting and thought provoking as their more lengthy cousins.
The IDA nominees are perfect examples of the documentary short film industry's impressive calibre. Let's take a look at the ten contenders…
A Love Song for Latasha - 19 minutes
Described as a dreamlike conversation with the past and the present, A Love Song for Latasha brings Latasha Harlins back to life via the memories shared by her cousin and best friend. As a result, a tragically familiar story is given greater emotional depth. We get to know Latasha as a person and not just a victim and we feel the loss of the girl that was gunned down buying orange juice and the woman that she was set to become.
After Maria - 35 minutes
Displaced by Hurricane Maria, three Puerto Rican women navigate their families' uncertain futures as their federal housing aid in New York expires. Incredibly intimate and deeply moving, After Maria reveals the challenges facing the Puerto Rican refugees. Hurricane Maria left devastation in her wake. Families lost so much - loved ones, homes and jobs. Forced to leave, they live lives in limbo feeling like unwanted, second class citizens. Heartbreaking.
America - 27 minutes
America is described as a modern day silent film. It seeks to challenge the idea of Black cinema as a "wave" or "movement in time" proposing instead a continuous thread of achievement. Part mesmerising art installation, part documentary, this thought provoking film uses a selection of photos and curated archive footage to reframe the conversation.
Black To Techno - 18 minutes
This vibrant music documentary charts the anthropological, socio-economical and geopolitical roots of techno from Detroit and looks at how it travelled and translated into becoming the soundtrack to fall of the wall in Berlin. 
Easter Snap - 12 minutes
Easter Snap is an engaging and powerful examination of five Alabama men who resurrect the homestead ritual of hog processing in the Deep South under the guidance of Johnny Blackmon. 
In The Absence - 27 minutes
When the passenger ferry MV Sewol sank off the coast of South Korea in 2014, over three hundred people lost their lives, most of them schoolchildren. Years later, the victims' families and survivors are still demanding justice from national authorities. This is a disturbing and utterly gripping documentary - as heartbreaking as it is enraging.
Learning to Skateboard in a Warzone (if you're a girl) - 40 minutes
Kabul is a difficult and dangerous place to live - particularly if you are female. This story of girls learning to read, write - and skateboard - is wonderful, heartwarming and inspiring. The documentary follows a class of young girls from disadvantaged neighbourhoods, growing in confidence though the joy of skateboarding and the warmth of the women who teach them. 
Sam and the Plant Next Door - 22 minutes
As Hinkley Point C, Britain's biggest nuclear power plant, rises next door, Sam, aged 11, dreams of protecting the fish at risk. He believes that the only way he can become a marine biologist is to go a private school – but his parents cannot afford the offer. As a last resort, they turn to the power company for funding. This forces Sam to make some challenging ethical decisions. 
The Nightcrawlers - 38 minutes
The Nightcrawlers takes us on a shocking and nightmarish journey. We follow photo journalists who, as a result of their harrowing work, become activists desperate to expose the atrocities of the Philippines' war on drugs.
Valley Of The Rulers - 24 minutes
Filmed in a nursing home on top of a mountain in Užice, Serbia, Valley Of The Rulers looks at what life is like for the home's frail and elderly residents. We first see a series of haunting images - each suggest that this place offers scant quality of life. However, as the documentary progresses, life finds a way through music, laughter and memories.
Who Will Win?
As is ever the case, it is so hard to pick just one winner from this list of ten IDA short documentary nominees. They are all so different and - each in their own way - they are all incredibly powerful and thought provoking.
However, my top three picks are Learning to Skateboard in a Warzone (if you're a girl), After Maria and In The Absence.
Have you seen any of these short docs? If you have, what do you think about these movies? Let me know in the comments section below or over on Twitter. You can find me @500DaysOfFilm.