500 Days Of Film Reviews 2018's Must-Watch Movies...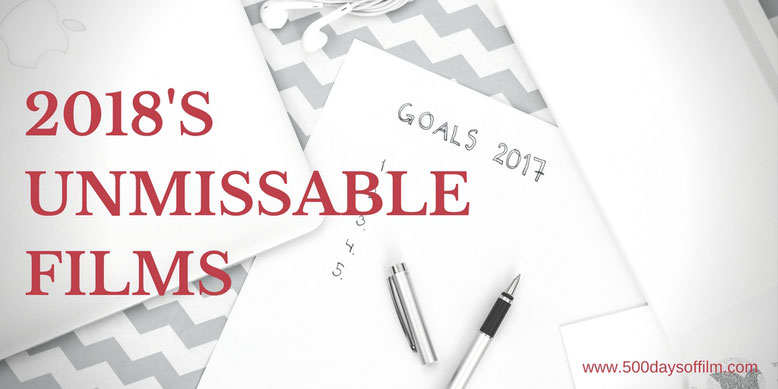 I always feel a little low post-Christmas. I just love the festive season so much (sigh). To alleviate my New Year blues, I make a list of my most-anticipated movies due to be released in the 12 months to come. 
As a result, I am now so excited to welcome 2018. There are just so many mouth-watering movies to look forward to - as you will see below. Just a couple of things before we get stuck in… I am working with UK release dates and these dates are subject to change. 
Happy New Year!
January
1st January
Molly's Game
An intriguing true life story written and directed by Aaron Sorkin and starring Jessica Chastain and Idris Elba? Count. Me. In.
5th January
All The Money In The World
The behind the scenes story of Ridley Scott's film (about the kidnapping of 16 year old John Paul Getty III) may well prove more compelling than the movie itself. It still feels incredible that the veteran director managed to remove Kevin Spacey from the key role of John Paul Getty and replace him with Christopher Plummer so quickly. Impressive too that Plummer's performance has received so much acclaim. For this reason and because I always enjoy watching Michelle Williams, this is, for me, a must see.
Brad's Status
Brad's Status sees Ben Stiller in the familiar role of a man who is conflicted and unsatisfied by his life choices. The film is written and directed by Mike White who just so happens to be the writer of School Of Rock so there's that…  
Hostiles
Winning the title for the most gruff film on this list, Scott Cooper's movie stars the always impressive Christian Bale, Ben Foster and Rosamund Pike. Set in 1892, the film tells the story of a legendary army captain who reluctantly agrees to escort a Cheyenne chief and his family through perilous territory.
Jupiter's Moon
Ever since I heard the concept behind writer/ director Kornél Mundruczó's film, I have been intrigued. Aryan, a young Syrian refugee, is captured while making his way into Hungary from Serbia. Wounded and in shock, Aryan discovers that he can levitate - a super power that has far reaching consequences.
12th January
Darkest Hour
While the trailer for Joe Wright's film left me surprisingly cold, I am looking forward to this film to see Gary Oldman's transformative performance as Winston Churchill.
Three Billboards outside Ebbing, Missouri
Thanks to Odeon's final Screen Unseen event of 2017, I have already seen Martin McDonagh's Three Billboards. While I am not as enthusiastic as some, I would highly recommend this film for its performances (Frances McDormand is superb) and Carter Burwell's score.
Click here to read my full review of Three Billboards outside Ebbing, Missouri
19th January
Coco
I love Jorge R. Gutiérrez's 2014 animation: The Book Of Life. As a result, Pixar's Coco gave me pause. However, following its US release, I have heard wonderful things about this movie and so I am looking forward to taking another trip to the land of the dead. (Watch out for the Coco previews on 12 and 13th January).
The Post
A Steven Spielberg film starring Meryl Streep and Tom Hanks featuring a score by John Williams about the value of a free press… hmmm that's a no brainer for me!
The Final Year
Having seen a trailer for Greg Barker's film, I can't wait to see this fascinating documentary about President Barack Obama's final year in office.
24th January
Downsizing
It seems as if the trailers for Downsizing have been running in cinemas for the past five years… however, I'm still (cautiously) on board for Alexander Payne's social satire starring Matt Damon.
26th January
Early Man
A new film from legendary animator, Nick Park, is always worth seeing and, from its trailer alone, Early Man seems like another hilarious cinematic adventure. It has got a pretty impressive voice cast too… featuring the vocal talents of Tom Hiddleston, Maisie Williams and Eddie Redmayne. 
12 Strong
I don't know much about 12 Strong apart from the fact that it tells the story of the first Special Forces team deployed to Afghanistan after 9/11. However, the film boasts an impressive cast including Chris Hemsworth, Michael Peña, Trevante Rhodes and Michael Shannon. More than enough to draw me in.
Last Flag Flying
I am a huge Richard Linklater fan and so, despite some lukewarm reviews, I am very much looking forward to his film about three Vietnam vets who come together after one of their son's is killed in the Iraq War.
February
2nd February
Journey's End
Saul Dibb's film tells the story of a group of British officers - led by a man who is experiencing a mental breakdown - who await their fate in a dugout in Aisne in 1918. Expect powerful performances from a brilliant cast including Toby Jones, Paul Bettany, Sam Claflin and Asa Butterfield.
Phantom Thread
Any film from Paul Thomas Anderson would likely make my list but the Phantom Thread also boasts the final (do we believe him?) acting performance from one Daniel Day Lewis. Early reviews were enough to make me very excited for this movie about a renowned 1950s London dressmaker whose life is disrupted by a young, strong-willed woman (played by Vicky Krieps).
Roman J. Israel Esq.
Dan Gilroy's film features yet another impressive performance from Denzel Washington. Sign me up!
9th February
Loveless
Andrey Zvyagintsev's film impressed audiences and critics alike on the festival circuit. I am looking forward to this drama about a divorcing couple who have to team up after their son goes missing.
The 15:17 To Paris
Based on the true story of what happened when three young Americans stopped a terrorist attack on a train bound for Paris, Clint Eastwood's film is also noteworthy because the three heroes play themselves.
The Mercy
We are still only in February and already 2018 seems full of real life stories. James Marsh's film (starring Colin Firth and Rachel Weisz) is another true tale - about yachtsman Donald Crowhurst's disastrous attempt to win the 1968 Golden Globe Race.
Untitled Cloverfield Sequel / Cloverfield Movie
I include this film on my list not because of its snappy title/s (it is also known as God Particle) but because of its cast (including Elizabeth Debicki, Daniel Brühl, Gugu Mbatha-Raw and Chris O'Dowd) and my enjoyment of previous Cloverfield alum, 10 Cloverfield Lane. We don't know much about this movie but, according to IMDB, it tells the story of what happens after "a scientific experiment aboard the space station involving a particle accelerator has unexpected results".
13th February
Black Panther
I watched Justice League at the cinema last year and the best part of that experience was the Black Panther trailer. I cannot wait for this next film in the Marvel Cinematic Universe - particularly as it is directed by Ryan "Fruitvale Station" Coogler.
The Shape Of Water
I was so fortunate to see The Shape Of Water at the BFI London Film Festival (followed by a fascinating talk by director Guillermo del Toro). It is absolutely wonderful. I loved everything about this movie - it features superb performances (Sally Hawkins is incredible) from a powerful ensemble cast, a brilliant score and del Toro's trademark stunning visual style.
Click here to read my full review on The Shape Of Water.
You can also click here to read my profile of Guillermo del Toro.
16th February
Journeyman
We've had to wait seven years, but February sees the release of Paddy Considine's second (after the heartbreaking Tyrannosaur) feature film. Journeyman tells the story of boxer, Matty Burton, who suffers a serious head injury during a fight. 
Lady Bird
Lady Bird is one of my most anticipated films of 2018 and I still can't believe that we have to wait so long to see Greta Gerwig's film. Starring the always impressive Saoirse Ronan and featuring an awards-worthy performance from Laurie Metcalf, Lady Bird is a coming of age tale with heart and a whip smart script… I cannot wait to see this movie. 
20th February
I, Tonya
Hot on the heels of Lady Bird comes another highly anticipated, long awaited release. Dark comedy, I, Tonya, stars Margot Robbie as controversial competitive ice skater, Tonya Harding. Watch out for a brilliant performance from Allison Janney as Tonya's mother, LaVona Golden. 
23rd February
Annihilation
I loved Alex Garland's last film, Ex Machina, and so am very much looking forward to Annihilation. The film (starring Natalie Portman, Oscar Isaac, Jennifer Jason Leigh and Tessa Thompson) follows a biologist who signs up for a very dangerous secret mission.
Dark River
Clio Barnard is such a talented filmmaker that her name was all I needed to put Dark River on this list. Then I saw the trailer and well I'm in… I'm all in.
March
2nd March
A Fantastic Woman
Another film that generated much buzz around the festival circuit, director Sebastián Lelio's A Fantastic Woman tells the story of Marina (a much admired performance from Daniela Vega) as she comes to terms with the death of her partner. For me, a must see.
Red Sparrow
What attracts me to Francis Lawrence's film is not its spy thriller concept but its cast - Jennifer Lawrence and Joel Edgerton are (hopefully) a safe pair of hands.
9th March
Thoroughbreds
Again, the cast of Cory Finley's film intrigues me as much as its story about a complicated friendship. The trailer is pretty diverting too. Thoroughbreds is also noteworthy for being the last movie to feature the extremely talented Anton Yelchin who tragically died aged 27.
You Were Never Really Here
Lynne Ramsay is one of my favourite directors and I am so excited for You Were Never Really Here. I expect this movie (starring Joaquin Phoenix) about corruption, violence and a missing teenage girl to grip, unnerve and challenge me. Role on March!
16th March
Mary Magdalene
Rooney Mara seems perfectly cast in Garth Davis's film about the life of Mary Magdalene. Joaquin Phoenix plays Jesus in this intriguing drama from the director of Lion.
The Square
Ruben Östlund's film (starring Claes Bang, Elisabeth Moss and Dominic West) won the Palme d'Or prize at Cannes last year I have been looking forward to watching this daring satire ever since. 
20th March
A Wrinkle In Time
Based on the best-selling novel by Madeleine L'Engle, A Wrinkle In Time tells the story of a young girl called Meg (Storm Reid) who is sent into space with her brother and friend to try to find her father. Any film by Ava Duvernay is a must-watch for me, the cast (including Oprah Winfrey, Reese Witherspoon, Chris Pine and Gugu Mbatha-Raw) is so impressive and the trailer looks stunning. Reserve me a seat, stat!  
Pacific Rim: Uprising
Okay, so I'm not as desperate to see this film as some others on my list. However, I do love the first Pacific Rim movie (largely because it was directed by Guillermo del Toro) and I always enjoy watching John Boyega. So I'm keeping an open mind…
23rd March
Unsane
I don't know much about Unsane except that it is about a woman who is involuntarily committed into a mental institution where she has to confront her greatest fear. Oh and that it is directed by Steven Soderbergh and stars Claire Foy and Juno Temple. However, that is more than enough to colour me intrigued…
30th March
Isle Of Dogs
I love the cinematic worlds created by Wes Anderson and cannot wait to see his forthcoming animation Isle Of Dogs. Set in Japan, the film follows a boy who is searching for his dog and features the vocal talents of Scarlett Johansson, Greta Gerwig, Frances McDormand, Bill Murray, Tilda Swinton, Edward Norton, Jeff Goldblum, Bryan Cranston and a host of others. It is a must see movie.
Ready Player One
The second Spielberg film on my list, Ready Player One looks like another spectacular adventure from the legendary director. Based on the book by Ernest Cline, the movie follows Wade Watts (Tye Sheridan) as he hunts for treasure within a virtual reality world called the Oasis.
April
6th April
120 BPM
Robin Campillo's film about advocacy group, Act Up Paris, who demanded action by the government and drug companies to combat the AIDs epidemic in the early 1990s has been wowing audiences and winning prizes since its premiere last year.  
Wonderstruck
I saw Todd Haynes's film at the BFI London Film Festival. This is a visually beautiful movie with a superb central performance from Millicent Simmonds and another stunning score from Carter Burwell.
Click here for my full review of Wonderstruck. 
11th April
The New Mutants
I love me a mutant story and Josh Boone's New Mutants looks well worth its ticket price. Starring Anya Taylor-Joy, Charlie Heaton and Maisie Williams, the film follows five young mutants who, while held in a secret facility, discover their innate abilities.
13th April
Rampage
Okay so, full disclosure, IMDB's description for Brad Peyton's film does not fill me with excitement: "Based on the classic 1980s video game featuring apes and monsters destroying cities". However, the film does star the ever watchable, always charismatic Dwayne Johnson and looks like bonkers entertaining fun - and we all need that from time to time don't we.
The Children Act
Based on the book by Ian McEwan, Emma Thompson stars as a High Court Judge who has to make a incredibly difficult decision. Richard Eyre's film (also starring Stanley Tucci and Fionn Whitehead) looks to be a fascinating and thought provoking drama.  
27th
Beast
I'm looking forward to Michael Pearce's feature debut starring Jessie Buckley. I do love a good psychological drama.
Avengers: Infinity War
No surprise to find Infinity War on this list. I cannot wait to watch the next instalment in the Avengers story - particularly since the release of that epic and utterly awesome trailer. Someone get that man a shield...
May
4th May
Game Night
John Francis Daley and Jonathan Goldstein's film features a great cast (including Rachel McAdams, Jesse Plemons, Jason Bateman and Kyle Chandler) and looks - from its trailer at least - like a lot of action comedy fun.
Lean On Pete
Having loved director Andrew Haigh's previous two films - 45 Years and Weekend - I am really excited for his next movie. Lean On Pete stars Travis Fimmel, Steve Buscemi and Chloë Sevigny and tells the story of a teenager who gets a summer job working for a horse trainer and befriends fading racehorse, Lean On Pete.
11th May
How To Talk To Girls At Parties
Based on the short story by Neil Gaiman,  John Cameron Mitchell's film sees Nicole Kidman as a punk alien invading 1977 Croydon. Despite some disappointing reviews, this premise is more than enough to peak my interest.
25th May
Solo: A Star Wars Story
A new Star Wars story will always make this list even if it is a tale that was perhaps better left untold. The film (directed by Ron Howard and starring Hail, Caesar!'s Alden Ehrenreich) has been beset by problems. Let's hope that it can rise above these issues and become a worthy addition to the franchise.
The Breadwinner
As I write this list at the very beginning of January, I already feel as if I have waited forever to see this animation about a young girl in Afghanistan who disguises herself as a boy in order to provide for her family. I can't believe that we have to wait until the end of May to see Nora Twomey's film - however, if all reports are to be believed, it will be well worth the wait.
June
1st June
Deadpool 2
Who could resist our favourite, irreverent fourth wall-breaking superhero? Prepare for more outrageous comedy from Wade Wilson and his alter-ego.
8th June
Jurassic World: Fallen Kingdom
Despite its flaws, I enjoyed Jurassic World and will be happy to watch J.A. Bayona's sequel. This time Claire (Bryce Dallas Howard) and Owen (Chris Pratt) return to the island to save the dinosaurs from an extinction-level event - an endeavour not wholly endorsed by Jeff Goldblum's Dr. Ian Malcolm.
15th June
On Chesil Beach
I'm kicking myself for not buying LFF tickets for Dominic Cooke's Ian McEwan adaptation. This film - about a couple on their honeymoon and starring Saoirse Ronan, Emily Watson and Anne-Marie Duff - sounds like a must watch.
22nd June
Sicario 2: Solado
Stefano Sollima's film certainly has big shoes to fill. I'm not sure we needed a sequel to Sicario but here we are… the good news is that the movie has been written by Taylor Sheridan and stars Benicio Del Toro, Josh Brolin and Catherine Keener.
Ocean's 8
I can't resist a heist movie and this one has an awesome female cast. Sandra Bullock is Debbie Ocean who recruits a criminal crew in order to attempt an impossible heist at New York City's Met Gala. Gary Ross's film also stars Cate Blanchett, Matt Damon, Anne Hathaway, Olivia Munn, Dakota Fanning, Helena Bonham Carter and Sarah Paulson.
July
6th July
Mary Shelly
Haifaa Al-Mansour's film sees Elle Fanning as Mary Shelley and explores the love affair between poet Percy Shelley (Douglas Booth) and Mary Wollstonecraft Godwin which inspired Mary to write Frankenstein. 
13th July
Incredibles 2
Finally the sequel we have all been waiting for! Bring it on Jack Jack!
20th July
Alita: Battle Angel
Based on the graphic novel by Yukito Kishiro and with a screenplay from James Cameron, Laeta Kalogridis and Robert Rodriguez, Alita: Battle Angel looks (from its trailer) like an entertaining action adventure. 
27th July
Mission Impossible 6
A new Mission Impossible film always proves a fun couple of hours at the cinema. If they don't break Tom Cruise in the process that is.
Mama Mia: Here We Go Again
I must admit that I feel a tad conflicted about including this on my list. Is it an unmissable movie? Perhaps not...only time will tell. However, I am looking forward to watching this sequel/prequel starring Lily James, Christine Baranski and Meryl Streep.
August
3rd August
Ant-Man And The Wasp
I loved Ant-Man and can't wait to see what will happen next to Paul Rudd's character and Evangeline Lilly's The Wasp. Peyton Reed's sequel also stars Michelle Pfeiffer as Janet van Dyne. 
17th August
Captive State
I am a fan of director Rupert Wyatt (I love Rise Of The Planet Of The Apes) and so am looking forward to his next film. Set in Chicago almost ten years after an alien occupation, Captive State explores both sides of the story and stars Vera Farmiga, John Goodman and Madeline Brewer.
31st August
White Boy Rick
Yann Demange's film sees Matthew McConaughey in another transformative role in a story about Richard Wershe Jr (Richie Merritt) who, as a teenager, became an undercover informant for the FBI and was ultimately arrested for drug-trafficking and sentenced to life in prison.
October
5th October
Venom
Marvel is really spoiling us this year. Not much is known about Ruben Fleischer's film apart from its stellar cast including Tom Hardy, Michelle Williams, Jenny Slate, Woody Harrelson, Riz Ahmed and Michelle Lee.
19th October
Halloween
The return of Laurie Strode (Jamie Curtis) in a final confrontation with Michael Myers is just too delicious to miss. Fingers crossed.
Goosebumps 2: Horrorland
As a huge horror movie fan, I think that there are far too few scary(ish) films for children. Kids love being scared (within reason of course) and that was one of the reasons why the original Goosebumps film was so enjoyable. Let's hope that Ari Sandel can recreate the experience in his sequel.
The Jungle Book
I'm looking forward to Andy Serkis's film based on Rudyard Kipling's classic story of a boy raised by wolves. The movie's cast alone looks superb (featuring Cate Blanchett, Christian Bale, Benedict Cumberbatch, Peter Mullan, Eddie Marsan, Jack Reynor and Naomie Harris).
November
2nd November
First Man
Damien Chazelle returns with a film about astronaut, Neil Armstrong (Ryan Gosling), and the epic mission that led him to become the first man to walk on the moon. I cannot wait to see this movie.
9th November
Widows
Steve McQueen's much anticipated return tells the story (written by McQueen, Gillian Flynn and Lynda La Plante) of four women in Chicago who join together to take fate into their own hands and forge a future for themselves. The film stars Elizabeth Debicki, Michelle Rodriguez, Viola Davis, Colin Farrell, Liam Neeson and Daniel Kaluuya. 
X-Men: Dark Phoenix
As I mentioned before, I'm always on board for mutant-based stories and am looking forward to another X-Men installment. According to IMDB, Jean Grey (Sophie Turner) "begins to develop incredible powers that corrupt and turn her into a Dark Phoenix. Now the X-Men will have to decide if the life of a team member is worth more than all the people living in the world".
16th November
Fantastic Beasts: The Crimes Of Grindelwald
David Yates's second installment of the Fantastic Beasts and Where to Find Them series focuses on Johnny Depp's Gellert Grindelwald. Jude Law plays Albus Dumbledore.  
30th November
Wreck It Ralph 2: Ralph Breaks The Internet
I really enjoyed Wreck It Ralph and am hoping that this sequel - in which Ralph and Vanellope discover a wifi router - is just as entertaining.
December
15th December
Mortal Engines
I know very little about Mortal Engines apart from the fact that it was directed by Christian Rivers from a screenplay by Peter Jackson, Fran Walsh and Phillipa Boyens (based on the book by Philip Reeve). The trailer hints at the start of a new 'saga' and it looks all a bit Mad Max.  
21st December
Aquaman
James Wan directs this film which sees Arthur Curry (Jason Momoa) learning how to step up to his role as heir to the underwater kingdom of Atlantis. Let's hope that this film is more Wonder Woman than Justice League.
Mary Poppins Returns
A sequel to Mary Poppins still feels unnecessary and, well, wrong but I couldn't think of better casting than having Emily Blunt in the title role. 
28th December
Bohemian Rhapsody
The creation of this Queen bio-pic (telling the story of the band's journey to the legendary Live Aid concert in 1985) has been beset by problems but Rami Malek feels perfect for the title role and so I am still very much on board.
Potential 2018 Movie Releases
There are many films that I am looking forward to that, so far, do not have a confirmed UK release date. These movies may well come out in 2018… however, some could take longer. So, let's list them here (information gleaned from IMDB) and see what happens!
Apostle 
A man attempts to rescue his sister who's been kidnapped by religious cult.
Director: Gareth Evans
Writer: Gareth Evans
Stars: Dan Stevens, Lucy Boynton and Michael Sheen.
Damsel 
A businessman travels West to join his fiancée in the mountains.
Directors: David Zellner, Nathan Zellner
Writers: David Zellner, Nathan Zellner
Stars: Robert Pattinson, Mia Wasikowska, David Zellner
Kursk
The film follows the 2000 K-141 Kursk submarine disaster and the governmental negligence that followed. As the sailors fight for survival, their families desperately battle political obstacles and impossible odds to save them.
Director: Thomas Vinterberg
Writer: Robert Rodat (screenplay)
Stars: Colin Firth, Léa Seydoux, Max von Sydow
Old Man And The Gun
An elderly bank robber, who had managed to escape from prison over a dozen times in his life before moving to a retirement community, looks to spice things up with another heist.
Director: David Lowery
Writers: David Grann (based on an article by), David Lowery (screenplay)
Stars: Elisabeth Moss, Robert Redford, Casey Affleck 
Under The Silver Lake
Director: David Robert Mitchell
Writer: David Robert Mitchell
Stars: Riley Keough, Andrew Garfield, Topher Grace
The Beach Bum
A rebellious stoner named Moondog lives life by his own rules.
Director: Harmony Korine
Writer: Harmony Korine
Stars: Zac Efron, Matthew McConaughey, Isla Fisher 
Black Klansman
Ron Stallworth, an African-American police officer from Colorado, successfully managed to infiltrate the local Ku Klux Klan and became the head of the local chapter.
Director: Spike Lee
Writers: Spike Lee (screenplay), David Rabinowitz (screenplay)
Stars: Adam Driver, Topher Grace, Laura Harrier
Don't Worry, He Won't Get Far On Foot
About John Callahan, who became paralyzed after a car accident at age 21, and turned to drawing as a form of therapy.
Director: Gus Van Sant
Writers: John Callahan (biography), Gus Van Sant
Stars: Joaquin Phoenix, Jonah Hill, Rooney Mara
High Life
A father and his daughter struggle to survive in deep space where they live in isolation.
Director: Claire Denis
Writers: Claire Denis, Jean-Pol Fargeau
Stars: Robert Pattinson, Mia Goth, Juliette Binoche
If Beale Street Could Talk
A woman in Harlem desperately scrambles to prove her fiancé innocent of a crime while carrying their first child.
Director: Barry Jenkins
Writers: Barry Jenkins (screenplay), James Baldwin (novel) 
Stars: Dave Franco, Pedro Pascal, Ed Skrein
The Man Who Killed Don Quixote
An advertising executive jumps back and forth in time between 21st century London and 17th century La Mancha, where Don Quixote mistakes him for Sancho Panza.
Director: Terry Gilliam
Writers: Miguel de Cervantes y Saavedra (based on the novel by), Terry Gilliam (screenplay) 
Stars: Adam Driver, Olga Kurylenko, Stellan Skarsgård
Peterloo
The story of the 1819 Peterloo Massacre where British forces attacked a peaceful pro-democracy rally in Manchester.
Director: Mike Leigh
Writer: Mike Leigh
Stars: Teresa Mahoney, Adam Long, Rory Kinnear
Radegund
The Austrian Franz Jägerstätter, a conscientious objector, refuses to fight for the Nazis in World War II.
Director: Terrence Malick
Writer: Terrence Malick
Stars: Matthias Schoenaerts, Michael Nyqvist, Bruno Ganz
Roma
A story that chronicles a year in the life of a middle-class family in Mexico City in the early 1970s.
Director: Alfonso Cuarón
Writer: Alfonso Cuarón
Stars: Marina de Tavira, Daniela Demesa, Marco Graf 
Backseat
The story of Dick Cheney, the most powerful Vice President in history, and how his policies changed the world as we know it.
Director: Adam McKay
Writer: Adam McKay
Stars: Amy Adams, Christian Bale, Sam Rockwell
Hold The Dark
After the deaths of three children suspected to be by wolves, writer Russell Core is hired by the parents of a missing six-year-old boy to track down and locate their son in the Alaskan wilderness.
Director: Jeremy Saulnier
Writers: Macon Blair, William Giraldi (book)
Stars: Riley Keough, Alexander Skarsgård, James Badge Dale
Mute
A mute bartender goes up against his city's gangsters in an effort to find out what happened to his missing partner.
Director: Duncan Jones
Writers: Michael Robert Johnson, Duncan Jones (screenplay)
Stars: Alexander Skarsgård, Paul Rudd, Justin Theroux
The Favourite
A bawdy, acerbic tale of royal intrigue, passion, envy and betrayal in the court of Queen Anne in early 18th century England.
Director: Yorgos Lanthimos
Writers: Deborah Davis (original screenplay)
Stars: Joe Alwyn, Emma Stone, Olivia Colman
The Little Stranger
The story of Dr Faraday, the son of a housemaid, who has built a life of quiet respectability as a country doctor. During the long hot summer of 1947, he is called to a patient at Hundreds Hall, where his mother once worked. The Hall has been home to the Ayres family for more than two centuries. But it is now in decline and its inhabitants - mother, son and daughter - are haunted by something more ominous than a dying way of life. When he takes on his new patient, Faraday has no idea how closely, and how terrifyingly, the family's story is about to become entwined with his own.
Director: Lenny Abrahamson
Writers: Lucinda Coxon, Sarah Waters (novel)
Stars: Domhnall Gleeson, Ruth Wilson, Will Poulter
The Souvenir Part 1
A young film student in the early 80s becomes romantically involved with a complicated and untrustworthy man.
Director: Joanna Hogg
Writer: Joanna Hogg (screenplay)
Stars: Robert Pattinson, Ariane Labed, Richard Ayoade
Where'd You Go Bernadette
After her anxiety-ridden mother disappears, 15-year-old Bee does everything she can to track her down, discovering her troubled past in the process.
Director: Richard Linklater
Writers: Maria Semple (based on the novel by), Richard Linklater (screenwriter) 
Stars: Cate Blanchett, Kristen Wiig, Judy Greer
What Are Your Most Anticipated Films Of 2018?
What films are you most looking forward to watching this year? Let me know in the comments section below or over on Facebook or Twitter (@500DaysOfFilm).