500 Days Of Film Reviews The Best Movies Of 2018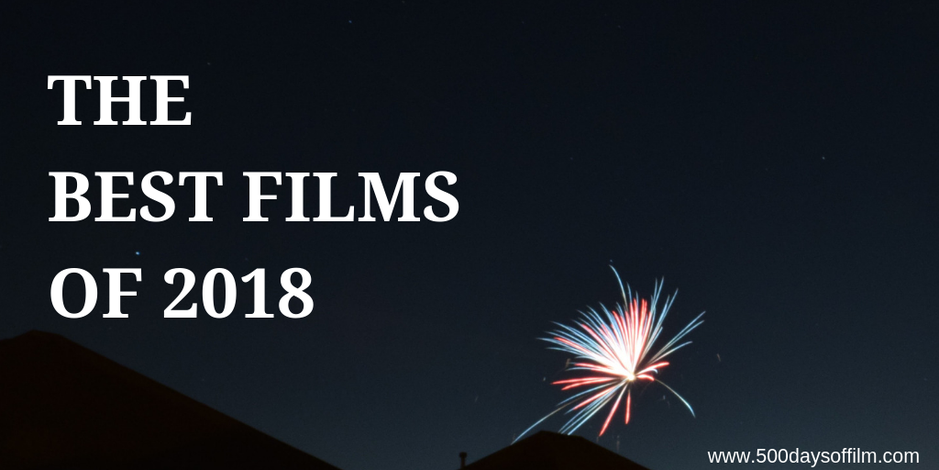 2018 has been a wonderful year for movies. This year has seen the UK release of such films as Lady Bird, The Shape Of Water, Phantom Thread, Black Panther, Avengers: Infinity War, Roma, Leave No Trace, You Were Never Really Here… I could go on. Little wonder, then, that cinema attendance is at its highest since the 1970s.
It all started with a true box office phenomenon. January saw the release of The Greatest Showman. Critics hated it (and it really didn't work for me) but many, many audiences absolutely loved Hugh Jackman's musical. Repeat viewings ensured that the film stayed in the box office top ten for weeks and weeks and (sigh) weeks.
Then along came Ridley Scott's All The Money In The World. A film (perhaps) most interesting for its last minute casting change (switching the troubled Kevin Spacey for Christopher Plummer). 
Several must-watch movies hit UK screens in January including Coco (which would go on to win the Oscar for best animated feature), Darkest Hour (featuring an Academy award winning performance from Gary Oldman) and Matthew Heineman's powerful documentary, City Of Ghosts. 
Meanwhile, Netflix gave us my favourite movie of the month: Annihilation.
February also proved an impressive month. UK audiences were spoilt for choice with films including Journey's End, Loveless, Phantom Thread, Black Panther, The Shape Of Water (which, of course, won the Oscar for best film), I, Tonya and Dark River.
However, it is Greta Gerwig's directorial debut, Lady Bird, that has stayed with me the most. On the surface, Lady Bird is a funny coming of age story about a teenage girl, her mother and life in Sacramento, California. Full of superb performances, this movie is entertaining, engaging and heartwarming.
However, underneath that surface, lies a beautifully written, emotionally intelligent and sharply observed drama. A film that will strike a chord with anyone of any age, gender or geographical location. I recently watched this film again and it really is just about perfect. I plan many, many more watches of this wonderful, cinematic story.
March continued cinema's brilliant run of movies with films such as Game Night, Bombshell: The Hedy Lamarr Story, The Square, Unsane, Ready Player One, Blokers, Isle Of Dogs, Journeyman, The Third Murder and the wonderful, A Fantastic Woman.
My favourite film of the month was Lynne Ramsay's breathtaking You Were Never Really Here. I had to travel to see this film and am so glad that I made the trip. I became so utterly immersed in the dark world that Ramsay created that I was wonderfully disoriented on leaving the cinema.  
You Were Never Really Here's disturbing kidnap plot, while utterly compelling, is secondary to its exploration of a man irreparably damaged by his past. A masterclass in precision storytelling (and in the art of show don't tell), Ramsay uses startling flashbacks to tell Joe's story. Piece by fractured piece, we understand what horrors have led Joe into his dangerous profession - and the toll this journey has taken.
The horror started in April with the release of John Krasinski's A Quiet Place. This film was, of course, notable for both its incredible tension and for highlighting the need for silence in cinema screening rooms. Hurrah.
In this month, I also watched and loved 120 BPM, Love, Simon, Thoroughbreds, Custody, Let The Sunshine In and Beast. However, for me, the cinema event of the month (and year) was Avengers: Infinity War.
Working their magic once again, the Russo brothers created the film that we had all dared to hope for - meeting and, in many respects, exceeding our expectations. There are exhilarating action scenes, emotionally satisfying (and devastating) moments, hilarious encounters, shocks and twists. 
Avengers: Infinity War delivers… and then some. I have not felt as excited to watch a film all year and cannot wait for Endgame.
May blew me away with female-led (and often directed) films such as Tully, Revenge, The Breadwinner and Jeune Femme. If nothing else, these movies prove that stories involving women are diverse, complex and involve all film genres (just click here for more female-directed movies). 
I also thoroughly enjoyed Deadpool 2.
Of all the movies out that month, one has really stayed with me (I think of it often). That film is the wonderful, gripping and poignant, Lean On Pete. 
This is a breathtakingly beautiful film with an astounding central performance. Exploring loneliness and family, hope and heartbreak, director Andrew Haigh proves (once again) his incredible talent for telling visually stunning and incredibly moving cinematic stories.
Did 2018 experience a June slump? No it most certainly did not - as movies such as (brilliant documentary) McQueen, My Friend Dahmer, The Happy Prince, Adrift and The Endless prove. 
June also saw the release of Ari Aster's horror debut, Hereditary. A film so disturbing and powerful that I felt in need of a calming brandy at 11.30am. I did not, I hasten to add, succumb to this urge and, as a result, felt shaky and in shock all day. Oh and that is absolutely a recommendation! 
My film of the month was something far more subtle, but no less powerful. Debra Granik's Leave No Trace is superb in every conceivable way. 
The UK was firmly in the grip of a heatwave in July… making the cinema the perfect place to escape and cool down. I enjoyed Kevin Macdonald's documentary, Whitney, Rawson Marshall Thurber's Skyscraper, Paul Schrader's First Reformed, Incredibles 2, Apostacy and Mama Mia: Here We Go Again.
However, my favourite film of the month was Christopher McQuarrie's Mission: Impossible - Fallout. For me, this is a perfect action movie. It has all the tension and adventure you could possibly want and, most importantly, heart to spare.
August began with yet another Marvel film - the likeable Ant-Man and The Wasp. The month also gave us gripping thriller, Searching and unmissable gems such as Hearts Beat Loud and Cold War. 
The best movie (for me) of the month was Spike Lee's BlacKkKlansman. A film of conflict and contradiction, this movie is as much about love and hope as it is about hate and violence. It is both a comedy and a horror - unsurprising, perhaps, since Spike Lee was introduced to the story by Get Out's Jordan Peele (who also produced the film). 
Amid a flurry of film festivals, September brought UK cinema audiences a number of great films including American Animals, The Miseducation Of Cameron Post, Crazy Rich Asians, The Rider, A Simple Favour, Climax, Faces Places and The Wife. 
My favourite of the bunch was John Carroll Lynch's poignant debut feature, Lucky, which celebrates the legend that is Harry Dean Stanton in what, sadly, would be his final performance.
Awards season kicked off good and proper in October with the release of Damien Chazelle's breathtaking First Man. 
The month also saw the release of The Hate You Give, Bohemian Rhapsody, Possum, Mandy and Dogman. Meanwhile, I also loved Kogonada's Columbus and welcomed the return of Halloween to the big screen. 
However, the film I loved more than any other in October was Bradley Cooper's directorial debut, A Star Is Born.
November 2018 was notable for the release of a number of powerful films including They Shall Not Grow Old, Wildlife, Won't You Be My Neighbor?, Suspiria, Assassination Nation, Shoplifters, Anna and the Apocalypse, Creed 2, Disobedience, Ralph Breaks The Internet and Three Identical Strangers.
I have yet to see all of these films but, of those that I have watched, I love Widows the best. While Steve McQueen's film is undeniably exciting and consistently entertaining, this is far more than just another crime thriller. Widows also has something important to say. 
As 2018 drew to a close, the year presented us with a number of thought-provoking and surprising movies - films such as Sorry To Bother You, The Old Man & The Gun, Spider-Man: Into The Spiderverse, Free Solo and, of course, Mary Poppins Returns.
However, as was the case in the first month of 2018, my favourite film of the last month of the year came via Netflix - Alfonso Cuarón's stunning film, Roma.
Over To You...
Well, that was my whistle-stop film tour of 2018. Here, again, are my top 12 films in order of their (UK) release month:
Annihilation
Lady Bird
You Were Never Really Here
Avengers: Infinity War
Lean On Pete
Leave No Trace
Mission: Impossible - Fallout
BlacKkKlansman
Lucky
A Star Is Born
Widows
Roma
Meanwhile, here are my favourite movies of 2018 by genre:
Drama - Leave No Trace
Documentary - McQueen
Romance - A Star Is Born
Comedy - Game Night
Action - Mission: Impossible - Fallout
Horror - Hereditary
Family - Mary Poppins Returns
Animation - Spider-Man: Into The Spiderverse
True Life Story - First Man
Super Hero - Avengers: Infinity War
World Cinema - Roma
What movies did you enjoy this year? Let me know in the comments section below or via Twitter. You can find me @500DaysOfFilm!